Vizio's new Google Cast-friendly sound bars start at $179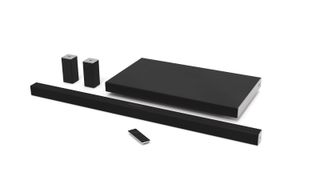 Vizio has announced a brand new lineup of Google Cast-enabled sound bar products. The SmartCast line comes in three sizes, both as separate sound bars as well as system configurations, which come with additional speakers to place around a room or throughout a home.
The Vizio SmartCast sound bars come in the following configurations:
SmartCast™ 38" 3.0 Sound Bar - $179.99
SmartCast™ 38" 2.1 Sound Bar System - $219.99
SmartCast™ 38" 3.1 Sound Bar System- $269.99
SmartCast™ 38" 5.1 Sound Bar System- $299.99
SmartCast™ 40" 3.1 Slim Sound Bar System - $379.99
SmartCast™ 40" 5.1 Slim Sound Bar System - $429.99
SmartCast™ 45" 3.1 Sound Bar System - $449.99
SmartCast™ 44" 5.1 Sound Bar System - $499.99
SmartCast™ 45" 5.1 Slim Sound Bar System - $499.99
You can order these new sound bars from Vizio now.
Press release:
VIZIO Debuts All-New Home Theater Sound Bar Collection, Featuring High Performance 5.1 Surround Sound and Innovative, New Slim Design
Line-Up Is Part of Next Generation VIZIO SmartCast™ Ecosystem with Integrated Google Cast for Simple WiFi Casting from Anywhere in the Home
IRVINE, Calif., June 7, 2016 /PRNewswire/ -- VIZIO, Inc. announced today its all-new collection of VIZIO SmartCast sound bars, ranging from the 38" 2.1 Sound Bar System to the flagship 45" 5.1 Slim Sound Bar System. The collection features fully integrated Google Cast, allowing users to stream millions of songs from Google Cast-enabled audio app directly to the sound bar over WiFi. Part of VIZIO's new smart entertainment ecosystem, each audio product can be controlled by the VIZIO SmartCast app which transforms any mobile device into a powerful touchscreen remote. The new products are available now at VIZIO.com, starting at $219.99 for the 38" 2.1 Sound Bar System and $499.99 for the 45" 5.1 Slim Sound Bar System.
VIZIO's latest audio collection makes it easier-than-ever for consumers to enjoy their favorite music, podcasts and internet radio shows and stream directly over WiFi to the sound bar. The new VIZIO SmartCast app, available for download for iOS and Android devices, turns any mobile screen into a powerful touchscreen remote, allowing consumers to control their sound bar from anywhere in the home. The app allows consumers to search, browse and discover content across multiple apps as well as play, pause, change volume or access all the settings for their VIZIO SmartCast device. Multi-room streaming over WiFi allows users to even cast the same song to multiple VIZIO SmartCast sound bars and speaker at the same time, or send a different song to each speaker for a beautifully simple whole home audio experience. Streaming over WiFi also eliminates interruptions from phone calls, texts and other notifications that occur with Bluetooth streaming. VIZIO's audio products also ship with a standard LCD display remote, giving consumers an alternative way to control basic functions.
"The new VIZIO SmartCast sound bar line-up was designed not only to accompany big screens to create an immersive home theater experience, but also serve as a great home audio source," said Matt McRae, Chief Technology Officer, VIZIO. "The VIZIO SmartCast app allows consumers to seamlessly Cast and control their music right from their mobile device across a variety of configurations. Coupled with the collection's sleek industrial design, the VIZIO SmartCast audio solutions are a must-have addition to any home."
The SmartCast 45" 5.1 Slim Sound Bar System is ideal for home theater enthusiasts seeking elegant style, the highest quality audio and a true 5.1 surround sound. Designed to complement 47" class size displays and above, VIZIO's flagship offering was engineered with custom drivers, a center channel for enhanced dialogue clarity and a sleek profile that doesn't sacrifice audio quality. Measuring 2" high and 2" deep, the 45" slim sound bar features rear satellite speakers and pumps up to 104dB Sound Pressure Level (SPL) 1 and 30 Hz of bass. The flagship model, along with the 40" 3.1, 40" 5.1 and 45" 3.1 slim sound bar configurations, features a sleek and compact 3" tall subwoofer, perfect for easy, out-of-the-way storage beneath or next to a sofa.
With Google Cast built into every VIZIO SmartCast sound bar, consumers can easily stream millions of songs from music apps they already know and love, and then just tap the Cast button to stream music directly over WiFi to any VIZIO SmartCast device on their home WiFi network, from anywhere in the home. And with WiFi streaming, users can still multi-task on the their mobile device without interrupting their entertainment. Bluetooth is also integrated into all VIZIO audio products, offering streaming as an alternative option.
For more information about the VIZIO SmartCast sound bar collection, visit VIZIO.com.
These look great and I love that they have Google Cast built in.

I'm going to give it a month for the reviews to come in. Posted via the Android Central App

same here. I absolutely loved their previous best in class VIZIO S5451w-C2 . Hope the new line is just a good or better.

I installed a 2.1 bar in my bedroom. The sound is very impressive for the cost (about $120 on sale at Costco). It's not as good as my full 5.1 Sony/Klpsch system in the living room of course, but I'd say it gets you about 80% there which is good enough for almost everybody. I'm now wishing I had waited for the new bars with Google Cast built in. Just a little bit.

Great move by Vizio to leverage the SmartCast app that they developed for their P-Series TVs, which also have Google Cast built in and come with Android tablets that serve as remote controls (I think they also have regular remotes). Really promising stuff.

I have the 50 inch p-series TV and one of the Vizio 5.1 sound bar that I got on last cyber Monday for $180 ($250 off original price) just wish it had Google cast now . Vizio doing great stuff. Posted via the Android Central App

Do these have input ports so I can hook up a turntable to it? Posted via the Android Central App

Hmmm might have to pick one of these up one day and put the current one in the bedroom. Posted via the Android Central App on my Nexus 6P
Android Central Newsletter
Get the best of Android Central in in your inbox, every day!
Thank you for signing up to Android Central. You will receive a verification email shortly.
There was a problem. Please refresh the page and try again.