Synology DiskStation NAS drives can now talk to Chromecast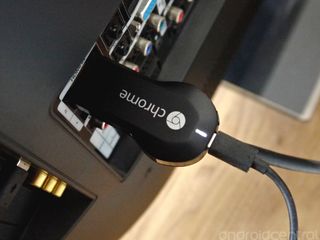 Use the mobile apps to get your stuff from your drives to your TV
Synology makes some pretty kick-ass NAS (Network Attached Storage) drives – the DiskStation – that make a pretty good storage hub for a home media collection. Now, they're making it even easier to get your content to your TV by adding Chromecast support to their mobile apps.
So, how do you do it? Synology describes it better than we ever could:
For more, head on over to the source link below.
Source: Synology
Android Central Newsletter
Get instant access to breaking news, the hottest reviews, great deals and helpful tips
For me it works better than Plex at least for DS Video.

I was just reading through the source page and it sounds like audio is only stereo to the chromecast, can you confirm/deny?.. "5.1 sound is supported in Video Station when straming to an Apple TV (latest update in DSM 5), however it won't apply to Chromecast. Will forward the request to our engineering team."

That at least just sounds like a bug and not a limitation of the setup. This was just released after all.

Works great. Definition of a killer app!

Yes! This is huge for me. Way to go Synology.

Love my DiskStation and love my Chromecast! This is great news, indeed!

this is nice, now if only I could afford a NAS

The 214Play is pretty affordable for the feature it comes with. It's my first NAS and I've been really happy with it, other than a bug in DSM5.0 that is causing problems with my external 3TB backup drive.

Now I have to replace my current Synology NAS so I can take advantage of this feature! Very cool. Posted via Android Central App

Synology is certainly very proud of their products. I'll stick with my IX2-DL.

I still didn't find the perfect setup for my new Panasonic Plasma TV, the iomega media player has no android app, the TV can access disks via USB but shows a flat list of files and doesn't show folder structure... I'd like to try Chromecast but I know my TV doesn't pass 5.1 from HDMI to spdif optical out, so how would I get 5.1 to the sound system?..

Can you plug Chromecast into an available HDMI port on your 5.1 sound system instead of directly in the TV? That is how I do it.

Synology really rocks. Amazing value and performance.

So much time wasted with Plex, and now this :) Ah well, hope it at least works without requiring massive transcoding like Plex did-- I never could get the NAS version of their media server to play nice with my NAS.

This makes me regret buying a qnap instead :-(
Android Central Newsletter
Get instant access to breaking news, the hottest reviews, great deals and helpful tips
Thank you for signing up to Android Central. You will receive a verification email shortly.
There was a problem. Please refresh the page and try again.