Sonos adds Android tablet support, Slacker Radio, new beta service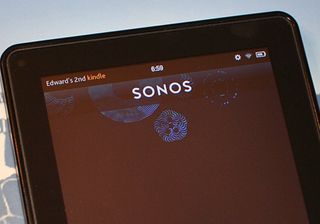 Sonos, the maker of the high-end wireless stereo system, today announced that it's updated its Android application (check out our previous review) to include support for Android tablets. And, yes, that includes the Amazon Kindle Fire, which you see here. Also, Slacker Radio is now on board for yet another streaming music solution. In addition, Spotify's gotten an update, there's now support for AAC+ codecs, and Sonos has added a beta path if you like living on the bleeding edge and want to test features before anyone else.
Full presser's after the break.
More: Sonos
SONOS ADDS MORE CONTROL AND MORE MUSIC TO WIRELESS HiFi SYSTEM
Sonos Now Offering Android Tablet Support, Slacker Radio in US and Canada, and New Spotify Features
SANTA BARBARA, Calif. – November 30, 2011 – Sonos, Inc., the leading manufacturer of wireless music systems, today announced Sonos System Software 3.6, an innovative update that adds more control and more music to the Sonos Wireless HiFi experience. This free software is available to all Sonos customers via a one button update to their system.
"Today's feature update reaffirms our commitment to persistently innovate so that Sonos users have the ultimate music experience in every room of the home," said John MacFarlane, founder and CEO, Sonos, Inc. "Endless music and effortless control are what will keep us as the gold standard for listening out loud in the home."
The free Sonos Controller for Android now supports Android® tablets as well as smartphones, letting you control Sonos from any Android device. With Sonos, you can stream all the music on earth wirelessly in every room, and now control it wirelessly on a larger screen with any Android tablet running 2.2 or higher, including the Kindle Fire, HTC Flyer™, Motorola Xoom™, Samsung Galaxy Tab™, Sony Tablet S™, and many others.
Plus, Sonos Controller for Android includes new enhancements such as alarms, music library management and Twitter support for Android smartphones and tablets alike. Download it from Android Market.
Slacker® Radio is now available as a free music service on Sonos in the United States and Canada. With Slacker on Sonos you can tune in for free to over 150 expert-programmed stations and create unlimited custom stations from a library of millions of songs. You can even read artist biographies as you listen in every room. Upgrade to Slacker Radio Plus for an ad-free experience or Slacker Premium Radio for even more features like on-demand access to millions of songs, albums and artists and the ability to create custom playlists. Subscribers can also fully personalize their ESPN Radio stations with their favorite shows, plus team and sports updates. To register or learn more about Slacker on Sonos, please visit slacker.com/Sonos.
With Sonos 3.6 software, Sonos is also introducing Sonos Labs, a new Beta environment where customers will be able to test out music services before they're officially launched on Sonos. New music services will be added to So
nos Labs on an ongoing basis. Media and music service developers can learn more about becoming a Sonos Labs music partner at http://musicpartners.sonos.com.
Sonos 3.6 also includes improved Spotify® integration on Sonos, giving Spotify fans on Sonos access to their Spotify Inbox and ability to play music from Spotify's new releases and top tracks.
Other features of Sonos 3.6 include:
AAC+ codec support
More local language support with Danish and Norwegian
Full details of Sonos 3.6 software can be found here: https://www.androidcentral.com/e?link=https%3A%2F%2Fwww.anrdoezrs.net%2Flinks%2F100048248%2Ftype%2Fdlg%2Fsid%2FUUacUdUnU19226%2Fhttps%3A%2F%2Fwww.sonos.com%2Fsupport%3Fr%3D1&token=VGuOfAQ5software_updates/.
Get the Android Central Newsletter
Instant access to breaking news, the hottest reviews, great deals and helpful tips.