Smart home security is more affordable than ever, and for those on a budget, the Yi Smart Security Camera 3 should be one of the first you consider. This camera offers optional 24/7 emergency response service monitoring at just $4.99 monthly, though it also gives you the ability to check up on the live video feed yourself whenever you'd like using an app on your phone. Thanks to a sale at Amazon, you can save on a two-pack today and pick up the pair for just $44.69. That saves you $25 and brings the cost of these smart cameras down to just $22 apiece. Other sets and cameras are on sale today as well.
Smart Buy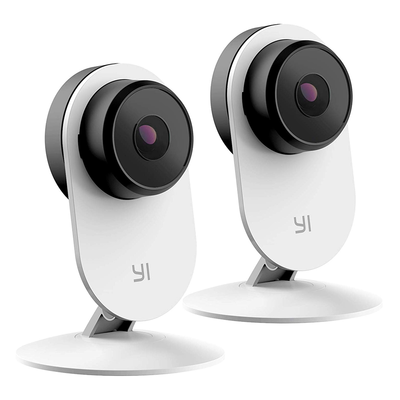 These 1080p HD cameras let you view their live video feeds using an app on your phone. There's also an optional 24/7 Emergency Response Service for just $5 per month.
$44.69 $69.99 $25 off
If you'd rather pick up four of these cameras today, this 4-pack of Yi Smart Security Cameras falls to $82.60 when you clip the on-page coupon at Amazon. You could also buy a single camera bundled with six months of Yi's Cloud service for $32.49 after clipping the on-page coupon.
These cameras record in full 1080p HD around the clock and have the ability to upload that footage to the Yi Cloud service to keep it protected. You can also use a 64GB microSD card to save the footage locally. Using an app on your phone, you'll also be able to view the live video feed at any moment, from anywhere in the world. That makes keeping an eye on your home or a certain room much easier, and with the built-in motion detection, Yi can actually send alerts to your phone when there's something you might need to see. There are built-in infrared sensors as well to help you get a better view during the night.
If you're also in need of cameras for the outside of your home, Yi's Outdoor Smart Camera 2-pack drops to $99.99 when you clip its on-page coupon. These cameras are designed to stand up to tough weather conditions while letting you view the video feeds using the same app as the cameras above. They even allow you to speak back and forth with anyone on the other side of the camera.
We may earn a commission for purchases using our links. Learn more.