Sidekick Cycle rides onto Android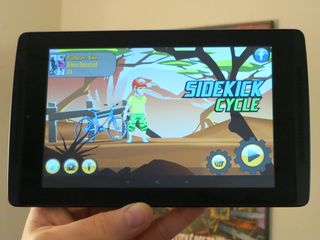 We all play games for fun, but wouldn't it be nice if there were other positive effects too? Global Gaming Initiative's newly-released Sidekick Cycle has just such a goal. As a game, it's a 2D bicycling game in which racers ride through impossible courses in order to collect coins and items. Sort of like iStunt 2 and other obstacle-course based games.
Like most mobile games, Sidekick Cycle is free to play. The difference here is that fifty percent of in-app purchases go towards the "Free Bikes 4 Kidz" charity based out of Minneapolis, MN. As you can probably tell, the charity buys bicycles for children in order to help them lead healthy lifestyles.
Biking it up
Racing is simple in Sidekick Cycle. Your rider pedals forward automatically, so all you have to worry about is jumps and tricks. Tap the screen to jump, either to collect items or dodge obstacles. Tapping and holding causes your rider to stay in the air longer and perform flips. These flips are great for your score, but if you don't come down on the bike's wheels you'll fail the course.
Scattered throughout each course are coins and gears. Collecting all three of a level's gears is one of the three optional challenges required to perfect the course. As for coins, they can be spent on new riders, outfits, bikes, and sidekicks. Sidekicks are bug-eyed little animals that provide a variety of bonuses like attracting coins or recovery from crashes. Players can also opt to purchase coin packs from the store.
Biking around the world
Sidekick Cycle includes five free worlds, each with at least 10 courses to play. Interestingly, the African course is scheduled to unlock when the charity has donated a certain number of bikes. That should happen any time now. The publisher also sells a pack containing three extra worlds for $1.99. All of the levels, free and paid, are based on real-life environments.
Not to say that Sidekick Cycle is entirely realistic – it obviously has lots of impossible jumps and riding conditions. But the art design is too grounded in reality for my tastes, and the characters too ugly. The visuals need some pizazz, some inspiration. And when the rider crosses the finish line to a crowd of non-animated African-looking villagers, the game is just wearing its charitable roots on its sleeves. The crowd doesn't mesh with the bikers; at least make them bounce up and down or something.
Sidekick Cycle is a fun little game that will go over especially well with the younger crowd. Get it now on Android and Kindle. To learn more about Free Bikes 4 Kidz, check out www.FB4K.com. More info about Games for Change can be found at www.gamesforchange.org.
Get the Android Central Newsletter
Instant access to breaking news, the hottest reviews, great deals and helpful tips.