Score deals in participating apps with 'Buy with Google' promotion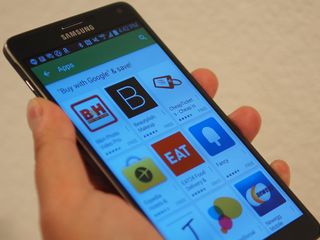 Google announced today that it has some big savings in store for those of you shopping around the with your favorite retailer apps from the Google Play Store. If you choose "Buy With Google" at checkout you can snag some great deals from several different participating retailers.
To take advantage of the deals, you'll have to have a Google Wallet account set up and ready to go. From there, just choose the "Buy With Google" option from any of the participating apps below:
B&H Photo Video Pro Audio
Beautylish
CheapTickets
Expedia Hotels & Flights
EAT24 Food Delivery & Takeout
Fancy
JackThreads
LivingSocial
Newegg Mobile
Pose
Rue La La
Sidecar Ride
Vinted
Wish
It looks like the savings will vary by app, each listing the exact amount in its description (JackThreads lists 20% off, for example). If you want to check these deals out, you can find all of the apps for download in one convenient list here (opens in new tab).
Source: Google
Is this US only? Can't open link Posted via the Android Central App

Not a very long list of retailers.....

I've used this before on JackThreads. I tend to buy a good amount of clothes from there so it is an easy 20% to save Posted via the Android Central App

Love that you can use a discount code on jackthreads and still get a discount with the buy with google option.

Big push for Google Wallet this week. The $5 referral promotion the other day and now teaming up with these retailers. Posted via the Android Central App

I keep trying to use the Newegg app, but it never gives me the option to pay with google wallet. Any suggestions guys?

Other than for grocery shopping, banking and movie tickets I prefer to use websites. I can't see having a hundred apps for every business I frequent. Only three here I've shopped at. Would be nice if discounts was offered from the websites as well.

I'm confused. Wasn't this just announce last week?
"Google to retire Wallet for digital purchases API, affecting third-party merchants"

Yes exactly. This. Seems like "don't use our digital pay services", followed by "Here's a promotion for you for using our digital pay services". . Confusing.. Posted via the Android Central App

I caught the Newegg for Android offer today of $15 off when using Google Wallet. Got the Playstation Gold Wireless headset for $44 to replace my Pulse Elites.

The only one of these I use is Newegg. And that's only once or twice a year.

Is there a promo code we have to enter for Newegg? I don't see it mentioned anywhere. Hoping to combine this with Newegg's current promotion on a NAS 4tb drive.

People act like it's the worst thing in the world to DL an app. So you don't use these frequently... About to make a purchase for someone for the holidays, and one of the items might be sold on these sites? Cool, get the app, buy it, save $20, uninstall it. Quit complaining about something that's free.

I don't mind downloading an app if it actually does more than just open a web page.
I downloaded the Toys r Us app and when I ran it Chrome popped up. What's the point?

i'll give you that... Papa Johns app does that I think (or one of the pizza chains... which then got immediately deleted.) That still doesn't change the fact that, if they're gonna offer something free, might as well do something REALLY easy to get that free stuff. Then simply carry on

I seem to remember Dominos doing something like this a while back. I think you get a free appetizer if you order through google. Not sure if that deal is still going on though.. Posted via Android Central App
Android Central Newsletter
Get the best of Android Central in in your inbox, every day!
Thank you for signing up to Android Central. You will receive a verification email shortly.
There was a problem. Please refresh the page and try again.