Game like it's 1982 again with the C64 Mini Retro Gaming Console. GameStop has this nostalgia-inducing gaming console on sale for only $24.97 while supplies last, saving you over $50 off its original price. It more commonly sells between $30 and $40 these days, though we've never seen it drop quite this low.
Nostalgia's Cool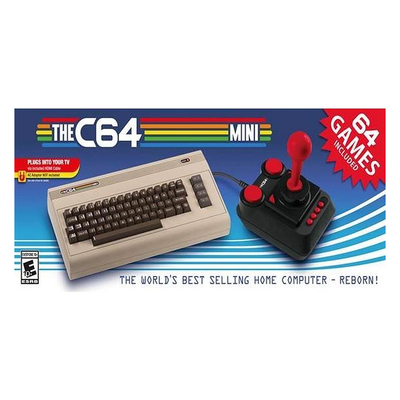 The C64 Mini retro console is a true blast from the past with 64 preloaded games and the ability to add more on your own! Today's deal marks one of its best prices in history.
$24.97 $79.99 $55 off
The C64 Mini is based off the Commodore 64 home computer and packs in 64 different games to play, including iconic picks like Boulder Dash, Impossible Mission, Paradroid, Winter Games, and more. The console has a save function too, so you'll be able to jump right back in where you left off on certain games. However, the best part about the C64 Mini console is its ability to let you load other games onto it using ROMs. While you might be able to accomplish that on other retro consoles, the C64 Mini is practically the only major one which actually advertises that fact. It's super easy to load more games onto it too, and we have a guide to guide you through the process step-by-step.
This tiny version of the Commodore 64 comes with a classic style joystick and features two USB ports so you can plug in another joystick for 2-player games. The tiny keyboard it comes with does not have functional keys, though you're able to plug in a USB keyboard and use the C64 Mini as a fully-functional home computer with C64 BASIC. The console features a 720p resolution and connects via HDMI. There's a lot more to the C64 Mini which you can read about in our full review of the console.
GameStop offers free shipping on orders totaling $35 or more, though you might also be able to select free in-store pickup in certain areas to receive your order even faster.
We may earn a commission for purchases using our links. Learn more.