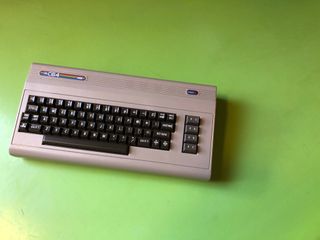 If you are a huge fan of retro gaming and more specifically you love Commodore 64 games, you might have gone out and got yourself a Commodore 64 Mini. If you did, it's possible that you have gone through and played all the games that come with the system and now you are ready to dive into some of your other favorites.
Fortunately for all of us that bought a C64 Mini, they have made it easy to load your own legally obtained ROMs. If you want to load your own games onto your C64 Mini we can help you do that!
Update your Firmware
In order to load games onto your C64 in the simplest way possible, you are going to want to update your firmware. Here's how to do that.
Go to the settings menu in your C64.
Click on System Information.
Compare your build version against the most recent firmware version on the website.
If your firmware version needs an update, download it and save it onto the root of a USB drive.
Plug your USB drive into your C64 Mini and on the System Information page, you will now see your update. Click on Apply.
Your C64 Mini will update and restart.
Loading your games
With the most recent updates to the C64 Mini, loading games has become incredibly easy. All you have to do is load all your (legally obtained) ROMS onto your USB and plug it into your C64 Mini.
With your USB drive loaded with games plugged into your C64 you will now see a USB drive icon on the bottom of your screen. Click on it.
You will now see a list of all the games on your drive. Click on the game you want to play.
Have fun playing all the awesome and weird games from your childhood!
The recent updates to the C64 Mini have made loading and playing your own games way more user-friendly. This just makes the console even more worth the cost. If you loved playing Commodore games or you are just curious about them, I would totally recommend plunking down $80 it costs to get one of your own. I know that I am having a blast with mine and with thousands of games having been released for the original Commodore 64, I don't see that fun stopping any time soon.
What games are you loading on your C64 Mini?
Let me know!
Be an expert in 5 minutes
Get the latest news from Android Central, your trusted companion in the world of Android