RaveVR lets you watch YouTube with friends in virtual reality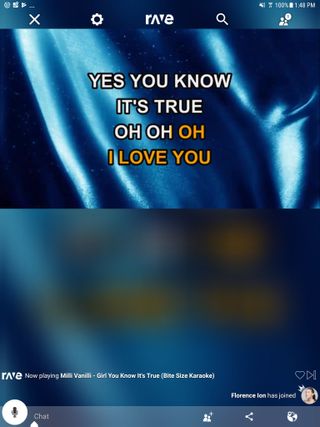 Scoff if you will, but I'm a big believer that the propagation of virtual reality will eventually enhance the way we socialize online. I was first impressed by the concept when Mark Zuckerberg waxed poetic on the subject at Oculus Connect. I've since been yearning for those same people-on-people connections in virtual reality but haven't found an app that could get my friends on board. Until I learned about RaveVR (opens in new tab).
Rave (opens in new tab) (or WeMesh, as it was currently known) is actually a social video viewing platform — the Twitch of social viewing, if you will, though without the audience. It originated as a social viewing app for Android and iOS, and now there's a separate virtual reality component for those who are equipped with a Daydream View or Gear VR. RaveVR enables you to watch video in tandem with people you know and with complete strangers. The only bummer with RaveVR is that when it comes to the actual social part, it's a little lacking.
Real-time reality
Part of the appeal of RaveVR is that it works interchangeably across a variety of platforms, though there is more compatibility on the horizon. At present, you can sync up with your friends to watch content, even if you aren't using the same mobile phones, though the video library that's currently available might leave you wanting more. RaveVR currently pulls in content from YouTube, Vimeo, Reddit, and Viki, which is an overseas streaming network that offers a variety of Korean and Taiwanese shows, as well as Bollywood and anime. You can also pull in content from your personal Google Drive account, though I had quite a bit of trouble actually playing any of the video files I had stored there, including MP4s. It's unfortunate, too, because Rave is the kind of app I could see using with my family to cycle through a bunch of vacation videos and whatnot.
One particular gem I discovered inside RaveVR is the ability to start a virtual karaoke room. Granted, a majority of the karaoke video links lead to the cheesiest third-party covers of popular songs, and not all of the videos offer lyrics or the full song, but the ability is there. I'd imagine this feature is even better with a microphone plugged in so that your friends can more clearly hear you.
The RaveVR app itself is easy to use with Daydream View and newcomers shouldn't have an issue navigating around its interface. You start out on a launcher screen, like you would in the Daydream app, and then you choose whether to start a new rave or join in an existing one. To the left, there is a feed of content, including any public raves or local ones your friends might be hosting. Once you start or jump into a rave, a chat window will appear to the right, with the content set front and center. In my experience, I found RaveVR is best used while laying down in bed, because you'll want to be comfortable.
If you're the leader of the rave, you'll be able to choose whether the session goes to auto play when the video is finished or whether the audience can vote on the next production. If you choose the latter, each participant can double tap on the video they want to watch next while the current video is playing. At the end of the show, you'll be able to see what people voted for and choose what's next on the list from there.
If you're an attendee of someone else's rave, you can't skip forward or pause the production. However, you can chat at will, with the microphone built into the device. I was pleased at the lack of lag between when I spoke and when my voice was broadcasted. I sounded clear enough that the person on the other line could understand what it was I was ranting about, and I was impressed that this was all happening on my Wi-Fi network. All this took place in real time as the video was streaming ahead for me and another friend.
Where the people at?
The true test of RaveVR's social aspect relies on how well it performs when there are more than just a few people watching the stream at a time, but there was hardly anyone to have a rave with. I was surprised at the relative lack of people to hang with. Part of the issue could be Rave's content problem, however. There is no Hulu or Netflix, for instance, which is something I'd more likely use in my personal life; just imagine being in a giant virtual room of your closest pals for the season finale of one of your favorite shows — that's the kind of interaction I yearn for from a social viewing app.
The RaveVR app on Daydream also isn't completely devoid of bugs. There were several instances where RaveVR crashed and I'd have to kill the task and then relaunch the app again. There was also another instance where I couldn't log in with my Twitter account, no matter how many times I authenticated it. But despite the minor hiccups, the concept is there. Rave just needs better content partners that would make it easy for early adopters like me to get their friends to participate.
With apps like RaveVR making their way into the Play Store, it feels like social virtual reality is right around the corner. I see Rave's offerings as the beginning of something greater, at least in the sense of how we interact online. As lives become busier and loved ones have to move farther apart from one another, these virtual interactions will become precious social currency.
Get the Android Central Newsletter
Instant access to breaking news, the hottest reviews, great deals and helpful tips.
Florence Ion was formerly an editor and columnist at Android Central. She writes about Android-powered devices of all types and explores their usefulness in her everyday life. You can follow her on Twitter or watch her Tuesday nights on All About Android.
Hey Flo! This is Cindy Aponte from Rave. Thank you for the note! Sorry to hear you had some issues logging in with Twitter and when trying to use Drive. Our team is constantly working on fixing bugs to ensure our users have a great experience. In terms of content, we'll be adding more options that I hope you and your readers will enjoy. Again, thank you for the note and we are always open for suggestions :)