Android Central 188: My god, it's full of pixels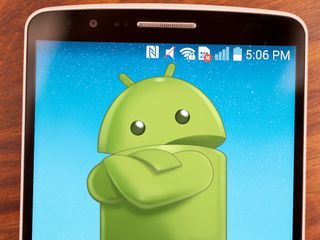 We've got our full reviews of the LG G3 — so ... many pixels ... — and the OnePlus One out the door. Plus we've go the Samsung Galaxy S5 Active here for some fun, we'll give our take on Apple's latest innovations, and we'll answer your questions live. Come join us!
(PS: If you're looking for Friday's Google I/O entry contest, it's in the podcast. Have a listen!)
Thing 1: Android 4.4.3
Google releases Android 4.4.3 factory images for Nexus devices
Check out the indecipherable changelog for Android 4.4.3 and see what's new
Motorola pushing Android 4.4.3 starting today!
Motorola's Droid family to skip straight to Android 4.4.3 update
Android 4.4.3 OTA updates hitting Nexus and GPe devices [Updated]
Latest Android platform version numbers show KitKat on the rise, Honeycomb finally gone
Thing 2: It's a major review!
LG G3 Review
Samsung Galaxy S5 Active hands-on
Thing 3: Other schtuff
Amazon's phone likely June 18
New Google Play Store greatly simplifies permissions
The HTC One E8 brings plastic to a mostly familiar experience
Samsung and Barnes & Noble team up for Galaxy Tab 4 Nook
Apple invents Google Voice with OS X 10.10 Yosemite
Apple finally allows third-party keyboards for iOS

This week's sponsors
Squarespace (use offer code ANDROID at checkout)
ShopAndroid.com (use code AC10 at checkout)
Great podcast, thanks! Posted via Android Central App

I've noticed Phil's voice goes to a very high pitch when he gets excited. Posted via Android Central App

Phil reacts to gadgets like I react to puppies... and gadgets.

For children on the internet, I recommend OpenDNS FamilyShield: http://blog.opendns.com/2010/06/23/introducing-familyshield-parental-con...

you going to chicago for a 360 preview?

How come Jerry didn't say anything about the G3? I'm sure he has plenty of interesting thoughts to share, despite perhaps not having the device in hands yet.

I'm trying not to say or think too much until i get one in my hands. Half of me thinks this could be the best phone of 2014. The other half of me has concerns about the ram allocation at start-up — especially here in the US where we have so many radio bands active. I'll have plenty to say when AT&T or T-Mobile have one for me to monkey with :)

Thanks Jerry. At&t or T-mobile, do as the man says! Posted via Android Central App

Why is your android app still busted? I can't read an article clearly without the page auto-scrolling back to the top, and the text looking ling I've been drinking for 14 hours straight. Posted via Android Central App

Maybe it's just you? Posted via Android Central App

If he is going to chicago he must be going to Motorola and get his own moto 360 like josh topolsky. Its ok NDA
Android Central Newsletter
Get the best of Android Central in in your inbox, every day!
Thank you for signing up to Android Central. You will receive a verification email shortly.
There was a problem. Please refresh the page and try again.