Pandora hits version 4.0 with completely new UI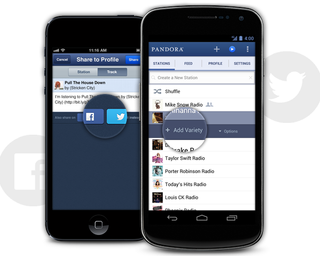 Pandora has actually undergone quite a bit of change lately. After making notable changes to the app's UI just over two months ago, Pandora has gone back to the drawing board yet again. The new version 4.0 UI is coming to both Android and iOS with a whole host of changes, although curiously the Android update will be here "in the coming weeks". We've just got the official press shots of the UI to work with here, but it looks really nice. Pandora has gone to a completely "holo" looking design with tabs at the top, and an action bar with an overflow settings key and other action buttons. Extra functionality has been added in the form of new artist pages and improvements in your ability to make a personal music profile for better discovery.
As we noted, the update isn't live quite yet. You can hit up the Play Store link above and hopefully we'll be able to download version 4.0 soon. We've also got the press release for the latest update after the break.
Source: Pandora
Pandora Redefines Mobile Internet Radio
Pandora 4.0 for iOS and Android Smartphones Sets New Standard for
Music Discovery, Exploration and Sharing
OAKLAND, Calif. October 29, 2012 – Pandora (NYSE: P), the leading internet radio service, today announced that the company's popular mobile application for both iOS and Android smartphones has undergone its biggest redesign since launching on the two major platforms.
Pandora 4.0 offers listeners a better music experience with expanded listening functionality, a detailed personal music profile, diverse social sharing capabilities and other innovative features that are available on mobile for the first time. Pandora 4.0, which marks the first time a uniform interface exists across both iOS and Android smartphone platforms, provides listeners an ideal environment for music discovery, exploration and sharing.
Pandora Chairman and Chief Executive Officer Joe Kennedy said, "Pandora has now surpassed 175 million registered users and more than 115 million have accessed Pandora on a smartphone. Our listeners' extraordinary embrace of personalized radio on their smartphones has enabled Pandora to reach massive scale in mobile and over 1 in 3 smartphone users in the US have listened to Pandora in the past month. With Pandora 4.0 we have combined years of innovation and learning into one cross-platform app that sets a new standard for mobile personalized radio."
Pandora, which now sees more than 75% of total listening taking place on mobile and other connected devices, also holds a leadership position in the mobile advertising market, where it is second only to Google in US mobile advertising revenue.
Featuring a completely redesigned listener interface, Pandora 4.0 on both iOS and Android smartphones includes:
Expanded Listening Functionality – Significantly upgraded core features of the app create an even better listening experience and include prominent placement of controls to easily add variety, shuffle specific stations, rename stations and view station details. Simplified navigation to browse genre stations on mobile for the first time makes the more than 400 genres of music on Pandora more easily accessible.
Robust Artist Pages – Designed for listeners to easily explore and learn more about the artist, album, track and station that is playing; includes improved artist biographies, album discographies, genome traits of the current track spinning and lyrics.
Personal Music Profile – Brand new music profile serves as a detailed timeline of Pandora listening for each user, capturing their personal musical preferences such as stations created, bookmarked tracks and thumb history. Listeners can choose to share their profile or keep it private.
Music Feed – New music activity feed offers a centralized place for listeners to find and follow friends and explore what listeners with similar musical tastes are discovering and enjoying on Pandora.
Instant Sharing Capabilities – Social sharing features are available on mobile for the first time with listeners able to easily share links to favorite stations and tracks with friends and followers on Pandora, Facebook and Twitter.
Pandora Chief Technology Officer and EVP of Product Tom Conrad said, "For more than a decade now our engineering team has been singularly focused on perfecting the personalized radio listening experience. Pandora 4.0 represents years of product development and innovation, both in the front end user interface and the backend infrastructure. By unifying our experience across the web and mobile we have put ourselves in a great position to lead the industry for years to come."
In order to help listeners better discover and take advantage of the new features of Pandora 4.0, the company has partnered with four major advertisers to sponsor tips and information inside the app. The exclusive launch partner lineup features McDonald's, Nike, Sony Pictures and State Farm; each of these brands will also launch mobile campaigns that will appear in highlighted new social features of Pandora 4.0 in the coming weeks.
Pandora 4.0 for iOS smartphones is now available for download in the App Store. Pandora 4.0 for Android smartphones will be available for download in the Google Play store in the coming weeks.
In related mobile news, Microsoft today announced that Pandora is coming to Windows Phone in early Q1 2013 with one year of ad-free music. More details on that are available via the Microsoft press center at https://www.androidcentral.com/e?link=https%3A%2F%2Fclick.linksynergy.com%2Fdeeplink%3Fid%3DkXQk6%252AivFEQ%26mid%3D24542%26u1%3DUUacUdUnU27656%26murl%3Dhttp%253A%252F%252Fwww.microsoft.com%252Fen-us%252Fnews%252Fpresskits%252Fwindowsphone%252F.&token=hW1Kv7hP
Get the Android Central Newsletter
Instant access to breaking news, the hottest reviews, great deals and helpful tips.
Andrew was an Executive Editor, U.S. at Android Central between 2012 and 2020.