OPPO shipped more than 50 million mobile devices in 2015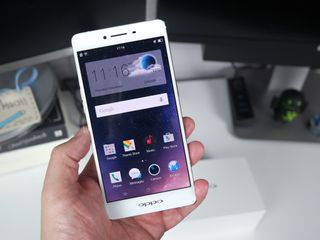 OPPO is gearing up to be a serious contender for marketshare in the mobile space now that the company has surpassed 50 million units in a single year, experiencing a year-on-year growth of 67 percent. The company is now ranked in the top ten smartphone brands worldwide, according to TrendForce. Indipendent research firm SINO MR tallied OPPO's marketshare in China alone at 27.9 percent.
In the past number of years OPPO has stepped up its brand awareness campaigns, most notably partnering up with FC Barcelona. The company has also signed a deal with the International Cricket Council (ICC) to further penetrate new markets and ensure more people are made aware of its products.
For 2016, OPPO will attempt to maintain momentum, targeting 60-percent growth in markets outside of China. India will be a key focus.
The F1 smartphone is set to launch in India on January 28.
Press Release
OPPO Tops 50 Million Units in 2015, Grows 67% Year on Year
Shenzhen, Jan. 26, 2016 – OPPO sold 50 million units in 2015, representing a year-on-year growth of 67 percent. Propelled by this success, OPPO has broken into the top ten smartphone brands worldwide, ranking eighth in global market share, according to a recent report by TrendForce.
OPPO soared in 2015 on its "simple, focused" strategy, which prioritized product quality and user experience above all. Meanwhile, a host of innovative signature technologies, such as the VOOC Flash Charge quick-charging solution and a versatile, feature-packed camera platform, won the favor of consumers around the world.
2015 saw the release of a wide range of new OPPO products, including the R7 series, the Mirror 5 and the Neo 7. The products of the R7 series, featuring VOOC Flash Charge and an outstanding photography experience, made OPPO a commanding force in the mid-range and upper mid-range market segments.
Taking China as an example, OPPO accounted for 27.9 percent of the country's offline sales in the RMB2000-2999 ($300-$450 USD) segment last year, according to independent market research firm SINO MR, positioning OPPO as the most popular choice in this price range in the offline market. This performance was fueled in part by a successful campaign promoting the VOOC Flash Charge quick-charging solution, which, with the help of the slogan "Charge for five minutes, talk for two hours", has virtually become a household name in China.
Meanwhile, in Vietnam, riding on the success of the R7 series, as well as the attractively priced Mirror 5 and Neo 7, OPPO ranked number two nationally in offline smartphone market share, with 21.9 percent, according to November 2015 data from independent market research firm GfK.
Strategic brand partnerships have also been a contributor to OPPO's rise in 2015, and are continuing to have a huge impact on the company's global brand awareness. Among the most high-profile of these is OPPO's ongoing three-year partnership with FC Barcelona, which has afforded opportunities to connect with the fans and followers of one of the most popular football clubs in the world. Meanwhile, a recently announced partnership with the International Cricket Council (ICC) is set to open up a host of exciting opportunities in India, Pakistan, Sri Lanka, and a range of OPPO's other cricket-loving markets.
OPPO has also leveraged cross-industry promotions to boost its image. In Australia, OPPO cooperated with the fashion world for Melbourne and Sydney fashion weeks, successfully positioning itself as a vendor of trendy, stylish devices in the mid- and upper-mid range.
2015 also saw big expansions in OPPO's global markets. While strengthening core markets in China and Southeast Asia, OPPO also opened up business in Morocco, Algeria, Egypt and Sri Lanka. In hotly contested India, the company invested heavily in a domestic main office. As of December 2015, OPPO had established 11,000 sales outlets across India and entered into cooperation with Foxconn India to assemble phones domestically.
In 2016, OPPO will keep the momentum going, with a goal of 60-percent growth in non-Chinese markets. India will be a chief focus for the company this year, with a planned sales increase of 300 percent by the end of the year.
2016 will also see OPPO strengthen its well-deserved brand image as a provider of superb camera experiences, while at the same time putting an increased emphasis on bringing OPPO phones to a wider range of users, by providing devices that bring phenomenal quality-to-price ratios. The photography-centric F1, the first product in the new F series, is an early step in this direction.
With the F1 set to launch in India on January 28, OPPO is already ramping up to bring its innovative smartphones to even more users this year, and to make 2016 a new high point.
Get the Android Central Newsletter
Instant access to breaking news, the hottest reviews, great deals and helpful tips.