Nexus 7 getting Android 4.1.2 update, adds landscape mode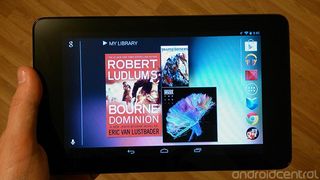 Hot on the heels of the Android 4.1.2 AOSP announcement, an over-the-air update to the freshly-minted version of Android is slowly starting to roll out to Nexus 7 tablets. Reports from EE Times and the Android Central forums say that the update (finally) adds a landscape mode to the tablet's home screen launcher, in among the usual bug fixes and performance enhancements. We're sure that launcher change will please more than a few Nexus 7 owners sick of being stuck in portrait mode all the time.
The update package weighs just over 31MB, and is slowly starting to push out to Nexus 7 owners. We're not seeing it on any of our devices yet, but if you want to try your luck, head to to Settings > About device > Software updates and start mashing that button.
If you're one of the lucky few to have already received the update, be sure to shout out in the comments and let us know how you're getting on.
Source: EE Times, Android Central forums
Alex was with Android Central for over a decade, producing written and video content for the site, and served as global Executive Editor from 2016 to 2022.
So if I'm unlocked and rooted, I should NOT do the update, or how does that work with Nexus devices? I know never to accept OTAs on my EVO LTE (and all my past phones), but this is my first Nexus. /Kevin

Same question here. Mine is stock, unlocked and rooted. What should I do to accept this. I am not interested in adding a custom ROM to this tablet. I do that for my GNEX phone.

I just read in a thread on XDA that they were stock, unlocked, and rooted, and when they took the OTA, it upgraded fine and they didn't lose root. So, that sounds promising, but it's only one person. Hopefully by the time mine has the OTA notice, I'll have a solid answer one way or the other. (If not, I'll probably just go for it anyway, ha.) /Kevin

you can update and then just root it again.

In theory, but it's possible they could have fixed the exploit that made that root method possible, right? (Although, if I remember correctly, this root method is pretty old, predating the Nexus 7 by a long time.) /Kevin

It's a Nexus. It's made to be rooted.

They key component of his question: unlocked. If it's unlocked it can easily gain root. If it was rooted early on before the exploit was closed, it will then have to be unlocked first, which will mean a factory reset.

I believe commenters on XDA have posted stating successfully updating and were able to keep their custom recovery, root, and unlocked status.

That's what I've since read as well, which would be awesome. Guess I'll find out soon enough! /Kevin

I lost root...but I have Voodoo root keeper from the play store. I simply had to open t and click restore root. Done.

I figured they would add landscape mode. That's why I didn't put down the three bucks or so for that rotation control app.

Looking at the screenshot, I prefered the ICS method of landscape fragments as visible in the Xoom :-(

About time, this sounds great. It does get annoying when exiting an app that was in landscape mode. I really interested in the changelog. I wanna see what other goodies are in this update!!

Can we please get our POGO dock now?

now if there was only a way to like this post

This. A thousand times, this.

As always this might remove root just cuz its a nexus doesn't make that part less true...

I don't know the reason that prevents Android Tablets from supporting 3G or 4G LTE. I want to get Nexus 7, I have the price, but getting the device to use it indoor only is a useless thing. So sad. I wanted the TF 700, but no 3G. I wanted the Nexus 7 and also no 3G. I'm very sad that no good android tablet supports 3G except Samsung... But I hate Samsung as they are very slow in releasing updates and their devices design is below normal, their materials are not that good to feel in hand.
I hope to live until Google release a Nexus Tablet that is not Samsung or LG and supports 4G LTE or at least 3G...
:(

The simple solution is to just tether off of another device (like a phone?). I know it doesn't magically give the tablet a cellular connection, but at least it allows the mobility you're looking for.

This is exactly what I do for my Nexus 7, like you said it is a simple solution and the connection speeds are on par with the mobile device.

Hope this is for smartphones as well as tablets, I want it on my galaxy nexus. I like the stock jellybean launcher, but I want landscape mode without installing a third party launcher.
Not that I'm against third party launchers, just would be nice to have in the stock launcher as well.

Umm, I've already had landscape mode on my N7 since basically when I bought it. On XDA there is a post on a line to add to the build prop that enables true rotation. Took literally 45 seconds and has been amazing ever since. No need for lame rotation app. Link:
http://forum.xda-developers.com/showpost.php?p=29932688&postcount=4 line to add to build prop:
launcher.force_enable_rotation=true Easy as pie.

Nova launcher fixes the landscape issue...I only hope it fixes the touch screen response bug

@alex dobie If that's your Nexus 7, give Solitaire Ultra by fire frog games a shot and let me know how you think it compares to the version you use by mobilityware.

SMH THIS SHOULD BE CALLED A SCAM BY GOOGLE IF THEY ARE GOING TO RELEASE THIS TABLET AS THE SAME PRICE AS THE 16GB AND BUMP THE PRICE DOWN ON THE 16GB NOT A GOOD FOR THOSE WHO ALREADY PURCHASED THE 8/16GB VERSIONS!! WOULD THEY OFFER A BUY BACK OR WOULD THEY JUST LEAVE US TO SHAME?? THIS IS SOMETHING THAT WE HAVE TO UNITE BOUT? THEY ARE CONNING THE US THE CONSUMER. THIS NO DIFFERENT ABOUT THE BOOTLOADERS BEING LOCKED COME ON PPL THIS IS BS!!! AND I KNOW MEAN OWNERS OF THE NEXUS 7 TABLETS WILL BE UPSET BOUT THIS THEY NEED TO COME UP WITH AN IDEA THAT WILL BENEFIT THE CONSUMERS NOT THEM...

Grow up. You thought what you purchased was worth it, so whats changed?

You have got to be one of the biggest idiots I have ever seen post online and I have seen a lot of stupid posts. Also, apparently you don't understand the purpose of CAPS! All electronics devices go down in price or a newer better model comes out with better specs at the same price. It does not matter if you are buying a tablet, phone, TV, a car or whatever. Of course there is going to be a newer better model for the same price. When you bought your Nexus apparently you felt it was worth the cost for the device and now you think Google has stabbed you in the back? Get real and grow up! YOU ARE ONE STUPID SOB!!!

While his tone was a little bit much, I think he ultimately has a point and I think you guys are being hella harsh on him. Consumers have every right to be upset when a device that was released and bought just THREE MONTHS earlier is being End Of Lifed, and a better one replaces it for the same price. You are incorrect in stating that that "happens all the time." Yes, if you buy a car, for example, a new version of it can come out the next year that is better or another type can come out within months that is better, but it is NOT common for Mercedes, for example, to put a 2012 C250 Sport on the market, and then just 3 months later, DISCONTINUE that very 2012 C250 Sport, and release a new version of that same 2012 C250 Sport, for the same price, but with suped up specs. If they did, car owners would be crying foul all over the place, and if they didn't, and weren't upset, they'd be silly. Besides, Google has a history of compensating early adopters who have felt slighted in situations like this, so I hope that trend continues, and I encourage anyone who feels slighted in this manner, if in fact these rumors prove to be true, to speak up and voice their opinion to Google and Asus.

No one forced you or anyone to buy a Nexus 7. When you buy the device you ask yourself would you rather have $200 or a Nexus 7.

you can eat a big one you A** Whipe!!!!!

you can eat a big one you A** Whipe!!!!!

"The company should come up with something that benefits the consumers, not them" Interesting idea. I tell you what. You make the company that does that and I'll be your best customer :D

You my friend are less than smart...wow. Also companies that benefit consumers and not the company have existed...they then went out of business. Business is a two way street...it gives consumers products but generates profit/money/revenue for them. Maybe they should give you a free Nexus when the next one drops along with a little education on how to properly and EFFECTIVELY use the caps button.

You buy a piece of tech, it then gets cheaper (or better for the same price, or both). C'est la vie. It would be a very odd world if that wasn't the case.

1) Lose the all caps. It's annoying to read and completely changes the perceived tone from that of an at-least-somewhat-reasonable person to that of a belligerent douchebag. 2) As consumer electronics devices get older, their prices normally come down. Examples:
- Apple now sells (in the US, anyway) the 16 GB, Wifi-only iPad 2 for $399 (down $100 from when it was new),...
- the 16 GB iPhone 4S for ~$100 on contract (down $100 from when it was new),...
- and the 8GB iPhone 4 for ~$0 on contract (down ~$100 from a year ago, and down ~$200 from 2 years ago, albeit with less storage now).
- AT&T and Sprint are selling the Samsung Galaxy S II for ~$100 on contract (down ~$100 from launch price). (T-Mobile has a deal to get their SGS2 for free online right now, so Idk what the normal price is.)
- Google is selling the SIM-unlocked GSM Galaxy Nexus on Google Play for $349 (down $50 from a few months ago, and down plenty more from launch-time import pricing).
- AT&T is selling the HTC One X for ~$100 on contract (down ~$100 from a few months ago).
- My Lenovo Ultrabook cost ~$1200 when it launched last year, but I got it a couple months ago for ~$1000. I don't think I need to go on. These discounts over time are commonplace in the industry. Companies figure out how to manufacture these products more efficiently as time goes on, and they reduce prices to keep people buying even though the given device isn't the hot new thing anymore. 3) No, this isn't "no different [than] about the bootloaders being locked" (your caps removed). I'll excuse your mistake of confusing LOCKED bootloaders (even Nexus devices ship with locked bootloaders) with ENCRYPTED* bootloaders (Verizon is infamous for this security feature/tinkerer oppression), as this is a common misconception. However, the two situations are different because you can't pay Verizon to unlock your bootloader (you could get an expensive dev edition off-contract, but only if the OEM offers one). On the other hand, you do pay Google/Asus (or any other tech company) for the privilege of having the device when it's still a new product. Early adoption carries a heftier price tag than buying later. That's just the way things work. 4) A more proper response to Google lowering the price of the Nexus 7 is: "Oh sweet, now even more people will be able to buy an amazing Android tablet. This benefits consumers directly (Nexus 7 is awesome, and the more people that have one, the better). It also benefits them indirectly, as a cheaper-but-still-quite-functional tablet keeps other tablet makers competitive, both in price and in user experience, and competition benefits the consumer, who gets more great choices in a 'may the best product win' industrial environment." 5) This is only slightly relevant to the article's topic, as the only connection between 4.1.2 on the Nexus 7/Galaxy Nexus and the RUMORED drop in price of the Nexus 7 is, well, the Nexus 7. * See what I did there? I used Caps Lock to add emphasis to individual words, not make my whole post sound like I'm yelling obnoxiously at the top of my lungs.

:-( my Nexus7 just cracked the screen, too expensive to fix... feels like i just lost puppy! no money, so said...

Wow. Sorry, that sucks. Do you know how much it is to fix?

Asus estimates $180 with shipping... cheapest i found to buy LCD/digitizer $130 but out of stock.

It could be worse. You could have had it for less than a month and then left it on your car roof and driven off, never to see it again. No prize for guessing who did just that. :-(

4:05pm EST has anyone received the actual update yet?

Damn thanks for messing up my day GOOGLE!!! Im sitting here hitting check for update.

ONE HOUR LATER STILL NO UPDATE!!! (Sorry AC...LOL)

This is really exciting but doesn't really apply to me since I use Nova Launcher Prime.

Still no update on my end. Hopefully it will come soon. Might actually make me want to return this iPad I'm trying out! Oops my secret is out!

Still no update for me. This sucks.

Still no update for me either. Are you sure it's not HTC putting out the updates?

Definitely rolled out by Google...just updated my Nexus 7. ONE NOTE: It doesn't automatically rotate. I had to go into my settings and give the "auto-rotate" option the OK. Once that was done, it's doing everything I had hoped for from the time I got the device.

I wonder if the update is just for the nexus 7 or will I see it soon my my gsm gnex too. Anyone know?
Android Central Newsletter
Get the best of Android Central in in your inbox, every day!
Thank you for signing up to Android Central. You will receive a verification email shortly.
There was a problem. Please refresh the page and try again.