Lumos Smart Helmet vs Livall MT1: Which should you buy?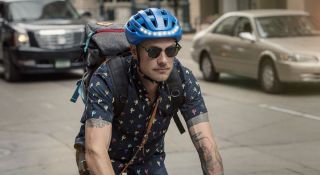 Lumos Smart Bike Helmet
(opens in new tab)
Well-received on Amazon and elsewhere, the Lumos comes in multiple colors and includes 48 lights, including 10 on the front and 38 on the back of the helmet.
Lumos Smart Bike Helmet
Turn signals and LED on both the front and rear
Water-resistant
Includes handlebar remote
Compatible with Apple Health and Strava
Pricey
Less battery life between charges
Livall Stote MT1
(opens in new tab)
This helmet provides protections and also lets loved ones know if you're in trouble thanks to a built-in SOS alert feature that works with your smartphone.
Livall Stote MT1
Better price
SOS system
Walkie-Talkie
Lighting on the back of the helmet only
Limited color choices
Both the Lumos and Livall Stote MT1 smart helmets offer advanced functionality and protection that make them each worth considering. The best choice for you will depend on when you plan on wearing the helmet most days and what type of extra features you can't live without.
Let's compare
Each helmet has their own distinct safety features, but they work for different kinds of rider.s Of the two helmets, the Lumos is the one that provides LED lighting on both the front and back, which provides an extra layer of protection that's missing on other helmets. We're also impressed by the Lumos' ability to sense when you're slowing down. On the other hand, the lights on the helmet will turn solid red automatically when you increase your speed. Meanwhile, the MT1 provides tools like SOS Alert and Walkie-Talkie ideally suited during both emergencies and when it's important to talk to biking teammates.
We believe the Lumos is the smart helmet choice for most folks, even though its battery won't last as long as the Livall. Even if you're not necessarily looking for a nighttime biking solution, the Lumos is the only one that offers LED lights on the front and back and comes with a MIPS Brain Protection System (BPS). This type of system has been designed to reduce rotational motion, thereby putting less pressure on your brain in the event of an accident.
The Livall shouldn't be discounted, however. It weighs less, which is by design. Constructed through unibody molding with imported American EPS foam and high-quality polycarbonate, this helmet uses 21 vents that provide improved air cooling and reduced wind resistance. The Livall also comes with a rim that protects the user against tree branches, prevents water from getting into your eyes, and shields you from direct sunlight. With the SOS system, you can alert your family and friends when you're in trouble.
| | Lumos | LIVALL |
| --- | --- | --- |
| front lights | Yes | No |
| SOS alert | No | Yes |
| Weight | 439g | 310g |
| No. of styles | 6 | 2 |
| Battery endurance | 6 hours | 10 hours, lights only |
Bike helmets have come a long way in recent years and no longer just provide physical protection. The Lumos, for example, has been designed to improve safety during nighttime biking. By contrast, the Livall can keep you connected to the outside world through the use of an advanced Walkie-Talkie feature that offers a built-in windproof microphone and advanced Bluetooth speaker. It's the ideal choice if you're looking for a way to enjoy hands-free communication and music while riding. The choice is up to you.
The safety winner
(opens in new tab)
Lumos Smart Helmet
Award-winning
A London Design Museum award winner, the Lumos Smart Helmet is durable and also an attention grabber. If safety is your No. 1 reason for buying a helmet and most of your time spend on your bike will be at night, pick this one.
The one with extras
(opens in new tab)
Livall Stote MT1
Light and Durable
The LIVALL Stole MT1 is worth considering because of its extra features such as SOS alert, Walkie-Talkie, and more. There are lights on the back of the helmet for extra protection.
I'm a single dad that loves everything tech. Although I'm mostly an Apple fanboy (don't hate me), you will find me writing about Android-related stuff here occasionally. Follow me @bryanmwolfe
Android Central Newsletter
Get the best of Android Central in in your inbox, every day!
Thank you for signing up to Android Central. You will receive a verification email shortly.
There was a problem. Please refresh the page and try again.