Smart speakers are super useful, and smart speakers with built-in screens have emerged as a whole new category in recent years. Having a display makes them even more versatile in certain situations, but have you ever wanted to just pick up that smart screen and take it with you? If you have, you ought to check out the Lenovo Smart Tab M10 HD, especially while it's on sale. It combines the best of an Android tablet with an Alexa-enabled speaker dock that transforms it into something akin to an Echo Show when docked. Right now, the tablet and dock combo is down to only $129.99 at Amazon which is a match for its best price ever there and is more affordable than an Echo Show (despite it being on sale).
Tablet meets smart speaker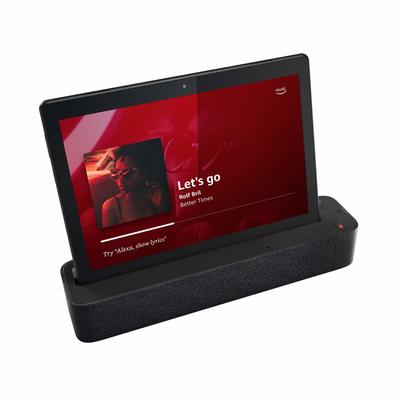 The M10 HD has a 10.1-inch HD display, Qualcomm Snapdragon 429 processor, 2GB RAM and 16GB storage with support for microSD cards up to 256GB. The best part is when this Android tablet is docked, it becomes a screen for Alexa to use. Very cool.
$129.99 $149.99 $20 off
The M10 HD tablet includes the eponymous 10-inch HD display, two front speakers with Dolby Atmos, and more. It's powered by a 2 GHz Snapdragon 429 processor, 2GB RAM, and has 32GB of internal storage plus support for microSD cards up to 256GB. It runs Android and has access to the Google Play Store for apps, lasts for around 8 hours per charge, and even has a built-in Kids Mode so you can feel safe handing it to your little ones.
The included dock is what makes this product unique, though. Set the tablet down and it becomes a smart, Alexa-enabled screen with the dock's 6W speaker array providing the audio. You can use Alexa exactly like you would on the company's own Echo hardware to get information, show recipes, play music, add to your shopping list, make video calls, and much more. It can control your Alexa-compatible smart home accessories as well. The dock, of course, makes for a convenient tablet charger too.
There's no telling exactly how long today's discount will last, but the only previous time the M10 HD hit this price the sale was over in a matter of days. Don't let these savings pass you by if a 2-in-1 tablet/smart speaker appeals to you.
We may earn a commission for purchases using our links. Learn more.