Join the Dark Side with these awesome AMOLED-friendly wallpapers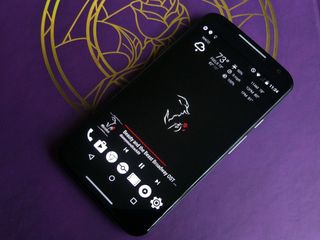 That can be a problem. Maybe you want a simple wallpaper for their elegance. Maybe you want a dark wallpaper that lights up less of your screen. Maybe you want a clean wallpaper so it's easier to see what's actually on your screen instead of being overwhelmed by the wallpaper. Maybe you just like black because it goes with everything, from your shoes to your shirts to your soul. Whatever your reasons, we've got the ultra-dark wallpapers for you.
Stormtrooper
Most stormtrooper wallpapers are as white as the day is long, but this minimalist wall flips the script and shows what would be a terrifying sight to any self-respecting rebel scum: the mask of an Imperial Stormtrooper creeping out of the shadows to put you in its terribly aimed sights…
Neptune and Triton
Space. A seemingly endless void where no one can hear you scream… But there's still a serene peace to it. Even on a distant and bitterly cold planet like Neptune, we can find beauty and tranquility.
Tron Light Cycle Wallpaper
Try and tell me you don't want a light cycle. Just try. You can't do it. They're so cool, and whatever you thought of Tron Legacy (and the threequel that got canned), the way it did light cycles was even cooler, and such a dark wallpaper meshes well with our setups, and our souls.
Batman Beyond
Okay, I take back my earlier statement. The Stormtrooper isn't that terrifying. If I was in a dark alley and all I saw were two glowing eyes and the bat symbol, I'd be scared witless, and I'm not even a criminal. Batman is a badass and the only line he won't cross is releasing you to the sweet, sweet mercy of death after breaking every bone in your body. He is a symbol of justice to the masses and a symbol of terror to those who would do wrong.
Beauty and the Beast Minimalist Wallpaper by chrisaloo
Great as the film was, there's something about musicals that can (and in many cases do) surpass the original. Musicals are where we see the awesome numbers that were cut from the film for timing. Musicals are where we can see new depth to storylines we knew and loved as a kid.
Who says princesses can't be dark? Now excuse me, I need to go belt out 'Home' in a dark tower somewhere…
Ara Wagoner was a staff writer at Android Central. She themes phones and pokes YouTube Music with a stick. When she's not writing about cases, Chromebooks, or customization, she's wandering around Walt Disney World. If you see her without headphones, RUN. You can follow her on Twitter at @arawagco.
Awesome! I fell in love with AMOLED the moment I received my Samsung Droid Charge five years back. Feels like forever ago.

The thing I hate most about my 5X; that it's not AMOLED. Samsung, here I come!! Posted via the Android Central App

If AMOLED is your biggest concern and reason to switch to Samsung, go have fun with knox.

Cheers guys! Posted via the Android Central App

TW is totally fine on the S7/N7.

You don't have to deal with Knox? Or is this again USA **** like the Provider bloatware etc?

No because in don't have a Samsung phone

The links take you to a website that you need to pay for the wallpapers.

If you mean Neptune and Triton, there are free and paid versions available on that page. Also, what's so wrong about paying for work you like?

Getting a low res crappy image won't be a welcomed addition to anyone's wallpaper arsenal. Native res images are a must. Also, $14.99 to join a site for a single wallpaper is ridiculous. No thanks.

1920x1440 is "low res crappy"? That is the largest res image that is still free from the site.

The fact that it's a jpeg from the internet, and essentially 99% black. That's why. I suppose next you'll tell me to pay for music!
lol jk

People pay for music nowadays?

Why don't they listen to it for free on the radio? /s ((Seriously though, I freaking love All Access and YouTube Music. Best 16 bucks a month I spend for that family plan.))

I was thinking more along the lines of kodi and bad seed customs Pandora app. J/k
I pay for Google play music with YouTube red .

I need to play with Kodi one of these days...

Would make things easier lol

Kodi is the best. Don't tell DirecTV, but i canceled Sunday ticket because of kodi.
J/k....maybe Kodi on my phone, Nvidia shield TV, my firestick and my MacBook pro.

Why is your biography written in third person? Edit: nevermind, I just noticed she is the author of this post.
Any lady tech that is hot like you and goes to Disney world is alright in my book.

I need to go back to Disney World again, my trip to Disneyland next month got called off and I'm jonesing for the new Soarin'....

I love Disneyland and world. Only thing I hate about it is mission space ride at Epcot. That ride should be banned.

Eh, I wouldn't ban Mission Space. I'd ban Stitch's Great Escape.

Well, the whole tomorrow land needs to be changed.
Can't wait to go and stay at the Polynesian resort again. Only one I can stay in in California is the grand Californian

I'd love to stay at the Poly again... Or stay at the Grand even once. So beautiful...

Sounds like you need to come with me next time.

I consume content until a wall presents itself... jk...

I always go for the black, static, wallpapers, as to not drain the battery. So these are right up my alley

(@Ara Wagoner) Author, you need to verify and understand the technology before you post junk like this. Most of these are dark yes, but NOT AMOLED friendly! Only if it is hex #000000 will it save any battery. The pixel is on or it's off with AMOLEDs, so unless it is off you are saving no battery (#000000) Beauty and Best: #090708 which is 3.5% red, 2.7% green and 3.1% blue <-- No Battery Savings Neptune: #000306 0% red, 1.2% green and 2.4% blue <--- No Battery Savings Tron: Not going to bother, you can tell that's not pure black <--- No Battery Savings BATMAN IS PURE BLACK STORMTROOPER IS PURE BLACK

Yeah it's pretty clear this is a climbing ad-free shitpost. Also the resolution on most of these is too low for high end >FHD phones

I understand that there might be some base power usage that a pixel has if it's on, no matter how low the light. However, I think it will still use significantly less power when it's displaying a nearly black color.
Could it be that you think Amoled is working like a lot of small LCD's that are fully lit and then filtered? This is of course the reason why black doesn't save power for LCD's (actually it's using more power than white), but Amoled doesn't work like this. If I'm wrong please educate me. :)

False. Go read the link in posted below, all then education needed

Stormtrooper is pure black because I edited it to be pure black and hosted it myself. If I'd done that for all of them, I would've deprived the authors of their traffic and credit. I chose to showcase the wallpapers as they were presented, not completely black, and let the authors have the credit. If you need true pitch black, it's three clicks in any photo editor:
Select paint bucket
Select pure black
Click anywhere black on the wallpaper I didn't want to call it black wallpapers so I said AMOLED friendly. I just want to share a few wallpapers in a vain and selfish attempt to get people to switch up their home screens and stop using the same boring wallpaper they've probably used since they got the phone. I understand the technology. I also understand that unless you live on your home screen as a themer like me, you're not on your home screen enough to matter to your battery. That's also why your launcher doesn't appear in your battery stats often. That's why I don't allege any battery savings with these. AMOLED does dark colors better (even if your only battery saving is on pure black) , that's why I said that they're AMOLED friendly.

I am going to assume this will not make a difference in battery life on an LCD screen?

No and most of these won't for AMOLED since the author doesn't understand AMOLED technology.

Can anyone link to some benchmarks or *real-world* tests that show that pure black actually makes a difference on an AMOLED display?
I'm personally skeptical about this making a significant difference. I mean if I can get a 1% increase in battery life, I'm not going to bother - though if we're talking 5% or more, I'd consider it.

Keep in mind, PURE black From way back in 2014 but this explains it well. (I think it was taken from AndroidPolice though because I recognize the author)
http://www.greenbot.com/article/2834583/how-much-power-does-a-black-inte...

Just read the article again and it doesn't mention anything about battery life so why the butt hurt? Posted via the Android Central App

You clearly didn't read the article and how am I butthurt? I hate people who spread misinformation. Especially news sites

I did read the article and it mentions nowhere about saving battery life?? Apologies the butthurt thing was an off the cuff remark. I don't see anything here which is misinformation though? She's just telling us about wallpapers which happen to suit AMOLED screens in particular - it's not an exhaustive article. Posted via the Android Central App

You really have a thing for hurt butts. I dont know if it is some perverse pleasure you have or what... Here it is just for you "Your actual savings will depend greatly on how much screen time you have and which apps you use, but eking out an extra 15 or 20% screen time seems quite plausible." "Power consumption was 41% lower overall when using the predominantly black interface" There is also a graph right above that which shows the exact mAh saved Use your battery size and normal drain rate and do the math Also
Her point was attempting to be about saving battery. While else say AMOLED friendly, otherwise she would posted other pictures that weren't mostly a shade of black.

Because even if it doesn't save any measurable battery life, it looks better, especially at night when browsing my phone in bed.

Some confusion here, I was referring to Ara's article - not the two year old link you've copied into your reply. I apologised for the off the cuff comment. Seems you've just come here to troll over the comments about your superior knowledge of Amoled when nobody actually cares. If you hate the news story so much then by all means show us something better, before rubbishing someone elses opinion on what many people would find useful. Posted via the Android Central App

You clearly don't know what trolling is but I will gladly show you

Wow, 41% decrease in consumption! That seems almost too good. Unfortunately, with many apps that have light/dark theme options I have issues with legibility on the dark theme (Feedly comes to mind) - causing me to raise the overall brightness. I would think this counteracts the gains I get in the first place. :/

A good alternative/compliment to black are pixel off apps. They turn pixels of in a pattern that doesntnaffect useability other than slightly darker screen

What a terrible post. Most of these aren't high res enough for quad HD phones and more damaging, like the other commenter states, is that most of these aren't truly black and thus will drain your battery on smiled anyway

Moto Z is AMOLED. Samsung isn't the only option. Posted via the Android Central App

Sure, but SAmoled is superior :p

'Super AMOLED' is a glorified Samsung marketing term, nothing more. The only benefit to it vs other AMOLEDs is that the display assembly can be ever-so-slightly thinner because the digitizer matrix is bonded directly to the display panel glass rather than being in its own separate layer, and that still didn't stop Moto from making a thinner phone than Samsung ever has.

Nexus 6P is Amoled as well. Posted via the Android Central App from my Nexus 6P on Project Fi

Just looking around here pretty kool stuff.In fact I am looking for free wall paper for my android.
Cheers.

I liked the Batman Beyond wallpaper, but that wallpaper site is a bit behind the times in terms of screen sizes, especially for mobile (480x800, a la Galaxy S2 and Evo 4G? Barf.), so took the biggest size and added and subtracted some canvas here and there to make it QHD: http://i.imgur.com/nrYll9I.png

I still run the old microbes wall paper from the original galaxy s I think it was. Not completely dark and us a live wallpaper but still one of my favorites

Nice! Thanks Ara. Posted via the Android Central App
Android Central Newsletter
Thank you for signing up to Android Central. You will receive a verification email shortly.
There was a problem. Please refresh the page and try again.