Introducing GameStash, the best new way to get unlimited Android games!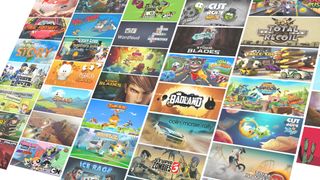 The beautiful GameStash app
Android gaming is too often a toss-up. You download a game from the Play Store and hit one of two obstacles: the game is plain bad, and you wasted your time; or it doesn't run on your phone, and you, well, wasted your time. And then there's the third option, of paying for a game you may not like — or waiting months until it goes down in price.
These are all not ideal situations. GameStash is ideal.
What is GameStash?
Think Netflix for Android games, but with a few smart twists. For $4.99 per month, you get access to hundreds of excellent Android games, both free and paid, that you can download and play as long as you're a subscriber.
Games like Rayman Jungle Run, Cut the Rope, Talking Tom Gold Run and Worms — fantastic titles that you'd either need to pay for, have ads or in-app purchases from the Play Store — are available for free with a GameStash subscription.
Just download the app
You start with the GameStash app, which is your portal to the entire ecosystem. It acts as your app store, your guidebook, and your instruction manual to great gaming experiences.
The only thing you need to do is follow the instructions to enable unknown sources — apps that are downloaded from outside the Google Play Store — to make it work. If you've ever downloaded the Amazon Appstore, you'll be familiar with how it works.
Once that's enabled, downloading a game to your phone is as simple as tapping the 'Install' button!
It couldn't be easier!
So tell me about the games
Here's the beautiful thing about GameStash. These are not just any games: they're hand-selected from our team of discerning gamers. While the range of titles is broad, appealing to both you and your kids, they are all great titles.
The best thing about them is that there are no in-app purchases! Some of the games you can download from GameStash are free to download on the Play Store, but they're better on GameStash because we've made everything free. No more worrying about scrounging for gems or coins, or waiting hours for your next turn. We've done all the hard work to make sure these games are incredible experiences for every player.
That's why GameStash is so appealing — especially to kids. You won't be bugged to approve dozens of in-app purchases while at work, nor will you have to explain why your kid needs to wait eight more hours to build that next tower. It just works.
And we're adding more games all the time! If you want to see a game added to the list, let us know and we'll do our best to get it on there. It may take some time, because each game in our vault requires a bit of fine-tuning to get just right, but the wait will be worth it.
What was that price again?
So, $4.99 per month for access to hundreds of premium titles that don't require any additional in-app purchases. That's a pretty amazing deal, and something we stand behind.
We want you to try GameStash for free to see if it's right for you! Right now, download and install GameStash and try it free for 14 days.
Have fun!
We want you to have fun with GameStash, because we think it's one of the best services of its kind out there. We'd love to hear your feedback so we can make it even better going forward!
GAMESTASH.COM
Get the Android Central Newsletter
Instant access to breaking news, the hottest reviews, great deals and helpful tips.