One of Amazon's daily deals today features the Tineco A10 Master 2-in-1 350W cordless vacuum cleaner down to a low price of $209. That's a temporary sale that won't be here tomorrow. The same vacuum normally sells for around $270. It has only dropped to this price once before back in July during another one-day sale. Don't miss out on your chance to save big and get your place clean at the same time.
The vibrant orange A10 Master is also on sale but not directly. Clip the $45 off on-page coupon and you can get it for $204 from its regular price of $249.
Cleaning Power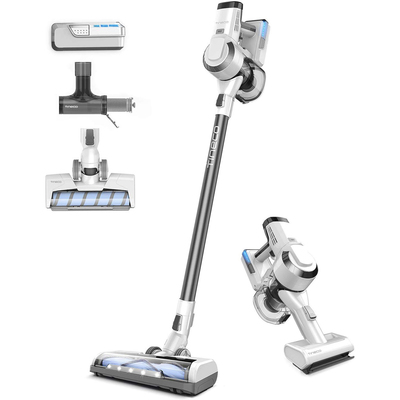 Has a 350W brushless motor and that helps keep the powerful suction ultra quiet. It even converts to a handheld and comes with floor-to-ceiling accessories. Clip the on-page coupon to score the best price.
$204.00 $270.00 $66 off
The Tineco uses a 350W brushless motor designed to provide powerful suction while keeping the machine as ultra quiet as possible. It also has two 2000mAh lithium batteries that deliver 25 minutes of runtime each. You can use both together for a total of 50 minutes. They are detachable and rechargeable.
You can also convert the Tineco to a handheld vacuum to clean places the main vacuum can't go, like between cushions or the stairs. Use the variety of tools like the crevice tool and 2-in-1 dusting brush to give your house a full clean. It also has two LED full-size power brushes for dealing with different floors of different types and cleaning all the different kinds of dirt.
The vacuum has a four-stage filtration system and a rinse-free filter cleaning tool that helps capture all the particles and allergens that give you a hard time. The vacuum won't leak any fine dust, and the dustbin is super easy to empty so you can g et rid of it all.
The vacuum is super lightweight and easy to store. Tineco covers the A10 Master with a two-year warranty. Users give it 4.2 stars out of 5 based on 447 reviews.
We may earn a commission for purchases using our links. Learn more.