Google Play treats Android owners to free Boingo Wifi through September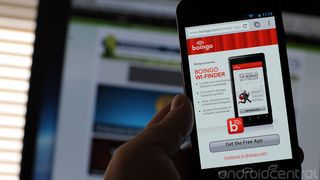 If you're trucking through an airport or are near one of the any other 4,000-some Boingo Wifi hotspots, you'll be able to connect for free through September, thanks to the fine folks at Google Play. But only if you're using an Android device, or a Mac or PC. iPhones and the like are excluded from this promotion, Boingo confirmed to Android Central.
So sowwy.
On the other hand, it's Google promotion, to do with as it sees fit. And we're cool with that. And if you're at JFK, O'Hare, Sea-Tac, a handful of Manhattan subway stations, or a bunch of malls and other places -- and if you're rocking Android (you should be) or a Mac (acceptable answer) or PC (we'll take it, too), you can get your WIfi on for free. Be sure to thank the folks in Mountain View when you see 'em.
Free Boingo Wi-Fi at Locations Across the Country Sponsored by Google Play
Sponsored Wi-Fi Available Starting This Week at More Than 4,000 Hotspots
LOS ANGELES--(BUSINESS WIRE)--Boingo Wireless (NASDAQ:WIFI), the Wi-Fi industry's leading provider of software and services worldwide, announced today that millions of people will have access to free Wi-Fi at more than 4,000 hotspots thanks to Google Play. The Wi-Fi hotspots are part of Boingo's Cloud Nine Media platform, a global advertising network that enables brand advertisers to reach a captive audience through Wi-Fi sponsorships.
Starting this week, Wi-Fi users with Android phones and tablets, as well as Windows and Macintosh laptops, will be offered complimentary Wi-Fi at thousands of high-traffic locations in dozens of cities nationwide, courtesy of cloud-based digital entertainment destination, Google Play.
Sponsored Wi-Fi locations include 15 airports, such as New York's John F. Kennedy, Chicago O'Hare and Seattle-Tacoma, Boingo-enabled Manhattan subway stations, and thousands of hotels, shopping malls, cafés and recreational areas.
Consumers taking advantage of the free Boingo Wi-Fi sponsored by Google Play can get free content, check out the latest releases and stay entertained with instant access to their favorite music, movies, books, apps and more.
"Google Play is the first to take part in our newly expanded Wi-Fi sponsorship network, which reaches millions of consumers each month with place-based brand engagements," said Dawn Callahan, vice president of consumer marketing for Boingo Wireless. "Sponsorships like this give users the free Wi-Fi they crave, advertisers the consumer interaction they need, and venues the revenue to offset the costs associated with providing a high-bandwidth Wi-Fi experience."
The free Boingo Wi-Fi lasts through the end of September. With the recent acquisition of Cloud Nine Media, Boingo Wireless now offers brands a global advertising network that includes more than 70 leading airports, the New York City subway, shopping centers, stadiums and thousands of hotels, restaurants and recreational areas, reaching more than 1.5 billion people annually.
About Boingo Wireless
Boingo Wireless, Inc. (NASDAQ: WIFI), the world's leading Wi-Fi software and services provider, makes it easy, convenient and cost-effective for people to enjoy Wi-Fi access on their laptop or mobile device at more than 500,000 hotspots worldwide. With a single account, Boingo users can access the mobile internet via Boingo Network locations that include the top airports around the world, major hotel chains, cafés and coffee shops, restaurants, convention centers and metropolitan hot zones. Boingo through its Concourse Communications Group subsidiary operates wireless networks at large-scale venues worldwide such as airports, major sporting arenas, malls, and convention centers, as well as quick serve restaurants. For more information about Boingo, please visit http://www.boingo.com.
Boingo, Boingo Wireless, the Boingo Wireless Logo and Don't Just Go. Boingo are registered trademarks of Boingo Wireless, Inc. All other trademarks are the properties of their respective owners.
This is great to hear. I haven't been flying commercial much this summer so I wasn't aware this promotion was going on, but I'll be at JFK on Thursday and will definitely use this.

Where was this a month ago before I signed up for Boingo???

Is this automatic or so we need a user id and password? I used boingo before and you had to have a boingo id to sign in.

yeah im wondering also...i called and the guy had no clue really.

I wish this was available in the beginning of the month when I flew to San Fransisco!! argh!

Where's the link to the play store to get the app? I'm lazy ....
;-)

Which of the dozens of proprietary versions of this "open-source" OS does this apply to?

Looks like Bongo works on GOGO inflight, according to Bongo's website , so does that mean we can get in-flight free?

LOVE How People With Ipads and Iphones are barred from being able to use, Hahahaha
Android Central Newsletter
Thank you for signing up to Android Central. You will receive a verification email shortly.
There was a problem. Please refresh the page and try again.