Google has paused Android Q Beta 5 rollout because of an installation issue [Update: resuming]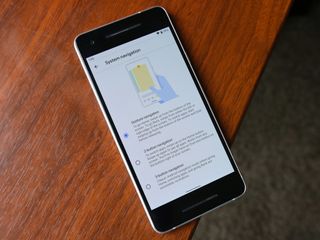 (Image credit: Android Central)
Update, July 11: The OTA has resumed. According to Google, there were a few reports of random reboots but those issues have been resolved now. So resume your Beta 5 shenanigans!
Original story below:
What you need to know
Google has temporarily paused the OTA rollout of Android Q Beta 5 after discovering an issue related to installing updates.
It is currently investigating the issue and is expected to roll out another update within the next few days.
If you still wish to try out the latest Android Q beta, you can flash it manually to your Pixel smartphone.
Google began rolling out the latest Android Q Beta 5 on Wednesday, bringing a revamped gesture navigation system, a new swipe gesture to summon the Google Assistant, as well as a few tweaks to third-party launchers. The company has now issued an update on Reddit announcing that it has decided to temporarily pause the OTA rollout in order to fix an issue related to installing updates.
Google is currently investigating the issue and is likely to come up with a new update soon. Interestingly, this is the second time that Google has had to temporarily pause the rollout of a beta Android Q release. Google had to pause the OTA rollout shortly after it released the Android Q Beta 4 last month after several Pixel 3 owners complained that they were unable to install the update. A new build of Android Q Beta 4 was then released as an over-the-air (OTA) update a few days later.
While the OTA rollout has been temporarily halted, it is still possible to get the latest Android Q Beta on your Pixel phone by manually flashing the OTA update using your computer. However, it is important to note that you will not receive OTA updates automatically if you manually flash the update.
Another installation problem? What is this, beta software or something?

I got a working update the moment they released ota update, now it's paused for everyone

I got it yesterday. No problems.

I don't like the back arrow, they must make them changeable

This sucks. I can't saw the update then waited until I got home to wifi so I could update and it's pulled 😠
Android Central Newsletter
Get the best of Android Central in in your inbox, every day!
Thank you for signing up to Android Central. You will receive a verification email shortly.
There was a problem. Please refresh the page and try again.