FrontRow is a livestreaming smart necklace with two cameras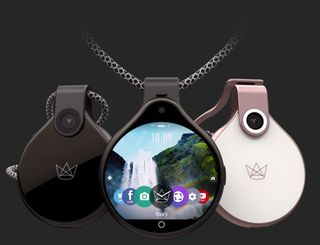 For a lot of users, wearables are not an essential product. They're certainly nice to have, but not as necessary for day to day life as a smartphone or laptop. I've personally used a Pebble, a couple Android Wear watches, and a Vector Watch before giving up on smartwatches altogether a few months ago. Google Glass is another interesting concept, but only focused on the enterprise for now and too expensive to justify for most people.
Now Ubiquiti, makers of the excellent Amplifi mesh Wi-Fi router, has announced the FrontRow (via Android Police), a necklace wearable that looks pretty interesting. The FrontRow features a round touch display (there is a flat tire), with two cameras for live streaming events to YouTube Live, Twitter Live and Facebook Live. The battery in the unit is said to be good for about 1 hour and 50 minutes of either recording or live streaming, or 50 hours of standby. When the battery is dead, the device can be charged over a USB Type-C connection with USB-PD fast charging.
The main camera on the device is an 8-megapixel, f/2.2 lens that can record up to 2.7K at 30fps and a 151-degree field of view. Most importantly, the main camera features optical image stabilization to combat shaky cam footage. The rear camera features a 5-megapixel, f/2.0 sensor that can record up to 2K at 30 frames per second and an 85-degree field of view. As for audio, the unit has stereo microphones for recording and a mono speaker for playback.
The device includes 2GB of RAM and 32GB of storage, an unspecified quad-core processor, software based on Android, and Bluetooth 4.1 and Wi-Fi 802.11b/g/n/ac for offloading video to a smartphone. The Frontrow is available in both black and rose gold, with the black option available now on Amazon, and the rose gold version coming September 15th. The FrontRow will work with both iOS and Android devices.
Curiously missing is support for Instagram and Snapchat, along with any mention of dust and water resistance. The latter would be especially important for a livestreaming wearable like this. I have reached out to the company about these features and will update the post when I hear back.
Are you interested in the FrontRow? Let us know down below!
See at Amazon (opens in new tab)
Android Central Newsletter
Get instant access to breaking news, the hottest reviews, great deals and helpful tips
At 400$ it's wayyyyyy to expensive!

It won't work if your moving a lot this is good for walking or standing still?

No, cause i'll have to cut off my beard to make it work...

Perhaps you could wear it on your head as a circlet?

It'll work with any chain, you'd just need to find a chain long enough.

I'll wait for the monocle version and go full on borg.

For $150, I can strap a Moto G5 to a chain and get the same result...GTFOH

Isn't a good idea in case you get pulled over by a cop & start recording for safety?

The first person approaching me with that thing up and running around his/her neck I'd smack right into the face. Privacy apparently isn't an issue here.

This reminds me of the necklace camera worn by characters in the novel The Circle
Android Central Newsletter
Get instant access to breaking news, the hottest reviews, great deals and helpful tips
Thank you for signing up to Android Central. You will receive a verification email shortly.
There was a problem. Please refresh the page and try again.