EA bags Firemint, developer of Flight Control, others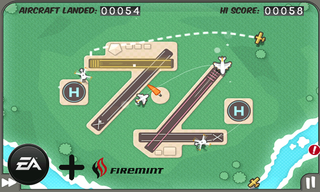 Electronic Arts Inc. will be adding Australian-based developer Firemint Pty Ltd. to its list of studios. Firemint, if you've been out of the mobile gaming loop lately, is the genius behind the game Flight Control, among others. Although financial details remain under wraps, we do know the nearly 60 people employed at Firemint will still operate out of Melbourne with their aim to keep business running as usual, primarily utilizing EA to build their games. This will free up those valuable Aussie minds to crank out more awesomesauce for us to delight in. EA's motive in this acquisition is to increase the amount of talent at their disposal to continue producing top tier games and take their creativity to the next level.
Also worth taking note of, EA scooped up Mobile Post Production Inc. not too long ago. MPP was touted as "the worldwide leader in high quality cross-platform development and porting of games for smartphones." This, in combination with the addition of Firemint, signifies a big mobile development push on EA's part.
Firemint's CEO Rob Murray says, "we have an exciting slate and I think people will be pleasantly surprised with our games this year." So mates, keep your eyes peeled for some great stuff coming from some great places.
Full presser and download links for Flight Control after the break.
Source: EA, Firemint
May 3, 2011
EA to Acquire Firemint
Creators of Flight Control and Real Racing to Become a Studio of EAi
MELBOURNE, Australia & REDWOOD CITY, Calif.--(BUSINESS WIRE)-- Electronic Arts Inc. (NASDAQ:ERTS) today announced an agreement to acquire Firemint Pty Ltd., the leading independent mobile development studio. Based in Melbourne, Australia, Firemint brings a proven powerhouse of creative talent to EAi, with original hits Flight Control and Real Racing for iPhone® and iPad™, and an attractive future slate of games. The deal is not material to EA overall and is expected to close within four weeks. Financial details are not disclosed.
"The Firemint team is remarkable for its critical and commercial success," said
[[ person ]] Barry Cottle, Executive Vice President and General Manger of EA Interactive. "Having them as part of EAi will accelerate our position as worldwide leader in game development for mobile devices and online gaming platforms."
The agreement follows EA's recent acquisition of Mobile Post Production Inc. (MPP), the worldwide leader in high quality cross-platform development and porting of games for smartphones.
Cottle continued, "The added technical expertise of MPP, combined with the creative talent of Firemint and our EAi studio teams, fuels EA's leadership in delivering top selling, high quality games across mobile phones and smartphones, tablets and future digital interactive entertainment platforms."
About Electronic Arts
Electronic Arts Inc. (EA), headquartered in Redwood City, California, is a leading global interactive entertainment software company. Founded in 1982, the Company develops, publishes, and distributes interactive software worldwide for video game systems, personal computers, wireless devices and the Internet. Electronic Arts markets its products under four brand names: EA SPORTS™, EA™, EA Mobile™ and POGO™. In fiscal 2010, EA posted GAAP net revenue of
[[ money ]] $3.7 billion and had 27 titles that sold more than one million units. EA's homepage and online game site is www.ea.com. More information about EA's products and full text of press releases can be found on the Internet at http://info.ea.com.
EA, EA SPORTS, EA Mobile and Pogo are trademarks of Electronic Arts Inc. iPone is trademark of Apple Inc., registered in the U.S. and other countries. iPad is a trademark of Apple Inc.
Android Central Newsletter
Get instant access to breaking news, the hottest reviews, great deals and helpful tips
keep them android devs strong!

I hope EA brings Real Racing 2 (or 3) over to Android devices.

EA doesn't give a turd about Android. It's support for the games it currently sells sucks and I can only imagine that those who bought games from this developer will get hosed sooner rather than later.

agreed. I havent supported ea in years. prolly since they scooped up the nfl license. greedy bastards. hate blizzard too

Cool game. But I fell asleep while playing.
Get it? (The people that fell asleep while on the job doing flight control) lol

wow I totally forgot about this game. Its really fun, thanks.
Android Central Newsletter
Get instant access to breaking news, the hottest reviews, great deals and helpful tips
Thank you for signing up to Android Central. You will receive a verification email shortly.
There was a problem. Please refresh the page and try again.