The July 11 edition of The New York Times has a Stranger Things and Google Lens surprise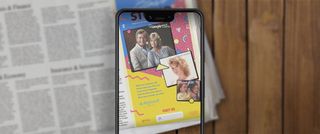 What you need to know
You'll find three ads for Starcourt Mall in the July 11, 2019 edition of The New York Times.
Scanning these with Google Lens shows a special AR surprise.
Google Lens is available on Android phones and via the Google app on iOS.
Thanks to this collaboration between Google, Stranger Things, and the New York Times, Stranger Things fans might have a reason to go super retro and buy a newspaper.
As part of the collaboration, the print edition of the July 11, 2019 issue of The New York Times will feature three ads for Starcourt Mall. For those of you who have already watched Season 3, you'll know that this new location is the center of much of the latest season.
At first glance, there isn't anything too special about the ads, besides the throwback 80s look. However, when the ads are viewed using Google Lens, you'll find things get a bit strange.
Using Google Lens to view the ads starts an augmented reality experience that will have them come to life with animations and videos on your screen. Below is a gif from Google showing an example of one of the ads.
As part of the announcement Google has asked users to share what they are seeing using the #StrangerThings3 hashtag. So, if you're like me and you don't have immediate access to a print version of The New York Times, you should be able to check out the ads by searching the hashtag.
Google Lens is available with Google Assistant on Android phones and with the Google app for iOS. Several Android phones even include a direct shortcut to Lens inside of the camera app, such as phones from LG, Motorola, and Google's Pixel devices.
Android Central Newsletter
Thank you for signing up to Android Central. You will receive a verification email shortly.
There was a problem. Please refresh the page and try again.