CES 2017 Day Three: How many pixels do you really need?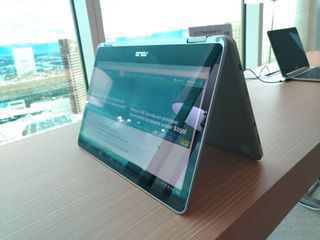 CES 2017
Thursday, 5 January 2017
Three screens are better than one
There are the laptops that everybody else is showing off at CES 2017, and there's Razer's Project Valerie. The bottom half is a standard Razer Blade Pro — a powerhouse gaming laptop, no doubt — but the lid contains not one, not two, but three 17.3-inch 4K displays. Combined they span around four feet, tucking back behind the center screen when not in use. It's a crazy cool and just plain craze concept. And we want one so hard.
ASUS's updated Chromebook Flip is a Chrome OS powerhouse
No tolerance for slouches.
There's no doubt about it: Chromebooks are coming into their own. From the Samsung-Google partnership that resulted in the Chromebook Plus and Pro to ASUS's new Chromebook Flip C302, they've never been better or more capable. The new ASUS Chromebook is a powerful little beast, sporting an Intel Core processor, up to 8GB of RAM, and two USB ports. Chrome OS is finally coming into its own.
Hands-on with the awesome ASUS Chromebook Flip C302
Chromebooks are making a huge comeback in 2017
Dell's 8K monitor is the new king of the display hill
Just when you were getting comfortable with the idea of 4K.
Let's be honest: most of us don't have 4K displays yet. But that doesn't stop the march of technological progress, nor will Dell let such trivialities slow them down. So they unveiled a 32-inch 8K monitor that they're planning to have available to buy as soon as March. Words can't really describe the beauty of this beast.
The connected everything
Is it a thing? Can it be connected to the internet? Stop asking silly questions.
Some things have long been "connected" and are getting more so, like security cameras and thermostats and door locks. Other things are new to the connected space, like Lego robots and women's health fertility trackers. Others… are hairbrushes with built-in artificial intelligence.
Comper's suite of connected tools put women's health first
Dell Canvas is a big honkin' touch screen to go with any PC
Think of it as a Surface Studio without the built-in PC.
If there was one let-down with the Microsoft Surface Studio, it was the lack of true oomph from the computing hardware behind that gorgeous touch screen. So Dell decided to make a screen that does the same things, but without the included computer bits. So this is the Dell Canvas, a 27-inch QHD panel that lets you tap with your fingers, draw with the included pen, and spin away with a Dell "totem" — their take on the Surface Dial. It's not cheap, but it's still cheaper than a Surface Studio, and you can hook it up to the high-powered PC of your choice.
Derek Kessler is Special Projects Manager for Mobile Nations. He's been writing about tech since 2009, has far more phones than is considered humane, still carries a torch for Palm (the old one), and got a Tesla because it was the biggest gadget he could find. You can follow him on Twitter at @derekakessler.
The word babe is sooo yesterday. New word is bae.

I don't know about anyone else, but I need all the pixels.

I tought the same, bought an 4k 15" laptop.(windows)
Its unnecessary. many apps are not optimised for that resolution, so mostly i suffer with tiny letters.
I would put 4 k at least to 22" or bigger

If they are made by Google them all of them ;)

Only 8K? *Yawn* wake me up at 16K ...

More pixels?? ZZZZZzzzzzz Wake me when something important happens.

I don't need regular pixels. I need mega pixels.

All of them. I need all the pixels.

Let's go to Californ-i-a to get us some of them thar pixels!

8k? I still don't give a 5-HIT about 4k... FHD still looks damn good to me. I guess it's just a race to the next thing nowadays.
Android Central Newsletter
Get the best of Android Central in in your inbox, every day!
Thank you for signing up to Android Central. You will receive a verification email shortly.
There was a problem. Please refresh the page and try again.