Best Universal Remote for NVIDIA Shield TV in 2022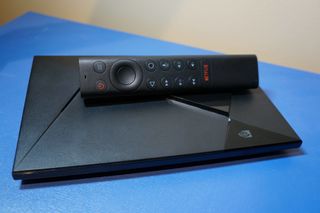 (Image credit: Android Central)
The NVIDIA Shield TV (2019) is the best Android TV box you can get. The triangular remote that comes in the box is pretty good, but there are better options available if you're looking for an all-in-one solution to control other devices. These are the best universal remotes you can get for your Shield TV (2019).
There's only one brand you should consider
Logitech's Harmony lineup is the most impressive alternative if you're looking for a universal remote to use with your NVIDIA Shield TV (2019). The Shield TV lacks IR, and the remote that's bundled in the box works over Bluetooth. The fact there's no IR connectivity included with the Shield TV makes most other high-end options incompatible with the Shield TV.
The Harmony remotes listed above, however, work over Wi-Fi by pairing with the Harmony hub. You'll have to plug the hub to your router via an Ethernet cable, and it allows you to control a wide variety of devices — including light bulbs and other smart home gear — with the Harmony remote or even from your phone. The Harmony Companion is a fantastic way to get started with the ecosystem, as you get the Hub along with a great remote that works over IR and Bluetooth.
If you're looking for a more affordable option to replace your NVIDIA Shield TV (2019) remote, the SofaBaton Universal Remote seems to be the most comparable remote to either of the devices in the Harmony fleet. Plus, it won't cost you a lot of money.
Keegan Prosser is a freelance contributor based in the PNW. When she's not writing about her favorite streaming apps and devices for Android Central, she's listening to a true-crime podcast, creating the perfect playlist for her next road trip, and trying to figure out which fitness tracker she should try next. You can follow her on Twitter @keeganprosser.
Android Central Newsletter
Get the best of Android Central in in your inbox, every day!
Thank you for signing up to Android Central. You will receive a verification email shortly.
There was a problem. Please refresh the page and try again.