Advertisement Feature
European-made, wireless Android Auto dongle just hit the US
Same great features, upgraded production quality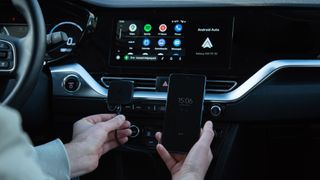 (Image credit: AAWireless)
A new version of AAWireless made in Europe is finally available in the US. The Dutch producer of AAWireless, a wireless Android Auto adapter, previously announced it was moving its entire production from China to Europe. The aim of the move was primarily to improve the quality of the product. Despite this shift, the price of the popular Android Auto dongle remains unchanged and still proves cheaper than most of its competitors.
AAWireless more popular than ever
While improving the quality of the product was the main goal, moving production to Europe also helps the company boost production to meet demand. "After we ran out of stock on Black Friday last year, we were relieved to learn our European partner could easily scale up production", co-founder Emil Borconi-Szedressy explains.
100% plastic-free packaging
The shift to European production also comes with some environmental advantages. All European-made devices will ship and travel in eco-friendly, recyclable packaging made entirely without plastic. Borconi-Szedressi explains, "moving our production perfectly aligned with our wish to get rid of plastic packaging material."
AAWireless still core product
AAWireless has come a long way since the first prototype was released in 2019, with the company dramatically increasing the device's capabilities over time and launching a more advanced version of the free companion app. Despite moving production, the core of what AAWireless does hasn't been changed. It continues providing a fast and easy way to connect wirelessly to Android Auto.
Last June, AAWireless completed a 1.5-year-long Indiegogo campaign. Moving beyond crowdfunding, the company set up a brand new webshop and has seen the popularity of its Amazon listing rise. The Dutch company also expanded its distribution network in the US, Europe, and Asia. With hundreds of thousands of units delivered, AAWireless managed to bring wireless Android Auto experiences to the masses in a budget-friendly way, giving an instant upgrade to older infotainment systems.
What is Android Auto?
Android Auto is a simpler and safer way to use your phone in the car. It allows you to control your Android phone or tablet from your car's built-in display. You can navigate via Google Maps, receive live traffic updates via Waze, stream music via Spotify or send Whatsapp messages by using Google Assistant — all on your car screen.
What is AAWireless?
AAWireless is a plug & play device that makes the Android Auto connection between your phone or tablet and car's infotainment system wireless. It still provides the same Android Auto features you'd get from a wired connection but without the hassle of needing to plug your device in. The AAWireless device comes with a (free) companion app you can use to update the device and customize features in Android Auto (e.g. DPI changes for split screen).
To get your hands on AAWireless for your car, you can find it now on Amazon.
Get the Android Central Newsletter
Instant access to breaking news, the hottest reviews, great deals and helpful tips.