Amazon Echo Auto (Gen 1) vs. Echo Auto (Gen 2): Should you upgrade?
Who's worthy of sitting on your dash?
The original player
The original Echo Auto brought Alexa to any driver willing to drive around with the voice assistant in tow. It covers a lot of the same ground its successor does, but going this route also means cutting a few corners you'll want to know about along the way.
For
Retrofits older vehicles
Easy to access Alexa
Ideal for Echo ecosystems at home
Comes with a vent mount
Bigger buttons
Against
Won't charge a phone as fast
More microphones don't yield better results
Careful with your data plan
Less relevant if you use Android Auto
The smaller sequel
Amazon cut its second-gen Echo Auto down for size to take up less space on the dash, though its direct line to Alexa is supposed to speak up when you need it. It'll listen better when that time comes, and fits right in for homes with other Echo devices.
For
Retrofits older vehicles
Improved microphones and clarity
Easy to talk to Alexa
Ideal for Echo ecosystems at home
Smaller body is easier to mount
Faster phone charging
Against
Vent mount costs extra
Be careful with your data plan
Less relevant if you use Android Auto
For Amazon, the Echo Auto is a gateway to plug Alexa into vehicles, bringing its voice assistant into one of the spaces people spend the most time in outside the home. While only a generation apart, these two bear no physical resemblance, and their respective features and functions also draw clear distinctions.
Amazon Echo Auto (Gen 1) vs. Echo Auto (Gen 2): How are they different?
Why you can trust Android Central Our expert reviewers spend hours testing and comparing products and services so you can choose the best for you. Find out more about how we test.
At first glance, the most obvious difference is in their respective designs. The first-generation model presented a flatter, pad-style build more consistent with Amazon's Echo product line at the time it came out in 2018. Four years later, the second-generation model followed a similar path, given the fabric cover that so strongly resembles the current Echo product lineup.
Cutting down the Gen 2 model for size also opens up more options in where to put it. For example, both models can work with an attachment to latch onto an air vent, only the lighter weight and smaller frame of the Gen 2 makes it considerably more stable once you put it there compared to its predecessor. Amazon sells the vent mount separately or as part of a bundle, so while there is one in the original, you won't get it in the box with the newer one.
Alternatively, you can stick the included adhesive onto the dash and attach either unit to the other side. You have to find a spot that isn't made of soft plastic, leather, or fabric to make it stick properly, but there's no question the adhesive coming with the Gen 2 is stickier. The cables and connections don't differ as much except the Gen 2's cable doesn't detach. Each of them comes with a 12V socket adapter for power, plus a 3.5mm cable to plug into the vehicle's Aux-In port for audio playback to run through the car stereo.
The Echo Auto Gen 1 has an eight-microphone array whereas the Gen 2 has five. That would indicate a major flaw in the newer model, but that's actually not the case because the two capture voices well, even with typical road noise and windows down. Amazon claims its own improved algorithms fill in for the fewer mics in the Gen 2, but it's hard to know exactly how they work.
Both have the same mute and Alexa activation buttons, so nothing changes there between them. Hands-free access also runs through the Bluetooth connection enabled between the device and your Android phone. You need to run the Alexa app to set it up and ensure the integration works at all times.
Amazon Echo Auto (Gen 1) vs. Echo Auto (Gen 2): How do they work?
The main purpose for having either device is to access Alexa hands-free in the car. Either Echo Auto model does that, letting you do several things while driving. That could include controlling smart home devices, making calls, texting, looking up places of interest, or playing music on demand.
Regardless of which model is in the car, you need the Alexa app on your Android phone to not only set up the device but also facilitate when it can do. That process is no different with either one, only performance and functionality could change due to improvements Amazon made.
The Echo Auto Gen 2 not only responds faster, it also offers better call quality when communicating with others using Echo speakers at home. The mics do a better job interpreting voices and accents than the previous model did, which can save a lot of time and effort if it gets things right more often.
There are two other distinctions between them that stand out. While connected, the Alexa app has an option for Roadside Assistance, which can be helpful if you've got car trouble in an area you're not familiar with. The other is that it comes with a fast car charger to plug in a phone via USB-C. The 12V charger on the original Echo Auto charges at a slower rate.
Amazon Echo Auto (Gen 1) vs. Echo Auto (Gen 2): Driving it around
The Echo Auto fits best with vehicles lacking modern infotainment systems. If you're already running Android Auto, you may not need either one of these unless you're heavily invested in the Alexa and Echo ecosystem. Android Auto gives you Google Assistant hands-free, and it integrates with messaging apps, like WhatsApp, Signal, and Telegram, which the Alexa app doesn't.
You could use both an Echo Auto and Android Auto together, though you might only do that if you really need access to Alexa in the car. If that's you, the Echo Auto Gen 2 is the better way to go for its efficiency and ancillary features. You do have to pay extra for the vent mount, but it's worth the money for the versatility in placement it gives you on a crowded dashboard.
Still talking
It's the "OG" Echo Auto, but it's not out of the rotation yet, so if you'd rather ride with this over something newer, you certainly can. Some parts will feel dated by now, but the device will work just fine when you set it up.
Smaller, softer
With a smaller body and fabric cover, the Echo Auto (2nd Gen) sits idly by to let Alexa sit in shotgun for easy access during any drive. Fewer mics, yet better results, mean there's some power in this small package.
Get the Android Central Newsletter
Instant access to breaking news, the hottest reviews, great deals and helpful tips.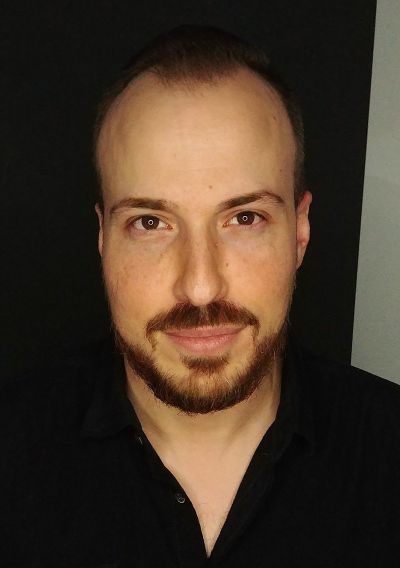 Contributor, Audio Reviewer
Ted Kritsonis loves taking photos when the opportunity arises, be it on a camera or smartphone. Beyond sports and world history, you can find him tinkering with gadgets or enjoying a cigar. Often times, that will be with a pair of headphones or earbuds playing tunes. When he's not testing something, he's working on the next episode of his podcast, Tednologic.