Best sports cases in 2020: Phone cases to celebrate your team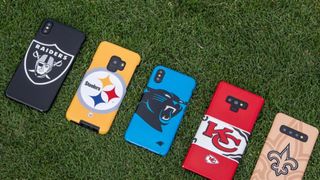 (Image credit: Skinit)
If you're going to grab a case for your phone, it should do more than just protect your phone from scratches, scuffs, and drops. It should show some personality and show your team spirit! Whether you're a footballer — either kind — basketballer or prefer to take your phone out to the ball game, chances are you can find a high-quality case that matches your team and your phone.
These are the very best sports cases for your phone
Why you can trust Android Central Our expert reviewers spend hours testing and comparing products and services so you can choose the best for you. Find out more about how we test.
Skinit
NFL, MLB, NBA, NHL, and College
I've been a Skinit fan for a long time thanks to its licensed cases from Disney, DC, and various anime franchises. Skinit also has an incredible selection of cases for both pro and college teams around the U.S.
The styles of case you can get for your phone depends on how popular the model is. For instance, the Samsung Galaxy S10 has five case styles to choose from, whereas the Google Pixel 3a only has the Skinit Clear case option. I don't blame Skinit for this; I'm just grateful Skinit does cases for the Google Pixel line at all, especially the Pixel 3a. Skinit offers cases for Apple, Samsung, Google, LG, and Motorola phones, and it also offers skins for Apple, Samsung, Google, LG, OnePlus, Motorola, ZTE, and Razer phones, which means even if you can't get a Skinit case, you might be able to get a Skinit skin and then apply a crystal clear case over it to keep your skin pretty all season long.
Skinit's website is easy to use and has frequent sales that its Amazon listings do not, but it also sells many of its cases on Amazon if you prefer to browse there. Skinit also groups a case's styles by franchise in the Amazon listing so that it's easier to compare styles. The only thing you'll want to be mindful of long-term is that for the Clear Case — the only case style for many phones — the edges of the printed back can weather or start to peel over months of use, but unless you spill a coffee on it, the case should still easily last a season or two.
If Skinit makes cases for your particular phone, I highly recommend starting your search with Skinit. You won't be disappointed with the designs available for the major leagues.
Fanatics
NFL, MLB, NBA, NHL, MLS, International Soccer, and more
Supports a wide variety of phones
Multiple case types (model-dependent)
Offers both cases and skins
Design variety can vary drastically between teams
Edges on Clear Case designs can peel over time
This is the site that powers the official shops for the NFL, NBA, MLB, and many, many more teams and leagues. That means that when you search Fanatics, you can find cases from all of your favorite teams in one place. If you like several teams across leagues/sports, Fanatics gives you the option to see which team's cases are the coolest before you pick one because after all, your phone can only wear one case at a time. Maybe the Mavs have cooler cases than the Cowboys; you can see them both by searching "Dallas galaxy case".
While the cases offered here are high-quality cases, finding ones for your particular phone can end up being a tiny bit of a scavenger hunt. Fanatics only sells Samsung Galaxy and iPhone cases, but searching for "[team name] [phone name] case" won't turn up many (if any) results. You have to search [team name] Samsung case" to get search results for all Samsung cases, and then you'll need to click on a style to see if there's an S10, S10+ or Note 9 option. It's not ideal by any means, but iPhone users have to do it too.
With the official storefronts for most major American sports organizations, Fanatics is a great resource for finding official phone cases, even if the selection can be spotty for Samsung phones.
RedBubble
NFL, MLB, NBA, Soccer, and more
Official league cases
Buy with other official gear
Unique offerings like confetti cases
Have to use search to find cases
Spotty availability for some models
Only sells iPhone and Samsung cases
From the ultra-official to the biggest collection of fan-generated merch online, RedBubble has phone cases for quite literally ever fandom known to man, and this, of course, includes sports. Artists design something cute or boss or funny, put it on RedBubble, and then you can then buy an iPhone or Samsung Galaxy case with that design. All cases have two styles you can buy them in:
Snap Case: This is a hard plastic case that — you guessed it — snaps onto your phone. This case can give some scratch protection but won't really guard against drops.
Tough Case: This features a hybrid design that offers more robust corner and drop protection. It'll be slightly bulkier and a few dollars more, but if you tend to drop your phone — or throw your phone on the couch after a bad play — this is for you.
RedBubble can have exquisitely crafted case designs, but like any open marketplace, there can also be a whole lot of rough to filter through to find the diamonds. Your mileage may vary by franchise, too, as smaller fan bases usually have smaller artist pools to pull from.
Swappable PopSockets
NFL, NBA, MLB, and College
Very wide design selection
Every design available in a snap or tough case
Frequent coupons/sales
Design quality varies by artist/team
Only sells iPhone and Samsung cases
Fan designs, not official
I know this isn't a phone case, but honestly, depending on your particular model — or how hard you tend to be on a case — it might be better than a case. PopSockets can stick directly to your phone or 95% of cases on the market today. Phone grips aren't just a great way to show some personality, but they can also be a great way to get a more ergonomic grip and improve your posture.
The PopSockets that took the longest to switch over to the new Swappable style were the Pop Culture and Sports ones, but now that PopSockets has completely switched over, this is the easiest way to pep up a phone with some team swag. Swappable PopSockets can be twisted off so that you can still use wireless charging. Should you be someone who supports both a college and pro team — or supports a baseball team in the summer and a football team in the fall — then Swappable PopSockets are perfect because you can swap between teams as needed/wanted.
Also, depending on how trash your team is, Swappable PopSockets allow you to retreat to a more neutral design to hopefully keep your cubicle-mate from remembering to roast you over last night's blowout.
PopSockets are a great addition to any phone, especially when you can use them to improve your grip and to brighten every day with the remembrance of the upcoming game or upcoming season.
Head Case Designs
Football, Rugby, NFL, NBA, and College
Works with all phone/case styles
Swap out between multiple teams
Adds grip and stability to phone
Not an actual case
Rarely go on sale
If you're into proper football or rugby, this is a good bet for a team case that looks good, feels good, and fits your phone. MLS cases are getting easier to find, but finding them for European football clubs is still hard to come by outside Fanatics, which makes me happy to see the number of clubs Head Case Designs is licensed to sell cases for. Head Case offers cases for Pixel, Huawei, LG, Galaxy, and iPhone, which may not sound like a lot but is at least better than the traditional Samsung/Apply binary we see from most sports and custom casemakers.
While the brand has a dedicated website, it's harder to navigate and I recommend searching Amazon for Head Case Designs [device name] [team name]. If a listing in the search results lists $1.99 shipping, I'm all but positive when you click through to the listing, it'll be a Head Case Design.
One extra thing I love about how Head Case Designs does its Amazon listings is that you usually get 5-10 variant options within one listing, meaning you won't have to hop back to the search results to see which looks better, the camo or the geometric.
Bottom line
Sports cases are like all phone cases in one specific way: the more popular a phone is, the more plentiful cases are for it. You can find iPhones and Samsung Galaxy cases for just about any major league team and most colleges, but for those of us with Pixels, LGs, or other brands, your options are a bit more limited. I wish this weren't the case — no pun intended — but casemakers have to make money, too, so I can't blame them for only stocking what they think they can sell.
Your best bet is without a doubt going to be Skinit for the biggest leagues — NFL, NBA, MLB, NHL, and College teams — as Skinit has the widest device compatibility and plenty of great designs for each team. Skinit also has the best diversity of base cases to pick from, but that's dependent on how popular your particular phone model is.
I've used Pro and Clear cases from Skinit in the past — a girl's gotta rep her Disney love, after all — and both have been high-quality cases I trust with the perils of my day to day life. I highly recommend getting the Pro case if it's offered for your device, but the Folio and Clear cases are quite nice as well.
If no one sells a case for your particular model phone — this happens a lot with mid-range and affordable phones, as well as carrier-specific variants — then you can still get some team spirit on your phone with Swappable PopSockets. PopSockets are also a great option if you prefer a more heavy-duty case, as it allows you to get whatever case you want and then upgrade it with a team logo or catchphrase.
Credits — The team that worked on this guide
Ara Wagoner themes phones and pokes YouTube Music with a stick. When she's not writing help and how-to's, she's running around Walt Disney World with a Chromebook. You can follow her on Twitter at @arawagco. If you see her without headphones, RUN.
Sign up for Black Friday email alerts!
Get the hottest deals available in your inbox plus news, reviews, opinion, analysis and more from the Android Central team.
Ara Wagoner was a staff writer at Android Central. She themes phones and pokes YouTube Music with a stick. When she's not writing about cases, Chromebooks, or customization, she's wandering around Walt Disney World. If you see her without headphones, RUN. You can follow her on Twitter at @arawagco.