Best Selfie Sticks for Galaxy S8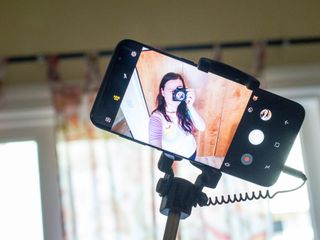 I'm as against selfie culture as anyone, but when you and the missus (or mister) are out on vacation and don't feel like bothering anyone to take a photo of you, a selfie stick and really come in handy. And I'd honestly rather use a selfie stick than hand my Galaxy S8 to a stranger.
Here are the best selfie sticks to use with your Galaxy S8.
Mpow iSnap extendable monopod
Why you can trust Android Central Our expert reviewers spend hours testing and comparing products and services so you can choose the best for you. Find out more about how we test.
Mpow is Amazon's best-selling selfie stick and 84% of reviews are 4- or 5-star. This Bluetooth selfie stick pairs with your Galaxy S8, and the shutter button the stick then operates the shutter button your phone's screen.
The Mpow stick features a spring-loaded mount, an extendable handle, and a 270-degree adjustable head to help you take photos at just about any angle your arm is capable of. If you don't want to spend a lot but still want a quality selfie stick, Mpow should fall right in your price range, at about $10.
Fugutek FT-568
Fugutek's FT-568 isn't just a selfie stick — it's a full selfie taking kit. It features a spring-loaded phone mount for your GS8, but it also comes with a screw-on mount for your DSLR (there's even a mirror for selfies!), in case you're serious about your selfies.
This one comes with a Bluetooth remote, rather than having it built-in, and there is even limited zoom function for certain Android devices (not confirmed if it works on GS8). The fact that each extension level has a lock like a real tripod is an excellent feature.
You can get this one for around $20.
Anker wired monopod
If you hate fiddling around with Bluetooth and just want a secure connection that's sure to snap a photo every time, then check out Anker's wired selfie stick, which just hooks into the headphone jack on your Galaxy S8. It then sips power from your phone the way headphones do.
With a 32-inch reach, Anker's stick is perfect for group shots. It's also compact and weighs just over a quarter of a pound, making it super portable. You get an 18-month warranty, like you do with all Anker products, and this one's only around $11, so it's perfect if you just want to try things out.
Perfectday foldable selfie stick
Perfectday's selfie stick features a head that rotates 270 degrees and a built-in Bluetooth shutter button for wirelessly snapping photos with your Galaxy S8. All you have to do is turn it on and pair it and you're ready to go.
When folded down, this selfie stick is only a couple inches taller than your S8 and not quite as wide, so it's nearly pocketable. It comes with a lifetime guarantee and starts at $8.
TaoTronics extendable monopod
TaoTronics' monopod (selfie stick — let's be real) is a bit more of a luxury option in that it's probably the best-looking selfie stick on this list. With one charge, you can take 30 hours' worth of photos, so you'd definitely have to charge your Galaxy S8 long before needed to charge this device.
Made of aluminum, this stick is nice and light and it features smaller joints than the average selfie stick, so it has more points of stability, meaning steadier photos when fully extended. The included wristband should also help if you're a bit of a butter fingers.
You can grab this one on Amazon for around $20.
Stick it
Do you have a favorite selfie stick? Would you prefer to pummel selfie stick users with the very implement they so flagrantly use and abuse? Sound off in the comments below.
Get the Android Central Newsletter
Instant access to breaking news, the hottest reviews, great deals and helpful tips.
Mick is a writer and duty editor for Android Central. When he's not on the job, he can usually be found vacuuming up pet hair or trying to convince his wife that he needs more guitars.