Best Selfie Sticks for Galaxy S8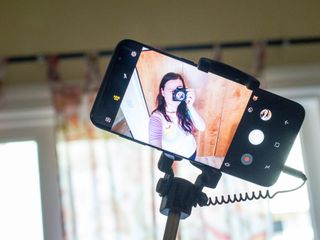 I'm as against selfie culture as anyone, but when you and the missus (or mister) are out on vacation and don't feel like bothering anyone to take a photo of you, a selfie stick and really come in handy. And I'd honestly rather use a selfie stick than hand my Galaxy S8 to a stranger.
Here are the best selfie sticks to use with your Galaxy S8.
Mpow iSnap extendable monopod
Why you can trust Android Central Our expert reviewers spend hours testing and comparing products and services so you can choose the best for you. Find out more about how we test.
Mpow is Amazon's best-selling selfie stick and 84% of reviews are 4- or 5-star. This Bluetooth selfie stick pairs with your Galaxy S8, and the shutter button the stick then operates the shutter button your phone's screen.
The Mpow stick features a spring-loaded mount, an extendable handle, and a 270-degree adjustable head to help you take photos at just about any angle your arm is capable of. If you don't want to spend a lot but still want a quality selfie stick, Mpow should fall right in your price range, at about $10.
See at Amazon (opens in new tab)
Fugutek FT-568
Fugutek's FT-568 isn't just a selfie stick — it's a full selfie taking kit. It features a spring-loaded phone mount for your GS8, but it also comes with a screw-on mount for your DSLR (there's even a mirror for selfies!), in case you're serious about your selfies.
This one comes with a Bluetooth remote, rather than having it built-in, and there is even limited zoom function for certain Android devices (not confirmed if it works on GS8). The fact that each extension level has a lock like a real tripod is an excellent feature.
You can get this one for around $20.
See at Amazon (opens in new tab)
Anker wired monopod
If you hate fiddling around with Bluetooth and just want a secure connection that's sure to snap a photo every time, then check out Anker's wired selfie stick, which just hooks into the headphone jack on your Galaxy S8. It then sips power from your phone the way headphones do.
With a 32-inch reach, Anker's stick is perfect for group shots. It's also compact and weighs just over a quarter of a pound, making it super portable. You get an 18-month warranty, like you do with all Anker products, and this one's only around $11, so it's perfect if you just want to try things out.
See at Amazon (opens in new tab)
Perfectday foldable selfie stick
Perfectday's selfie stick features a head that rotates 270 degrees and a built-in Bluetooth shutter button for wirelessly snapping photos with your Galaxy S8. All you have to do is turn it on and pair it and you're ready to go.
When folded down, this selfie stick is only a couple inches taller than your S8 and not quite as wide, so it's nearly pocketable. It comes with a lifetime guarantee and starts at $8.
See at Amazon (opens in new tab)
TaoTronics extendable monopod
TaoTronics' monopod (selfie stick — let's be real) is a bit more of a luxury option in that it's probably the best-looking selfie stick on this list. With one charge, you can take 30 hours' worth of photos, so you'd definitely have to charge your Galaxy S8 long before needed to charge this device.
Made of aluminum, this stick is nice and light and it features smaller joints than the average selfie stick, so it has more points of stability, meaning steadier photos when fully extended. The included wristband should also help if you're a bit of a butter fingers.
You can grab this one on Amazon for around $20.
See at Amazon (opens in new tab)
Stick it
Do you have a favorite selfie stick? Would you prefer to pummel selfie stick users with the very implement they so flagrantly use and abuse? Sound off in the comments below.
Android Central Newsletter
Get instant access to breaking news, the hottest reviews, great deals and helpful tips
Mick is a writer and duty editor for Android Central. When he's not on the job, he can usually be found vacuuming up pet hair or trying to convince his wife that he needs more guitars.
I'm proud to say I have never taken a selfie.

Best Selfie Sticks for Galaxy S8 - Answer: none.

I see all the cool kids still hate on selfie sticks. Every single time I go on vacation with my wife, I'm glad we have one. That way, we can take as many memorable shots as we want without bugging other people to do it for us. We have the Anker one and love it.

Interesting. You don't know anything about me but feel the need to render personal judgement. All without actually mentioning anything productive or relevant to the post.

Hey, you are the one who brought up "all the cool kids". Anyway , you will get over it. The personal judgment. You do have a legitimate use for one however, give you that.

Followed by a comment as to how I use my selfie stick and which one I use. What did you add to the conversation? Also, last I checked, cool kids is a widely used/known phrase. My apologies if I personally insulted you through its use.

I think we have a misunderstanding . I was calling myself a cool grandpa because you said kids. My fault , have a nice day.

Haha wow. Context. My apologies as well.

Seems to be the cool thing to do on the intertubes. Hate on people that are having fun doing their own thing.

The fact that someone at AC put this list together and there are probably 100+ manufacturers of selfie sticks is a strong indicator of their relevance. If you have an S8 and are looking for a selfie stick, this article just might help you.
If you take selfies and have used selfie sticks, then I'm sure you could comment on having one. Readers do appreciate thoughtful perspectives.
If you have no interest in selfies (or selfie sticks), then I ask, "Why bother making a comment that doesn't lend itself to discussion?" Out of 9 comments so far, the only thing I got out of this was "That way, we can take as many memorable shots as we want without bugging other people to do it for us." I actually think this is a great point as you don't want a random person to hold your phone.

We just returned from 9 days in Paris. Selfie sticks were everywhere, well, if we're talking Europeans or Asians using them; Americans not at all. As my wife and I are on the verge of becoming empty nesters and are planning to travel extensively, we're investing in one. Perceptions be damned, we want pictures of us together. I saw 2 phones stolen from the users hands on the Metro last week; I'm not handing my phone to a stranger to take a picture.

Best selfie stick? Friends.

Heads up mike, Rodney may be lurking here!

I laughed harder at this than I probably should have.

The iottie is the best, hands down, and it wasn't even mentioned

I wonder how many of these sticks are actually paying royalties to the patent holder of the selfie stick? It seems a lot of companies are not. http://www.cbc.ca/amp/1.3980957

It's fun to make fun of selfie sticks but I also like reading posts defending them. While I'm tall with long arms, making it easy to take a selfie, there's times when I'd like to also do a group photo with some scenery visible in the background. I'm thinking of getting one.

I ibought the mpow after reading this article for an up coming girls trip!!! Nice quality and 2 seconds to pair. Held my s8 plus perfectly. Thank u for this article!
Android Central Newsletter
Get instant access to breaking news, the hottest reviews, great deals and helpful tips
Thank you for signing up to Android Central. You will receive a verification email shortly.
There was a problem. Please refresh the page and try again.