The best phone cases for exercising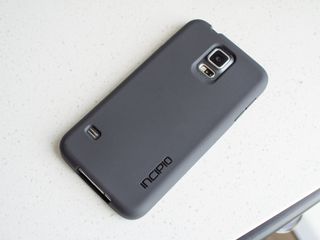 No matter how you exercise, you'll want to protect your phone from the inevitable strain of being your workout companion
Whether you're going for a run or just heading to the gym for some weight lifting, most of us nowadays are bringing along a phone for music, video entertainment or workout guidance to help us get through the fitness routine. The last thing you want to worry about when you're out exercising is how your phone is going to stay safe and be easy to manage, though — a couple of problems that can be fixed by the proper use of a case. Whether you want an armband-style case for keeping the phone up and out of the way, or just a hefty option for saving your phone from inevitable drops and bumps, we have you covered here.
We've picked out a handful of great cases for some of the most popular Android phones out there today, and hopefully they can keep your phone safe the next time you head out to the gym. Read along with us and see our picks for the best phone cases to exercise with.
Galaxy S5
Armband: Arkon Sports Armband ($14.95)
There are a few different fitness-focused armband cases on offer at ShopAndroid, but the Arkon Sports Armband seems to be the best all-around choice for multiple fitness activities. Not only do you get a nice look at your phone's display and have it locked away safely on your arm, but you also get a secondary pouch on the back to hold other personal items, such as credit cards or your gym membership card.
Standard case: Incipio NGP Impact Resistant case ($18.95)
We recently reviewed the NGP Impact Resistant case from Incipio and found it a great choice for those who need an extra level of protection for their phone. No matter how you're working out, this will be a good choice to keep your Galaxy S5 shiny and scratch-free when you hit the gym.
HTC One M8
Armband: Arkon Sports Armband ($16.95)
The HTC One M8 is a big phone, but like the Galaxy S5 it'll fit nicely in the larger-phone-friendly Arkon Sports Armband.
Standard case: Seidio LEDGER Flip Case with Metal Kickstand ($37.95)
Covering all sides of your phone — including the front — is important for many phones, but maybe more so for the HTC One M8 with its scratch-prone metal housing. The Seidio Ledger Flip Case with Metal Kickstand will do just that, and as the name implies it can also prop up the phone and let those BoomSound speakers play your favorite workout video or music loud enough for all to hear.
Moto X
Armband: Armpocket XTREME i-30 ($39.95)
The Moto X is an interesting size and shape and needs a case that will fit it just right. The Armpocket Xtreme i-30 is the one to look for if you're wanting to keep the Moto X nicely and securely strapped to your wrist. Not only will it hold your Moto X, but it'll also hold onto your keys and other personal items — up to 25 cubic inches in total, actually — with three extra pockets.
Standard case: Incipio DualPro Hard Shell Case with Silicone Core ($24.95)
Even if you caught the Moto X on a sale and didn't spend all that much on it, you're still going to want to keep it safe. The Incipio DualPro Hard Shell Case will do just that, with a dual-stage design that combines a hard plastic shell with a soft silicone material inside to resist shocks and bumps. Best of all it comes in four colors so you can be as flashy or subtle as you like.
Nexus 5
Armband: Arkon Sports Armband ($14.95)
The Nexus 5 can be slippery (especially if you bought the white model), so keep it strapped to your arm where it's safe. Again the Arkon Sports Armband will hold your Nexus 5 tight and give you extra room for some personal items as well.
Standard case: Seidio Ledger Flip Case ($34.95)
After using the Ledger Flip Case from Seidio for a good while, we found it to have a design that really wasn't practical for most to use on a daily basis. But if you need extra protection — including screen coverage — for your phone it's one of the front runners. Its folio-style flip cover protects the screen and also offers a pouch with room for a couple of credit cards, and a kickstand if you need to prop up your phone on the treadmill or on the ground for instructional advice.
Tell us your favorite
We've hit a few of the best workout-related cases for the top devices out there today, but we're sure you have a case of your own that has been working well. Be sure to let us know in the comments which case you've been using with your own phone — maybe your recommendation can help someone else keep their phone safe at the gym.
Be an expert in 5 minutes
Get the latest news from Android Central, your trusted companion in the world of Android
Andrew was an Executive Editor, U.S. at Android Central between 2012 and 2020.