Best Accessories for Galaxy S10e in 2022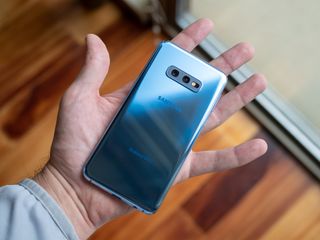 (Image credit: Andrew Martonik / Android Central)
Samsung's Galaxy S10 and S10+ may be the company's best new smartphones, but if you want to save around $200 and still get a majority of what those devices have to offer, there's the Galaxy S10e. The S10e has just about every feature and spec you could ask for even at its more affordable price, but if you really want to take your experience to the next level, we recommend getting it with a few accessories. Here are our top picks.
Still can't decide?
All of the accessories on this list will help you enjoy your Galaxy S10e that much more, but out of all of them, there are a couple that stand out as must-haves. More specifically, we really encourage everyone to get the Spigen Neo Hybrid (opens in new tab). The S10e is a gorgeous piece of tech, but in the event of a fall/drop, its glass back won't held up well at all. With the Neo Hybrid you can keep it out of harm's way while also adding some extra style and grip.
Another necessity is the LK Tempered Glass Screen Protector (3 Pack) (opens in new tab). Even if you aren't a butterfingers, phone screens have a tendency to get little scratches here and there after a year or two of daily use. If you want to avoid those, tempered glass screen protectors are a really cheap and easy way to do just that.
Lastly, if you want to get something a bit more fun, we'd recommend splurging for the Samsung Galaxy Buds (opens in new tab). With great sound quality, battery life, and intuitive touch controls, these are among the best truly wireless earbuds on the market.