Best accessories for the Galaxy Note 5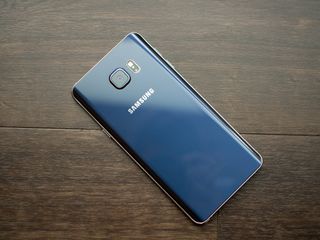 Beautiful, functional, and fun to use, Samsung's Galaxy Note 5 has a lot going for it. But there are a lot of ways you can bump up that functionality and fun-factor to astronomical levels.
We've done some looking, and we've put together this roundup of amazing accessories for your Galaxy Note 5.
Spigen Wireless Charging Stand
If you want to take advantage of the Qi wireless charging function of your Galaxy Note 5, you'll need a wireless charger. Spigen's Wireless Charging Stand is a great option at a reasonable price.
One problem people have with wireless charging pads and larger phones, like the Note 5, is that positioning the device over the charging coils takes some fiddling before the device connects. Spigen addresses this issue by including three charging coils. This ensures that any size phone will make contact with the charging elements — you can simply drop your device on the charging stand and forget it — no fumbling necessary.
One thing we should mention about this stand is that some users have reported that the LED light that lets you know your device is charging is a little hard to see. That's not a major issue, and you may not even have this problem, but we'd be remiss if we didn't let you know.
See at Amazon (opens in new tab)
Logitech Drive One-Touch car mount
If your car doesn't have Bluetooth, using your phone in your car in hands-free mode is never completely hands-free. For instance, if you want to see who is calling you, you still have to glance at your phone's screen, which often requires you to fumble around the passenger seat or – worse yet – your purse, to dig out your phone.
Logitech's car mount solves this problem by letting you attach your phone to your windshield or your dashboard so that you can see the screen. That way, you can decide whether you want to pick up that call from your mother-in-law while you're careening down the freeway at 60 miles per hour.
The great thing about this car mount is that it makes mounting and dismounting your device a breeze with its magnetic base. For mounting, simply place your device on top of the mount. Dismounting is just as easy: one twist and your phone is free.
To make it possible to mount phones without a metal backing (like the Galaxy Note 5), it comes with two metal-disk adapters that you stick either on the back of the phone or you're phone's case. To keep the aesthetics of your case, you can place the disks between your phone and the inside of the case.
See at Amazon (opens in new tab)
Samsung Fast Charge Wireless Charging Stand
Another option for utilizing your Galaxy Note 5's wireless and fast-charging capabilities is Samsung's Fast Charge Wireless Stand. It lets you be out the door with a fully-charged phone 1.4 times faster than standard chargers.
To charge your device, just drop it on the charging stand — fiddling with wires is a thing of the past. The slanted form factor of the stand lets you use your device to surf the internet, play music, or even take a hands free call — while charging continues uninterrupted.
Wondering how to tell if your device is seated properly or is at full charge? The fast charge wireless charging stand has LED indicator lights that tell you the status of your device, and whether or not it is correctly positioned.
See at Samsung (opens in new tab)
Samsung Galaxy Note 5 Wallet Flip Cover
Protect your Galaxy Note 5 with this sleek and simple wallet case from Samsung.
Featuring a pocket for storing credit cards, a driver's license, or cash, this case can replace your wallet for when you need to travel light.
It's made with polyurethane leather and surrounds your phone with protection without adding weight or bulk.The cover protects your screen from scratches while its in your pocket, purse, or lying screen-down on the table.
It's available in four beautiful shades — black sapphire, white, gold and silver. Pick the color that suits your style!
See at Samsung (opens in new tab)
Gear S2 smartwatch
Pair your Galaxy Note 5 to the Gear S2 for the ultimate in cool-factor and convenience. The Gear S2 is easy to use right out of the box, and, although it doesn't use the Android Wear operating system, it works seamlessly with the applications on your Galaxy Note 5 that you use the most: messaging, calls, and the calendar.
If you're worried that it's just Samsung apps that work well with the Gear S2, you can rest easy; third party apps operate equally well. Furthermore, notifications are completely customizable — if you want to see notifications from Facebook but not Twitter, for example, you can easily set it up this way.
Another benefit of the Gear S2 is that it looks just like a normal watch. It doesn't look bulky or like you've got this weird gadget strapped to your wrist.
See at Amazon (opens in new tab)
Samsung Galaxy Note 5 S-View Flip Cover
Samsung's Galaxy Note 5 S-View Flip Cover case is unique in that it uses the Samsung ID chip to give you access to some of the most-used features of your phone — without opening the cover.
On the flip cover is an interactive window from which you can accept or reject calls, make calls, see text message notifications, calendar alerts, and much more. Swipe the right icon to access your camera, swipe of the left icon to access your contacts. It's that simple.
Made withe polyurethane leather, this case is available in three stylish colors — black sapphire, gold, and silver.
See at Samsung (opens in new tab)
Otterbox Commuter case
The name Otterbox is synonymous with strong and protective cases because the company has been making superb cases for years. Its Commuter case for the Galaxy Note 5 is no exception.
It comes in two pieces:a hard plastic body and a rubberized frame that covers the buttons on your Galaxy Note 5, which are easy to put on your phone and protect it from bumps and falls. It also has covers for the charging port and earphone jack so that no dust or other debris can get in. The stylus remains freely accessible without any covering.
It comes with a screen protector, but it isn't the greatest — use a tempered glass one instead. Also, the lip of the case comes out over the screen for some additional protection.
The only downside to this case is that it does add some bulk and weight to your Note 5, which you may not want. However, if the main thing you're concerned about is protecting your device, then you can't go wrong with Otterbox.
See at Amazon (opens in new tab)
YooTech Tempered Glass Screen Protector
YooTech's tempered glass protector has several features that make it the perfect choice for keeping your Galaxy Note 5's screen pristine.
The glass is quite thin, just 0.26 millimeters, which means that, once installed, this screen protector is almost unnoticeable. Also, it doesn't interfere at all with the touch-sensitivity of your phone's screen.
For all its thinness, tempered glass is at least four times stronger than regular (annealed) glass. The glass is also shatterproof and has an oleophobic coating, so that it keeps your beautiful screen free of ugly fingerprints.
One thing worth mentioning about this tempered glass protector, as well as any others, is that, due to the fact that the screen on the Galaxy Note 5 has a curve to it, the glass sheet will not cover it completely. It will only cover the flat area. Consequently, there is a halo effect when the screen is on. If you use a case, the halo is less noticeable, if not completely gone.
See at Amazon (opens in new tab)
Hey, you!
What's on your list of cool accessories for the Galaxy Note 5? Did we miss something? Let us know in the comments!
I would love to accessorize my Note 5 with some Marshmallow, but AT&T hates me so... Posted via the Android Central App

Lol that's funny Posted via the Android Central App

I clicked this article to post exactly this but you beat me to it Sent from my Galaxy Note 5 that's still stuck on Lollipop

Same From my AT&T Note 5 paired with my larger Asus Zenwatch 2

+1 Posted via the Android Central App

That's insane. Living In An Android World

That's crazy, I've had Marshmallow since early March. Gold Platinum Galaxy Note 5 on Marshmallow

I had an note 5 on Verizon that was on marshmallow. However I got tired of the carrier lockdown crap, so I took it straight to Best Buy, traded it in and pay the difference for a Nexus 6p. They gave me $250 straight up trade in value, I know that sounds low but I got tired of haggling on Craigslist. Nexus 6p, gold

Craigslist sucks now and too much spam. Posted via the Android Central App

I woulda loved to give you $251. Lol Posted via the Android Central App

You could of got the nexus 6p for free with maybe some extra cash back. Also the Note 5 with marshmallow is a much better phone than the 6p

Tell me how I would've gotten it for free?
And no, the note 5 ain't **** compared to the 6p, especially from a software standpoint. If you're talking about Craigslist, then no that's a negative because nobody wants a Verizon Note 5.
Posted via the Android Central App

Swappa Your verizon note 5 goes for the same price as a nexus 6p. So you paid a few hundred bucks out of your pocket for an inferior component phone. I have both (note 5 international). Note 5 is standing the test of time in 2016 while the nexus 6p has shown its age and where it lacks.

Which Note 5 international versions did you get? And where did you purchase? Posted via the Android Central App

920G indian international Silver. Got it on amazon when it first came out. I am running a s7 edge marshmallow port which makes it even faster.

Nice. I was thinking of buying one off Amazon. There is the 920C and I think also a 920I know all don't include warranty but based on reviews some versions direct you to support in Arabic or the UAE version. But yours came from India. I know the U.S model does not get support but I may be traveling to Europe (Germany) anyway so I figure if I have trouble with it and I can send it out from Europe? Do you know the difference between the 920C and 920I?

My note 5 runs circles around my 6p...soooo... Posted via the Android Central App

You should have tried www.swappa.com Posted via the Android Central App

I just have a dual layer incipio case with a magnet between the layers for my car mount and a tempered glass screen protector. Works very well. I can take the case off and still wirelessly charge if i need to. Posted via the Android Central App

Gear S2 is okay. I much rather use an Android Wear watch. Due to the fact that there's more apps and Google search is way better than S Voice. Posted via the Android Central App

S view and s wallet cases are junk. They don't hold on tightly. Mine took a tumble and the case popped of resulting in a cracked back glass... :-( Posted via the Android Central App

I too would like to accessorize my note 5 with Marshmallow, but AT&T has a problem with that and wont let me. I would also enjoy accessorizing my note 5 with the May android security patch, but AT&T has a problem with that as well, so ill just sit here with lollipop and my February security patch. Thanks AT&T!

This is why I'm happy to finally be free of Verizon. From now on I'm buying unlocked phones straight from the manufacturer Posted via the Android Central app on my Nexus 5X with Project Fi

Same here... Posted via the Android Central App

Gear s2 and gear vr rocks love them both .on my note 5 Posted via the Android Central App

I have the Samsung S-View Clear Flip Cover case for my Note 5 and absolutely love it! Posted via the AT&T Note 5

Sort of surprised to see the gear vr not mentioned. Posted via the Android Central App

Same. I just got a Galaxy Note 5 a week ago so I was pleasantly surprised to see this article this late in the game. I would definitely take out one of the fast chargers and replace it with a Gear VR.

Too many posts about cases and accessories in my opinion. I think those discussions are better suited to the forums. Posted via the Android Central App

How bout a battery that doesn't stink?

Otter box is garbage and is ugly as shiiiit Posted via the Android Central App

Caseology cases are nice and a zerolemon battery case is a nice add on.

Nobody ever talks about Seidio cases. The Dilex case is perfect for my Note 5. Double layer, very little bulk added, several colors, built in kick-stand, secure holster, works with WC & fits with TG screen protector. (not a commercial...really)