Android Quick App: Ninja Rush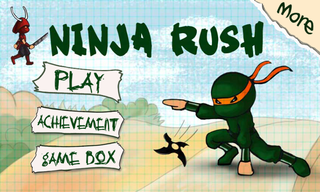 I think everyone can agree there's a soft spot for ninjas in their heart, and if you can relate to this sentiment, Ninja Rush is a game you should consider checking out. It's one of those "run until you fall and die" games, but the graphics are nice, the gameplay is fun, and you're a ninja.
Ninja Rush definitely bears a resemblance to Robot Unicorn Attack, but I think any game in this genre would. Ninja rush does offer a few modifications on the stock "don't fall and dodge bad guys" formula commonly seen, though.
For starters, you don't need to just dodge enemies, as you're armed with an unlimited amount of shuriken to throw. You can actually amass a pretty large wall of pain in front of your ninja if you've got a quick thumb, and can switch between jumping and throwing shuriken without falling. There's also a Spider-Man-esque dynamic where, when the ground falls out from underneath you, tapping the screen doesn't jump, but tosses a rope up and swings your ninja from the ceiling.
Yes, there's still double jumping, but instead of a limited dash, swiping right on the screen has the ninja dash forward indefinitely, ramping up both the risk and the difficulty. Swiping left on the screen returns the ninja to his original running speed.
Perhaps one of the coolest aspects of the game is what I'm deeming the Super Ninja Shuriken Super Move. The SNSSM is activated when you pick up three of these floating shuriken icons over the course of your gameplay. Doing so turns the ninja into a full-body shuriken and dashes him forward, floating over all chasms and destroying all bad guys in his wake.
At the price of "completely free," the game does have a fairly unobtrusive ad in the top right corner, but that's a small price to pay, especially considering none of the action is happening where the ad is, so you're not even forced to navigate around it.
Download links and more pictures are after the break, and no, the screen doesn't tear like that when you're playing it.
Be an expert in 5 minutes
Get the latest news from Android Central, your trusted companion in the world of Android