Android Game Review: Greedy Spiders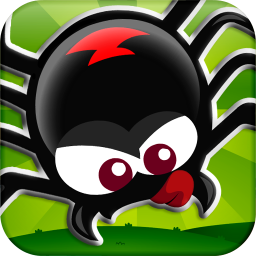 YouTube link for mobile viewing
I don't like bugs but I do like puzzles. I'm not particularly fond of spiders, either (too many eyes and legs for my taste), so the idea of depriving them of their meal seemed like a good enough premise to give a whirl. The result is many an hour lost and homework neglected.
Greedy Spiders is a turn-based puzzle game where you (as some omnipotent, web-cutting force) are trying to outwit a spider (presumably a greedy one) and keep him from his meal of winged insect. This is done by touching a slice of web to cut it away and therefore keep the spider from getting from place to place.
Webs are set up in what I can best describe as a connect-the-dot format. There are points that webs connect to and it's at these points the spider can pivot around, change directions, and the like. You also take turns with the spider, with your move always going first. You snip some web, the spider walks, you snip again, so on and so forth.
If your bug gets eaten, you lose. If you manage to save your bug(s) from the spider, though, you win and advance to the next level. You're rewarded with stars for completing a level, Angry Birds-style, with one star being the utmost minimum and three stars for totally spaking some spider heiny.
The game also ramps up in difficulty, starting you off with only one bug to save and one spider trying to eat it. As you continue through the levels, you'll be tasked with saving more than one bug (I'm at four right now) from one spider. Once you're all buttered up and comfortable, however, you'll have to start contending with more than one spider trying to eat more than one bug. That's where it gets a bit stressful.
To ease your pain in the later levels, sometimes you're rewarded with some powerful options and abilities, but they're limited. You can sometimes wield fire to burn large sections of web away, put a dummy bug on the web to distract and fool a spider, or even "invoke a supernatural power" to teleport your bug off the web. The last one kind of escapes me, but hey, it's at your disposal.
Greedy Spiders is a pretty fun game. The graphics are well done, it's smooth, and there's a lot of content to explore. Just when you think you've begun to get the hang of things, another variable is introduced, and you're back to square one, fighting for your bug's survival.
There's both a free version and a paid version of Greedy Spiders, with the paid version running 99 cents. The free version only has 64 of the 128 levels, so if you don't mind starting over, you could play through the first 64 to make sure you enjoy it before spending a buck to get the rest of the game. In my opinion, it's another in the line of quality pseudo-puzzle games on Android and is totally worth checking out.
For those hankering to stick it to some spiders, we've got download links after the break.
Get the Android Central Newsletter
Instant access to breaking news, the hottest reviews, great deals and helpful tips.