Android Game Review: Chicken Coup Remix HD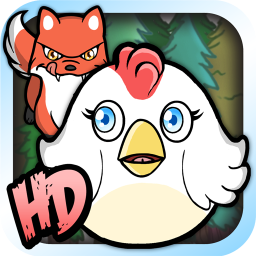 YouTube link for mobile viewing
Remember in The Fox and the Hound how Tod is a likeable, heroic fox that ends up saving the day in the end? He must be from a different breed of fox (the Disney breed?) than the ones you'll meet in Chicken Coup Remix HD, because these foxes are nothing but muderous, bloodthirsty creatures with only one goal in mind: eat all your brainless chickens.
Why do I call the chickens brainless (other than they fact they are)? Because while the cunning foxes are popping in and out of bushes surrounding your farm (great location, Farmer Bill), your chickens are aimlessly wandering around like dodo birds. Therefore, it's up to you to corral your feathered friends into their respective coops before they're dragged away and devoured.
To move a chicken, drag your finger across it. It's now hooked on you, and you're free to move it somewhere safer (like it's coop). If you drag chickens and roosters into the wrong coop, you lose "life," so to speak, and once you're down you alloted lives, your level ends.
There's also two other ways to lose a life: letting a fox escape with a chicken in its mouth or not getting a chicken into its approproate coop soon enough. The fox issue is easy, as you'll see the fox running off. The timing thing can be a little difficult, as it's only denoted by a colored exclamation point over your chicken's head. Green is ok, yellow is so-so, and red is imminent loss of cluck.
So how do we deal with these pesky foxes, anyway? For some reason, you want to drag those into the barn. Dragging is the same as with the chickens, but what the farmer intends to do with a farm full of hungry foxes is beyond me. (I try not to dig too deeply.) You'll know which one is the barn, too. It's the biggest and it has a picture of a fox on it.
What other challenges do you face? Obstacles and terrain vary in each level, starting off with an inconveniently placed tractor, then moving onto things like an actual fence. You'll have to stay light on your fingers if you're going to save all the chickens in time.
Scoring is pretty simple. Get chickens in their coop, get points. The more chickens you get in without losing one and your "chicken power" goes up. Chicken power adds onto the next chicken you save, and keeps growing until a chicken is lost. You can also chain like groups of chickens together for sweet bonuses (and to get a lot of stuff of screen at once).
If the screen becomes too cluttered, a simple pinch-to-zoom (out) motion will use one of your three bombs to clear everything off the screen and give you a moment to breathe.
And in case you're wondering the difference between the original and remix versions of Chicken Coup, an eagle-eyed Puppy Punch employee answered the question for me:
To top off an already impressive game, there's also OpenFeint support and achievements to be had, so don't think the game stops once you've maxed out every level. Puppy Punch Productions is going to keep adding in new levels, too, so the replayability factor is pretty high with this title.
Chicken Coup Remix HD is $1.99 in the Android Market. If you're ready to try life on the farm, we've got download links after the break.
Get the Android Central Newsletter
Instant access to breaking news, the hottest reviews, great deals and helpful tips.