Android Auto will roll out to most 2016 Cadillac models later this year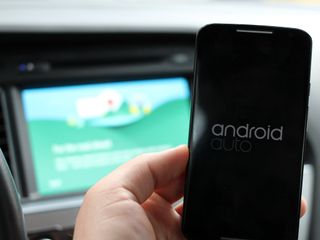 The majority of Cadillac's 2016 models, rolling out later this year, will feature support for Android Auto at some point after launch. Android Auto will come as part of an overall enhancements of Cadillac's CUE system. One of the notable exceptions in compatibility is the SRX Crossover, which will be moving to an all-new generation of the CUE system early in 2016.
Cadillac's 2016 models will start arriving this summer. In order to use Android Auto with your new car, you'll need a device running Android 5.0 Lollipop or later. You'll also need to download the Android Auto application. GM previously announced that Android Auto would also arrive in 14 Chevy models later this year.
Press release:
Cadillac Enhances Phone Integration for 2016 Models with Apple CarPlay, CUE Upgrades
APPLE CARPLAY AVAILABLE AT LAUNCH; ANDROID AUTO COMING LATER IN MODEL YEAR
NEW YORK – Cadillac's 2016 model year products will feature enhanced connectivity and control, including the addition of Apple CarPlay and Android Auto, the predominant new systems for in-car phone integration. These additions are part of a broader enhancement of CUE, Cadillac's user experience, with new features and a faster, streamlined operation.
Apple CarPlay will debut in 2016 Cadillac models featuring CUE's 8-in multi-touch screen except the SRX Crossover, a model that will move to an all-new generation in early 2016. Android Auto is expected to be phased into 2016 production at a later date. The 2016 model year will begin this summer.
"Cadillac's product transformation includes continuing upgrades to connectivity and in-car technology," says David Leone, Executive Chief Engineer. "In 2015 Cadillac became the first luxury brand to feature broad use of wireless charging and 4G LTE Wi-Fi connectivity, and now in 2016 we're moving quickly to enhance phone integration and overall system performance."
Phone Integration
Cadillac CUE provides owners a smart and simple way to access both Android Auto and Apple CarPlay. A "Projection" icon will appear on the CUE screen, to enable simpler, easier access to key smartphone functions, including navigation, contacts, hands-free text messaging and select applications supported by Apple or Google.
Apple CarPlay takes the iPhone features you'd want to access while driving and puts them on the vehicle's display in a smart, simple manner. This allows drivers to make calls, send and receive messages and listen to music right from the touchscreen or by voice via Siri. Apple CarPlay supported apps include Phone, Messages, Maps, Music and compatible third party apps. A full list of those apps can be found at Apple.com/ios/carplay.
Android Auto is built around Google Maps, Google Now and the ability to talk to Google, as well as a growing audio and messaging app ecosystem that includes WhatsApp, Skype, Google Play Music, Spotify, and podcast players. A full list of supported apps is available at g.co/androidauto.
Many features can be controlled via voice commands through a steering wheel button, helping drivers spend more time with eyes on the road and hands on the wheel. In addition, Cadillac added wireless charging and OnStar 4G LTE Wi-Fi service in the 2015 model year.
Both phone integration systems require the phone to be connected via USB. Apple CarPlay requires iOS 7.1 or higher or an iPhone 5 or later or higher, Android Auto requires Android Lollipop operating system.
CUE Enhancements
A more powerful processor will be added to CUE for all 2016 models, enabling faster system start-up, voice recognition, navigation searches, and media playing.
For the navigation system, the control structure has been simplified for easier destination entry and quicker destination searches. Map screens have been redesigned for easier use, including one-touch control of commonly used features like "muting" voiced navigation instructions and route cancellation.
For the Escalade, CTS and XTS product lines, the Cadillac CUE screen will add Surround Vision, a 360-degree view of the vehicle's perimeter. Driving mode information will be expanded to the screen as well.
Android Central Newsletter
Get instant access to breaking news, the hottest reviews, great deals and helpful tips
pretty cool to see Android Auto being implemented across different car makers

I hope they allow some of 2015 models to get an update to support it. I have a 2015 Chevy Colorado and MyLink is okay, Android Auto would make it great.

Once again:come on Subaru!! Drop that proprietary carp called Starlink. Android and Subaru should be kindred spirits. /end whine Posted via the Android Central App

Looks like I got my ATS a year too early

Most Android users that can afford this stuff actually know how to use it.
I still haven't found one IOS user that can tie their shoe. Still using the Sprint GSIII on FreedomPop Unlimited for $19.99

I was going to buy an XTS to replace my CTS, but hated CUE. Adding Android Auto could make me change my mind. Posted via the Android Central App

Hyundai has it.. Posted via the Android Central App
Android Central Newsletter
Get instant access to breaking news, the hottest reviews, great deals and helpful tips
Thank you for signing up to Android Central. You will receive a verification email shortly.
There was a problem. Please refresh the page and try again.