Android 4.1 Jelly Bean SDK now available for download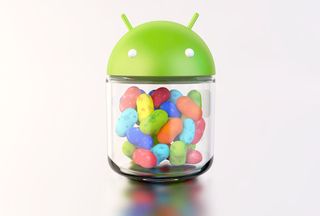 With Google I/O 2012 now kicked off and Android 4.1 Jelly Bean unveiled, the time has come to download the tools to make the magic. During this mornings keynote address, it was announced Android 4.1 would be rolling out mid-July while the SDK would be made available to developers today. The update has gone live now and is available for download to those who can make use of it. Some of the highlights to look forward to:
Faster, Smoother, More Responsive - Android 4.1 is optimized to deliver Android's best performance and lowest touch latency, in an effortless, intuitive UI.
Enhanced Accessibility - New APIs for accessibility services let you handle gestures and manage accessibility focus as the user moves through the on-screen elements and navigation buttons using accessibility gestures, accessories, and other input. The Talkback system and explore-by-touch are redesigned to use accessibility focus for easier use and offer a complete set of APIs for developers.
Support For International Users - Android 4.1 helps you to reach more users through support for bi-directional text in TextView and EditText elements. Apps can display text or handle text editing in left-to-right or right-to-left scripts. Apps can make use of new Arabic and Hebrew locales and associated fonts.
Expandable Notifications - Android 4.1 brings a major update to the Android notifications framework. Apps can now display larger, richer notifications to users that can be expanded and collapsed with a pinch. Notifications support new types of content, including photos, have configurable priority, and can even include multiple actions.
Resizable app widgets - Android 4.1 introduces improved App Widgets that can automatically resize, based on where the user drops them on the home screen, the size to which the user expands them, and the amount of room available on the home screen. New App Widget APIs let you take advantage of this to optimize your app widget content as the size of widgets changes.
There is plenty more where that came from included with the package. If you're a developer, you'll want to be digging into this stuff as soon as possible and working on getting your apps updated with the latest Google has to offer.
Download and more info: Android 4.1 SDK
Get the Android Central Newsletter
Instant access to breaking news, the hottest reviews, great deals and helpful tips.