Zipcar for Android comes out of beta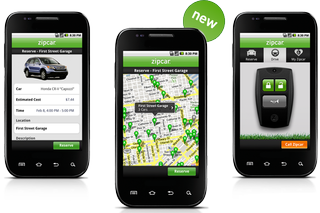 Now that summer is here it's perfect timing for Zipcar for Android to arrive officially. Having been available in the Android Market for a while now under the beta tag, Zipcar has taken v1.0 through the approval process and made it available for all.
If you're not familiar with Zipcar, it's a metro-based service that makes the process of renting cars easier just by simply signing up for their site and reserving a car as needed. You'll find the full press release and more information about the service past the break.
Source: PRNewswire
Android Central Newsletter
Get instant access to breaking news, the hottest reviews, great deals and helpful tips
i can't really find a use for zip car.... Unless you literally need a car for 2hours its useless... anymore than that you might as well rent. Still good to see the quality apps coming along

In larger urban areas, like Chicago, where I live, most of us rely on public transportation for our commuting. So a lot of folks don't want to buy a car and have to put out the expenses that go with it. Insurance, for instance, is very high in large urban areas, not to mention gas prices. But there are times when we actually need to use a car or even a small truck for a few hours. That's when Zipcar comes into play. Gas and insurance (even available $0 deductible)is included in the price. In my area, there are at least 7 locations within a few blocks of me.

The question is would you pay a monthly fee AND by the hour for that?... not sure if you've checked the pricing but its faily expensive... more expensive than renting... It may just be more convenient though

I'd never heard of this before until reading the article. Checked out the website, and the rates are ridiculous. You're right - it's only worth it if you need a car for 1-2 hours max.
Beyond that, even with gas included (don't forget the monthly fee), it is much cheaper to rent from hertz or enterprise.

I use Zipcar all the time.. I live in Chicago and don't own a car and this saves me a ton of money. You figure the average true cost of owning a car is almost $10g a year. Also, the membership costs me $25 a year so there isn't a monthly charge. It is great for business meeting, etc because you avoid having to drive in to work, pay for parking etc. Obviously it doesn't make much sense for people who don't live in urban areas but for those that do it is very reasonable.

There isn't a monthly charge, there is a $25 charge once a year. I was a college student from out of town in Boston using Zipcar and it was very convenient. Great for gigs, date nights, etc. They start anywhere from $7 an hour with gas and insurance included. If you get them for a day they can be as cheap as $80 depending on your location which is great for people who are younger than 25 because all rental companies charge a premium for being under 25 which off the bat puts you over the cost of a Zipcar. Not to mention gas.

It can be expensive but the places where you would use zipcar are usually places where renting a car is very expensive as well. So its not that big difference. If you want more than a day then renting is usually cheaper
But rent a car in ny you'll see some insane rates.
Android Central Newsletter
Get instant access to breaking news, the hottest reviews, great deals and helpful tips
Thank you for signing up to Android Central. You will receive a verification email shortly.
There was a problem. Please refresh the page and try again.