In pictures: Wacky ZenFone 6 designs left on ASUS's cutting room floor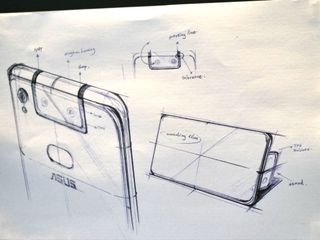 One of the most fascinating parts of a phone's design process is the concept drawing stage, where a manufacturer first experiments with ideas before deciding on a firm design and feature set. Ahead of today's ASUS ZenFone 6 launch, we visited the company's headquarters in Taipei, Taiwan, to get an early look at the finished article, as well as some of the design iterations that led there.
ASUS showed us a wealth of concept drawings, as well as dummy units of some of the more advanced designs, which we present below for your viewing pleasure.
Behold: a gallery of things, most of which are not the ASUS ZenFone 6.
This concept shows an early hinge-based flip camera with more angular chassis design.
ASUS experimented with a possible third rear camera, likely telephoto, in addition to the two main reversible shooters. One concept imagined the camera mechanism also doubling as a kickstand. (You can't do this with the real ZenFone 6. We tried; it fell over.) These shots also show several other flip camera designs.
A very different flip camera design is seen here, along with a softer overall phone body that resembles some of LG's older designs.
A variation on the final ZenFone 6 design shows a darker color palette with an ostentatious gold trim.
A possible quad camera design is shown here, as part of a wider flip camera setup.
Even the small details go through multiple levels of refinement on the road to launch. Alternative power and volume keys are shown above.
A close-up of a flip camera design much closer to the finished model. (Some early ZenFone 6 prototypes we saw still used the "Reverso" moniker.)
Another variation on a three-camera design with two flip cameras. This one shows a much smaller reversible module off to the right side of the device.
In these sketches, we see the final design of the ZenFone 6 taking form.
From concept drawing to dummy unit. This off-center notch eventually leaked online as a possible ZenFone 6 model, but in reality, never made it past the prototyping stage.
One of the most fascinating prototype designs shows a removable, rotating module that would plug into the top of the phone, housing the camera and an OLED strip for showing signal data, time and other info.
Another oddity: This dual slider design with cameras up top, and what appears to be a secondary screen area down below.
Other designs were also made into dummy devices, including this wacky curved model.
Most phones exist in several disparate forms before the manufacturer decides on a final design. It's rare, however, to have such an in-depth look at the countless different versions of ZenFone 6 that existed on paper and in model form before ASUS decided on its final design. Which is your favorite? Hit the comments and let us know!
Alex was with Android Central for over a decade, producing written and video content for the site, and served as global Executive Editor from 2016 to 2022.
Android Central Newsletter
Get the best of Android Central in in your inbox, every day!
Thank you for signing up to Android Central. You will receive a verification email shortly.
There was a problem. Please refresh the page and try again.