YouTube TV is now available on PlayStation 4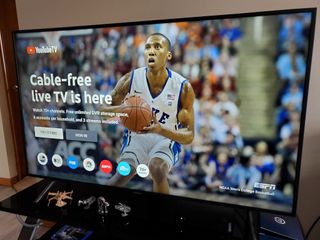 (Image credit: Android Central)
What you need to know
PlayStation Vue officially shuts down on Jan. 30.
PlayStation Vue subscribers have been recommened to use YouTube TV.
And YouTube TV is now available on PlayStation 4.
PlayStation Vue is officially dead on Jan. 30. Effectively, though, it's been gone for weeks. And that means a couple things. First is that PlayStation owners need a new favorite streaming service. And for that, the folks at Sony have been pushing their customers to YouTube TV. (Undoubtedly Google pitched in a little cash to help ensure that the two would be come fast friends, but that's neither here nor there.)
Just one problem, though. YouTube TV wasn't ever available on PlayStation consoles. Until today.
Yes, you can now watch YouTube TV on a PlayStation 4. (And, presumably the PlayStation 5, once it eventually becomes more than a logo.)
First things first: You'll need the YouTube TV app from the PS Store, which you cand find here.
Second is that you'll need a suscription to YouTube TV. It runs $49 a month, and comes with a free one-week trial. After that you'll be billed through your Google account (which means you'll need a Google account if you don't already have one), and that's that. YouTube TV also has a number of premium options available, like NBA League Pass and Showtime and Fox Soccer Plus, among others.
See all of YouTube TV's channel options
Google's joint
Give Google a shot
YouTube TV is an easy-to-use option for anyone who want to watch live TV, with a decent set of channels, premium options, and unlimited recording. And it's now available on PlayStation.
Sweet. I've been asking YouTubeTv about this and they've couldn't give me a date even as recent as last week
Android Central Newsletter
Get the best of Android Central in in your inbox, every day!
Thank you for signing up to Android Central. You will receive a verification email shortly.
There was a problem. Please refresh the page and try again.