WWE 2K19: Everything you need to know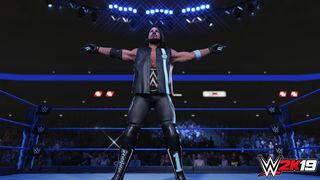 Right on schedule, WWE's annual video game franchise is back with another entry from the folks at 2K Sports. WWE 2K19 promises a massive roster, exciting new stories, and all the grappling fun you can handle. Here's everything you need to know.
What is WWE 2K19?
Wrestling games are some of the most popular titles out there, but there's only one WWE game you can buy every year. WWE games feature massive rosters of superstars from both today and from all over WWE history.
Most people would be happy with a sizable roster of wrestlers to use and a ton of match types to use them in, but WWE 2K19 has a lot more going for it. There's a full-fledged career mode, a Showcase story mode featuring Daniel Bryan, and a Universe mode that essentially lets you run your own shows and pay-per-view events.
That's not to mention the creation suite, which lets you take advantage of thousands of parts, textures, images, colors, and more to create custom superstars, arenas, title belts, event shows, and even entrances.
Biggest Roster Ever
The roster is one of the most important pieces of a WWE game. After all, you're here to put your favorite superstars into dream matches, right?
You'll be happy to learn that WWE 2K19 boasts the biggest roster ever in a WWE video game. You'll get the stars of today such as Roman Reigns, AJ Styles, Samoa Joe, Randy Orton, The New Day, John Cena, Daniel Bryan, and a ton more. Divas are nearly fully represented here too, with names like Ronda Rousey, Alexa Bliss, Nia Jax, Asuka, Ember Moon, and more. You'll also get a bunch of the legends, including Stone Cold Steve Austin, The Rock, The Undertaker, Triple H, Ric Flair, and Ricky the Dragon Steamboat.
In all, there will be over 200 wrestlers to choose from, And what you can't find on the official roster, you'll certainly be able to create in the game yourself. WWE 2K19's Create a Superstar mode is extremely deep and allows you to craft lifelike superstars, both of the fictional and factual varieties.
Follow the story of Daniel Bryan
Showcase mode returns with WWE 2K19. After taking a year off, 2K Sports has decided to take players through the career of Daniel Bryan, who has been a fierce competitor since his days in the indies all the way up until his championship runs in the WWE.
Like previous years, Showcase mode will feature a mix of raw gameplay and cinematic retellings of Daniel Bryan's biggest career moments and matches. You'll often be thrown into a match that has one or more conditions.
The most basic of those conditions is to win, but there might also be directives such as hitting a move from the top rope or pulling off your finisher in under 3 minutes. Once fulfilled, these directives will usually trigger some sort of cutscene featuring real historic commentary from the actual moments.
Showcase mode is typically a one and done affair, meaning there won't be much replay value unless you just happen to be the biggest Daniel Bryan fanboy to ever exist. But even if you go through it just the one time, it should be worth your while.
Compete for gold and glory
One central theme in all of WWE's gameplay modes is that you're competing to rise to the top. Whether that be going for championship gold in MyCareer or putting on the best possible show you can in Universe Mode, and of course rising through the online ranks, you're always pushing to be the best.
MyCareer
MyCareer will be a popular destination for such gameplay. It starts off with a story that has you beginning your career as an independent wrestler and trying to go all the way to the hall of fame.
Along the journey, you'll find yourself going up against authority figures, forming and/or breaking tag teams, fighting for championships, breaking hearts, and maybe even getting completely buried by a zombie Triple H. You'll be upgrading your character along the way with new creation suite items to use, attribute points to improve your in-ring skills, and other unlockables from the returning loot crates feature which will net you items, boosts, and bonuses.
Universe
You're responsible for your own growth in MyCareer, but Universe is where you can go to manage an entire roster and put on weekly and monthly shows. In Universe mode, you'll book dream matches and start up interesting rivalries, the stories of which are told through varying cutscenes and promos.
The beauty of Universe mode lies in its flexibility. You can control just about any aspect you want to, including who your top stars are, who the champions are, what the championships themselves are, the shows, the arenas, the rivalries, and more. On the flipside, if you're feeling adventurous, you can practically let the Universe run itself and see how things shake out without your input.
Road to Glory
Road to Glory returns in WWE 2K19. First introduced in last year's title, Road to Glory lets you take the MyCareer superstar you created online for a series of matches and challenges. The better you do, the more stars you earn. The higher level you are, the better the events you can participate in. The more wins you get, the better items you'll be rewarded with.
Towers
In this game mode, you'll be given a series of challenges to complete. You might be asked to win a series of matches with low starting health, or perhaps beat all of the Superstars who have ever won a Royal Rumble match. The stipulations, challenges, and conditions will differ from one tower to the next.
Pre-order deals
You can pre-order the standard edition of WWE 2K19 for $60. Doing so gets you access to AJ Styles' Million Dollar Challenge, as well as Rey Mysterio and Ronda Rousey as playable characters.
The deluxe edition will get you all of that, plus the Season Pass and the ability to play 4 days early.
Then there's this cool Wooooo! Edition featuring none other than Hall of Famer Ric Flair. You'll get all of the above, plus a commemorative WWE Hall of Fame replica ring, a commemorative plaque featuring a piece of a robe worn by Ric Flair, and a Ric Flair figurine. And if you're into the WWE Supercard game for mobile, there'll be extra content for you there, too.
When can you play it?
. WWE 2K19 launches October 9 for PlayStation 4, Xbox One, and PC. Buy the Deluxe Edition or higher to play the game 4 days early, on October 5.
Sign up for Black Friday email alerts!
Get the hottest deals available in your inbox plus news, reviews, opinion, analysis and more from the Android Central team.