The Walking Dead: Onslaught allows you to slice VR zombies in creative ways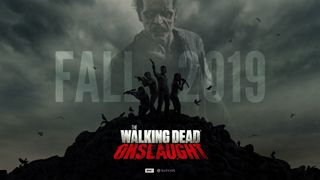 The Walking Dead is an incredibly popular franchise, and AMC wants to provide new experiences to fans around the world. We've seen a lot of The Walking Dead games lately from Overkill and Telltale Games, but Survios is also developing a title for virtual reality headsets. According to AMC And Survios, "Fight your fears head-on and step into the apocalyptic world... the show's official VR game, The Walking Dead: Onslaught." You may recognize Survios from experiences like Creed: Rise to Glory and Raw Data.
The Walking Dead: Onslaught allows players to assume the roles of their favorite survivors from the show, struggling against the relentless "walker" threat and the horrors of the post-apocalyptic world. Survios added that the game features an exclusive original story, visceral real-motion melee and ranged combat, player progression, and a proper campaign mode. Luckily, the wait won't be too long because The Walking Dead: Onslaught launches this fall in arcades and across retail platforms. It's unclear if that includes standalone devices like the Oculus Quest.
Survios head Mike McTyre said the following about The Walking Dead: Onslaught. It seems that the studio is excited to showcase its "progressive dismemberment technology" to the world.
Progressive dismemberment technology allows you to slice off limbs – and heads – with various moves. Some of the main features behind this gameplay mechanic are listed below.
Delimbing: Walker limbs are vulnerable for removal at many joints, including arms, legs, and necks. Expect a lot of flying heads.
Carving: Proprietary "gore mesh" creates realistic wounds anywhere on a walker's body.
Impaling: Enemies can be impaled and react where they're stabbed.
Context Physics: Slicing through enemies can make your weapon get stuck, and there's resistance when pulling out weapons.
Restraint System: Walkers can also be pushed and thrown at each other, or grabbed for certain attack or defense techniques.
Are you excited about The Walking Dead: Onslaught? What do you want out of the experience? Let us know.
PC-powered VR
(opens in new tab)

The next evolution of the Rift brings improved lenses, a display with a higher pixel count than the original, and a redesigned head strap and tracking system, but you're still tethered to a PC.
Android Central Newsletter
Get the best of Android Central in in your inbox, every day!
Thank you for signing up to Android Central. You will receive a verification email shortly.
There was a problem. Please refresh the page and try again.