The Verizon Motorola XT1096 may be the Moto X successor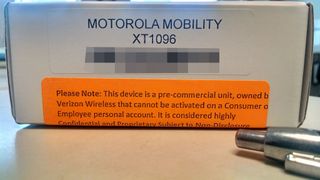 Fresh out of our tip box: It's what appears to be the Motorola XT1096, headed for Verizon. Well, it's a sticker on a box that says it's the Motorola XT1096, headed for Verizon. Beyond that? Well, there's a better than average chance we'll be seeing a follow-up to the Moto X in the next month or so, and there's a better than average chance that's what's in the box.
Is it the Motorola X+1? Is it the X2? (Because X+1 = X2, right?) Time will tell.
If you've got insight, hit us up! And be sure to hit up our rumored devices forums!
Thanks, anon!
SD card slot or I won't buy it Posted via Android Central App

Tried to find a list of people who give a fuck what you buy, turned up nothing.

Lol you are so right. Plus I don't think I'm an sd card is worth all that much. What a dumb kid with his definitive opinion. Posted via Android Central App

Yeah, fuck that guy for having a definitive opinion that differs from the definitive opinion that you just gave, right?

Children. That's just as bad as any other comment in here calling adults children. Posted via Android Central App

Don't make me turn this car around. :p

Hey guys whats goin---- http://2.bp.blogspot.com/-UUBBVvfBUcM/T1t8Zi673mI/AAAAAAAAA0c/uEdZ-PA4Ip...

Oh, you know. Just getting sent to bed without supper again. :-) Posted from my Nexus 5, behind seven proxies

See its because of people like you that we cannot have nice things around here :-)

Are we there yet? :p Android and Blackberry fan

Depends. If you are a big BlackBerry fan you will catch up to the rest of us in about 3-4 years... :-P

Right because blackberry has to resort to using the amazon app store and a Droid runtime that's still on gingerbread or whatever to pad their numbers.... keep popping those pills

There's nothing definitive about my comment you dummy. Posted via Android Central App

+1 Posted via Android Central App

"Tried to find a list of people who give a fuck what you buy, turned up nothing." Best comment reply ever. :)

Hey AC posters, what did I miss? Wow these comments escalated quickly! # find a list

I really lol'd hard on that one!!

Best comment ever! Posted via the Android Central App

+7 1/2 for the bloke who researched ppl that gave a fuck Posted via Android Central App

Who the hell cares about and SD card anymore. If not having it makes the phone cheaper im for that. Everything is in the cloud these days everything saves to the cloud these days and you stream all content these days an SD card its just a hassle trying to manage what is being saved to what Posted via Android Central App

Having a SD card means the manufacture have to pay Microsoft for using their FAT patent, so it will be more expensive for the OEM to make.

I'm willing to spend more money on a phone with expandable storage Posted via Android Central App

Then go spend more money on a phone with expandable storage. Posted via Android Central App

Thanks for the obvious advice Posted via Android Central App

But why? Storage is storage, whether it's built-in or removable. I'm not completely against sd slots but I know I've had to format my SD card in my Note 3 about 3 times this year.

Then there are others who like choices and have different uses for things. For them an SD card slot is kinda a need. Besides where am I going to put all the stuff I need that I either do not want to put in the cloud, cannot put in the cloud or need when i cannot be connected to the cloud. Lets not even mention when the cloud goes down.

Personally, I don't know what's so good about the cloud. First off, many people may not want to turn over all of their personal files to sit on some server somewhere that they have no control over. Then if you or the service provider have connectivity issues, you can't access your content. If you're on an airplane without WiFi, you have no access either. Not to mention, unless you have an unlimited data plan, you're now paying the carriers to be able to access your own data. It reminds me of paying an ATM fee to access my own money.

+1000. Exactly. Death to the cloud. It's just a way to extract rent from users IMHO. What's better? $20 SD card and $20 (estimated) additional cost? Or required data plan and/or Wifi access and rented cloud storage account?

Seriously. The cloud concept is simply a marketing idea invested in making end-users cough up more money. Especially in the mobile world where data costs money.

Using the Cloud is a great idea! Too bad corporations only want to price gouge data tiers to the point that it hinders the Cloud Innovation.

its a free country.. don't buy it then lol

Google has gimped SD slots so much they aren't even worth using unless you need to store movies or music.

Which are two of the largest data sucks for most people who use their phones for media consumption, video and audio.

correction, developers have not updated the apps to use the SD card with the way Google updated the API

As far as an SD card slot goes, you do know you can buy $2 USB to micro USB cable and use a regular old USB drive to carry large amounts of data right? You can store movies and music for travel, and when you don't need it you just put it away.

It is an option, but why carry more gear around than I have to? Another cable, another USB stick.... My gear bag looks like Alex's already I do not need more.

Or better yet, fingernail sized USB/micro USB OTG drives that work on both a PC and your phone, faster than internal storage or microSD in some cases too (reading from USB 3.0 anyway, they're all dog slow while writing). Kingston's microDuo looks perfect for a keychain.

Don't care about the sd card anymore... But you can't knock someone for their opinion unless you're ready to be discounted for yours. I got 64 gbs that I'm on my way to activate as I type this Posted via my LG LS740 and The Android Central App

Yep. My OPO 64GB arrives tomorrow. Not too concerned about SD slots either.

Yeah buddy. Just activated mines. So far I like T-mobile. Posted via my OnePlus One

Really liking my one plus also had it about 3 weeks now love the battery life and camera the most so far and also cm11s endless amount of themes. Posted via Android Central App

I never understand why people are so dead set on SD card slots. It's just storage. As long as it has at least 32gb internal that's all that matters to me.

i think what happens is the larger capacity phones get priced out. I never understood how and extra 16 gigs of storage costs so much more.

Absolutely. SD is an absolute *must*. Forget the other dumbdroids here who *love* to fill the cloud with their crap. And Google *also* needs to undo their lobotomization of SDcard support, or it's time to fork Android.

Good job with that orange sticker the important information on it. I can almost read all of it.

Moto X+1 or the DROID follow-ups.

If I remember right after the last Droids came there were reports that they will be the last Droids.

You mis-remembered. THe article I will post is only a year old and the deal was that Motorola is going to be be ONLY one making droid phones. Since they havent really released any that I know of since the last round, I have to think that more are on the way. http://www.cnet.com/news/motorola-now-exclusive-droid-partner-to-verizon/

Yea dude, these aren't the droid 's your looking for

Being Verizon I think it's funny no one mentioned the Droid series until now. Did big red even have the moto x? Posted via my LG LS740 and The Android Central App

No Moto X was exclusive to only cricket wireless. Posted via Android Central App

Thanks. So it's gonna be a Droid Posted via my OnePlus One

Hahaha Posted via My Ever-Bloated S4

Now I know why you got suckered into a 1-

Again bet my phone makes yours it's prison bitch Posted via my OnePlus One

It pales in comparison to either phone I am carrying with me right now. (Note 3 or G3) Give it up and let me know when Color OS fixes ... well pretty much everything

In all honesty Nonexus if you can get a hold of a one plus give it a try I think it may just change your opinion I have tried the note 3 and the G3 both great phones but I believe with cm11 and with the battery life and camera of the one plus not to mention the price I could buy 2 of the one+ for the price of the G3 it really is an excellent value . Posted via Android Central App

It was on the list of phones that I might have acquired through work until the constant delays and issues. On top of that with CM either being ditched or ditching them they are a non-starter. It really is turning out to be more scam than company (though I am sure they are not really out to rip people off, they just were not really ready to go into business yet)

Again read your links, they're not ditching CM support. How is it a scam? who ordered a phone and didn't receive one or was led to believe it's free. I know you have a hard time believing it but the phones are real, they exist, they're not figments of the owners imagination. People own them, trust me, I know. Posted via my OnePlus One

The note 3 is the new black

...And the Note 4 is the Orange that is the new Black...lol On a side note, not sure if you are a fan of that show but it sucks what they did to it...

You 2 should start the NO! 3 fanboy club Posted via my OnePlus One

Because you can actually buy the phone at a store and online, you would lose that argument as well.

That sarcasm is old. If no one had the phone I wouldn't be typing on it right now. Just because you lack the resources to get a invite doesn't mean it's not available. I think you're mad because YOU can't get it. Meanwhile I can get a note 3 If I so wanted... Unlikely as it may be While the invite system scares off some, to me it made it that more exclusive. Who wants something everyone has. I had the guys at T-mobile saying in front of customers it was a better buy than anything in their store, and right on the corner was a note 3 display growing cobwebs as we spoke. Tumbleweeds blew in that corner lol Posted via my OnePlus One

That was not sarcasm, that was a fact. If I wanted the phone badly enough I could easily get one, for free, as a work tester. It is so insignificant that it would not be worth the cost for shipping.

I bet you could. Seeing as how your work has invites and all. Posted via my OnePlus One

When you work for the Fed, you do not need invites. Trust me the 1- would love to get certified into the program.

Sure I believe you. Your work for the federal government allows you a lot of time to post to the forums Posted via my OnePlus One

Part of my job is to remain up on mobile tech so yeah. Don't care if you believe me or not. Just know this, every time you pay your cell phone bill, there is a fee on there from the fed. A small part of that fee goes to me. Thanks!

I totally have to burst your bubble. I work for the feds too (GS13) and 1+ WON'T give you a free one, you STILL have to get an invite. The Oneplus front office official for their global outreach, who I won't name, said they simply don't have them available to give testers away. Because of who I work for we got invites within a few days to buy though. When I ordered those we received residual invites which I used to get mine. So, who did YOU personally talk to that said you could have a free one?

You can try to burst my bubble all you want. If the arm of the fed that I work for asks the 1- for one, they would steal it from a baby to give it to them. In fact I am sure that one of the first models that 1- put out is sitting in a desk drawer. If it was a viable candidate for my program I could have it and they would gladly give it. I am not trying to boast, I am not trying to pump myself up. I am a low level programmer that happens to have an in and whom is lucky enough to have some perks.

YOU don't even know who to ask at Oneplus to get one. You'd have to ask your boss to start acquisition paperwork to "take it" from the proverbial "baby". And if your boss said "No, we don't want one." You'd have no way of getting one. Personally, I doubt YOU could get one so easily if you wanted. Just saying'. Quoting you... "If I wanted the phone badly enough I could easily get one, for free, as a work tester." To that I say you're full of scheisse. The one you'd get anyway would be a work tester and if you hit the door trying to take it home for free you'd be in a world of hurt.

I could not care less who to ask at 1+, I jsut need to ask someone at the federal agency that I work for. Other that I could not give the smallest crap what needs to be done. My office manages a fund that is important and if we need to approve equipment for that fund, we get it. It is not very different from certifying equipment for use in the US on carriers. If you are saying that I can get them to personally give ME the device, you are right. It does not work that way, I can however get my OFFICE the device without hassle

So you're THAT GUY, big federal man. Sure I believe you... You judge a phone based on a "test" model that you LIKELY have never laid paws on. You don't have to prove anything to us, where you work makes no difference to me, but I highly doubt you've ever touched this phone and likely get all your info about the 1+ third hand. I've held a galaxy note 3. I have not one bit 2 family members who have them. As to that fee, I'm aware of it, it doesn't go to YOU unless your stealing from the federal government. Stop talking like you work in Langley, you work for the department of agriculture or some shit at best Posted via my OnePlus One

As I said, I get every major release, with the exception of Sony because they do not have that big a presence in the US. This POS is not a major release, hell it hasn't actually BEEN released yet. Your right I have not touched it, nor do I want to. I can however read the phony promises that the company puts out, that asinine way that they are trying to distribute it, all the problems they have with CM, and all the hate that is filling up their own forums ( until their mods delete it ). You do not know what fee I am referring to, and I did not say it goes to me directly. A small part of it does go to pay my salary. Thanks!

You did say a small part of that fee goes to you. I Didn't know you were an accountant for the Feds too. I constantly forget you know everything. Next you say you can get one for your office, then you say you only get "MAJOR RELEASE" phones. You kill yourself with your own words. What issues with CM do you refer to seeing s's how you know JACK SHIT about it that you didn't read ONLINE. I thinks it's safe to say you are full of it when it comes to 1+. You know nothing about it Lastly, the company isn't A SCAM, it's a STARTUP!!! Hiccups are to be expected, then again you're probably a expert on that too right. Posted via my OnePlus One

Yes a small part of that fee pays my salary since the fund is sole funded by that fee. I can get whatever I want, we do not abuse it. Besides, now where in that previous paragraph will you find the word only Lots of speculation that CM is ditching or being ditched. It was supposed to be released awhile ago. I fully understand the initial delay but why is it still not released? Yes I have already said that I have not touched one, nor will I. The stories I have read are more than enough to teach me to not throw away money. As I stated earlier, their own forums have many threads about things not working, what junk it is, frustration that it is constantly delayed and so on....they delete them regularly, but you can find them. Last the company is not a startup, and that is part of the scam. It is opo. What you bought was a rebranded Find7, not some new phone from a new company that came out of nowhere to shake things up. http://phandroid.com/2014/04/28/oneplus-one-oppo-deception/ At first your lack of comprehension amused me, now you just bore me. I am though with this conversation. Enjoy your phone. I understand why you have it, and you do deserve it.

Stuck on the netflix, still on season 2. No spoilers! Lol

OK I will not tell you, but look up season 3 AFTER you finish season 2. Season two was great.

I want the one plus one but I don't know anyone who has one. Can't get a invite. Keeping trying to win either the phone or a invite but there are more people that want this phone than there are invites. Oh well, I'll keep trying!

Spit my drink out on this one!

LOL!!! Posted via Android Central App (Moto X)

Big Red eventually got the Moto X. I'm on Verizon and I have a Moto X. Posted via Android Central App

Who the hell cares about and SD card anymore. If not having it and make the phone cheaper time for that. Everything is in the car these days everything saves to the cloud these days SD card its just a hassle trying to manage what is being saved to what Posted via Android Central App

The cloud is so great on all these tiered/limited data plans.. amazing shit lemme tell you. you can always have everything you need, from the cloud.. so long as you're on WiFi.

I have unlimited data cause I was one of those smart people who buy the phone outright. You gave that up when you decided you needed a phone for free or cheaper rather than keep your unlimited data. Not my fault you made the wrong decision. Stop being so cheap and you would still have unlimited data and be able to use all those services without having to worry. Posted via Android Central App

Way to put the ass, in assumption. I didn't lose my unlimited data. I buy my phones outright, stop being so condescending towards people who can't afford to dump $600-$800 on a phone once every 10-20 months. What good will unlimited be whenever Verizon starts considering every cell tower a "congested network area" and then unlimited LTE may as well be 3G, who knows.. they may actually do just that, throttle us down to CDMA instead of letting us access the LTE network.

I won't have to worry about throttling lol I live in the country with 50mb down and 35mb up in a town of 2500 with two towers. They aren't even gonna consider my area. Not my fault people can't afford the things I can jeez. But don't complain about not having unlimited data because you can afford to buy a phone outright. Posted via Android Central App

1250 people per tower is a lot lol

You're an idiot Posted via Android Central App

Wouldn't you rather have access to that stuff on the device itself? That way your phone doesn't have to burn through battery to re-download the same content over and over.

By no means am I defending the other guy, but I suggest using MetroPCS unlimited data, its actually unlimited, super fast LTE, and no throttling or hard data caps! Using it to type thus now on my S5 and love it! :) Posted via Android Central App

Then there are others who like choices and have different uses for things. For them an SD card slot is kinda a need. Besides where am I going to put all the stuff I need that I either do not want to put in the cloud, cannot put in the cloud or need when i cannot be connected to the cloud. Lets not even mention when the cloud goes down.

-1 i like all my stuff local why is everyone so quick to denounce SD card slots Posted via Android Central App

Sarcasm is hard for you isn't it.

Didn't see an \s Posted via Android Central App

Nothing wrong with that. The first guys post was just a little ridiculous. Won't buy a phone if it doesn't have a SD card slot that basically leaves him to only Samsung devices anymore. Posted via Android Central App

or HTC or LG or Motorola (E) or Sony Every Manufacturer that is big-ish in the US has a phone that has a slot. we are back to complaining about individual phones not having it, not OEMs

Or Oneplus One Posted via my LG LS740 and The Android Central App

You missed where I said "big-ish in the US" So far that POS is just a myth that will never get released to the public.

It's a myth that I'm holding in my hands as I type this. Also "Big-ish" isn't even a damn word. Open your eyes and look around, lot of people have this phone. Bet my POS will outperform whatever you're holding Posted via my OnePlus One

No a lot of people wanted this phone. A lot of people thought about this phone and now a lot of people passed this POS phone by and left the scam of a company in the dirt. What did you do to get it. Invite, contest, smash your phone, another contest, a giveaway, a lottery, eBay or do you know the super double secret handshake? Tell me, do they have Cyanogen working yet or is it still that halff assed color OS that barely functions and makes TW look like stock?

Your ignorance is hilarious and entertaining. You want to know what I did, go to the forums and check the thread titled "General thoughts". I didn't even ask for an invite and got one. My money talks, I don't just go around bashing phones because it gives me a hard on. You're phone envy is so transparent it's enjoyable. As to your other questions, I won't even dignify them. You want to know, buy one your damn self, unless you just like trolling around bashing phones you've never Even laid a grubby little paw on. I saw your profile and recent posts. You have way too much time on your hands my friend. Don't hate my phone cause I paid $250 less and have the same, but likely BETTER specs than yours Posted via my OnePlus One

Phone envy...lol that is funny as shit. I am bashing a phone that has missed every deadline that it set, cannot deliver, has 5 dwarves assembling them by hand in a back room and decided that they were going to attempt to con everyone into thinking that they were a startup. Your phone cannot even beat the specs on my year old Note 3: http://www.phonearena.com/phones/compare/Samsung-Galaxy-Note-3,OnePlus-O... And mine is way more functional, and even "bloated" as people say all of the equipment works (Bluetooth, GPS) unlike ColorOS has released in the past. But hey. I know that no ones wanted to admit to being scammed, maybe next time tiger

Took a gander at your link. What did I learn? My phone is bigger and lighter than your POS. My screen resolution is EXACTLY THE SAME. I have MORE pixels per inch than your NO! 3 (not a typo) I got the SAME CAMERA While mines is dual LED yours is single. My front facing camera is MORE than double the mp on your NO! 3. Hardware: my processor is faster, 2.5 ghz vs your 2.3. SAME Adreno 330 graphics processor. Same 3gb of ram. By the way I paid the extra $50 and got the 64gb black OnePlus one so I might have more memory than you. Battery: you have 100, not 1000, but 100 more mah than me at 3100 vs 3200. But you'll need it for all those gimmicky features no one uses. So outside of that what EXACTLY is so special about your phone except you paid $250 more than me. Your manufacturer isn't even number one on their own continent anymore yet they got more $ in the bank than anyone. I think you're the sucker for buying an overpriced, overhyped, can't live up to its predecessor, packing the same specs as my $350, you need a invite to buy because it's so awesome phone. Also you got phone authority, I got android authority, read the conclusion. http://www.androidauthority.com/oneplus-one-vs-galaxy-note-3-371970/ I take it you didn't post this link because mines is better. It's the first result that comes up when you google the 2 phones. Nice try
Posted via my OnePlus One

You do realize that your "Phone" is 6-7 months newer than mine right? So you are paying for specs that I have been enjoying for quite some time. OUtdated crap is outdated. In addition, I can go to a store and buy my phone. Can you? Has it been released for retail? Also Samsung is a real company, not some shell ponzi scheme set up by OPPO. YOu still have not answered about the software. Are you running Cyanogen (that was delayed several times) or ColorOS (that has always had issues with wifi or BT) Say what you want about "bloat" but the things actually work on my phone, how about yours? PS That site is a bit of a rag (more like the weekly world news as opposed to USA today)

Forgot about S-Pen Posted via Android Central App and My Note 3

I was gonna just compare Apples to Apples. The S-Pen makes the 1- even more irrelevant.

My point exactly
Didn't mean to bring in another fruit into the discussion Posted via Android Central App and My Note 3

LOL I see what you did there...

S-what. I need a pen to use android? Didn't know a stylus was the gold standard in which all phones are judged Posted via my OnePlus One

It isn't but it is a feature that is used widely and one that cannot be ignored. Look at LG, they just copied it today. It is going to become semi-prevalent as OEMs try to separate themselves./

LG added it to ONE DEVICE out of many just like samsung. You see it popping up anywhere else? What DOESN'T LG copy from Samsung. Truly a fanboy Posted via my OnePlus One

It is the start. Just like Knox. I am not a fan of any manufacturer, I am a fan of phones.

What about Knox. My job uses outlook. Knox did nothing for me when I used samsung. Where do you see Knox catching on outside of samsung. Posted via my OnePlus One

I know that you are rather uninformed but it is COMMON knowledge that Samsung gave knox to Google and it is to be incorporated (It already is BTW) in the "L" release. Come on. You are usually smarter than this. Most of the time your posts are decent, you are just so busy defending crap that you are being blind.

http://www.sammobile.com/2014/06/25/samsung-and-google-team-up-to-integr...

I already thought I knew what you were referencing but wasn't gonna assume. That still doesn't have shit to do with a S-pen and I bet I won't use Knox when l drops. That bullshit won't be on my OnePlus One son Posted via my OnePlus One

If you want stock (or close to stock) you are gonna have it.

I didn't say the future, I said it won't be on my current. Posted via my OnePlus One

I will pass on the easy dig at the 1- and say I hope that they would update a 6 month old phone to the current OS. Unless you have no design on updating it at all.

It's already been confirmed. I'm sure you can find a link for it. We'll have it before your precious note 3. It's already been guaranteed within 3 months of the release of L. But you probably will think it's a "scam. " a word you're so clearly fond of Posted via my OnePlus One

Yes i do realize my phone is more recent than yours and that you've had these specs for longer but $650 was the same in October 2013 add it is today. Same with my $350. 2nd why would you want to go into a store and buy another, you already own one. One could argue that my phone is more exclusive than yours. Actually it IS MORE exclusive than yours. If you mean getting another if something happens to the first, that's why they make phone cases, screen protectors and common sense lol. How many phones do you break, I've broken 1 in 4 years. Yes, I'm aware samsung is a real company, a real company who has to come out with 18 variants of the same phone each year to keep market share, and they can't even do that anymore. The galaxy name is watered down and the numbers prove it buddy. I run cyanogenmod. No bugs so far other than not connecting to my wifi when I get home but I've had the phone not even 48 hrs and I don't troll forums for a living, (timed pause) so it's probably fixable. What doesn't work on my phone. Touchwiz alone disqualifies you. That ugly, blocky user interface that looks like it was created by a 14 year old girl on a adderall high, the note ran 2012 and half of '13. Now it can't do the trends it started better than other phones. You have a stylus, I'm so jealous, why didn't I think of that when I was determining what was MANDATORY for me in a phone. We all know a phone without a stylus is not a phone right? Smdh Also you're a slave to Samsung, I have no bloat, more customization options and it does it all while being better looking than your phone. You still haven't told me what I'm missing not having a NO! 3 that my OPO can't do. I know what you're missing, $250. LMAO Posted via my OnePlus One

Of course yours was cheaper, you are using 6 month old parts and specs. You phone --exclusive? No they just are a scam that cannot make what they said they could. It is a ponzi scheme. Of course I (or you for that matter) would buy the same phone that we already have. If I have to guess what? I can, can you? It less than 15 minutes I would have a new one with any schemes to get it. OH look! Even Cyanogen gave up on the Bullshit: http://www.androidheadlines.com/2014/08/oneplus-abandon-cyanogenmod-favo... So now you are back to a community ROM (if you are even running it on there) that is wonky ans without official support Well at least you have the craptastic ColorOS to fall back on. OH WAIT YOU DO NOT HAVE THAT EITHER: http://www.cnet.com/news/oneplus-to-drop-color-os-in-china-to-develop-it... So now you have a phone with year old specs, that has missed every deadline that they put out, that has no OS. GREAT BUY THERE!! Here is something that your Oppo cannot do. Get its shit together.

Do you possess a brain. The first link you post mentions nothing about bugs or failure with the device, it's a move that their making to save $$$ since they probably can't afford the cyanogenmod royalties. I what does that have to do with the phone I NOW hold in my hand being better than yours. Also who the hell ever heard of that site, yet you question my link, give me a break. "androidheadlines.com", I'm not joking, 100% serious. Never heard of them. The 2nd link, CNET. Did you not read the part where it says the rom is exclusively for China??? International models will still use cyanogenmod. 2nd paragraph from the top. I trust them more than that first nobody site ran by a 50 year old in his mother's basement. What the hell do I care about the cost of tea in China let alone the rom they're running. If I'm using 6 month old specs your gimmick note 3 is a dinosaur. Do you know what a ponzi scheme is or just like they way it sounds? Did you invest in the company? Have you invested $with the company. Have you been defrauded. Go back to school. Read a dictionary. Do you read links or just post them ??? Did you not read "and despite what you may have heard around the Web OnePlus isn't splitting up with cyanogenmod as that OS isn't on devices in China in the first place". And it doesn't effect the OnePlus One. It clearly says this is a move they're making to be ready for their follow up flagship. So you post one link saying their splitting and another saying their not. In a rush to prove a NONEXISTENT point you now look like an ass and have defeated yourself with your own links. Check your stylus for a malfunction LMAO. Since you like links so much I got one that'll settle this one and for all http://m.youtube.com/watch?v=NLzI3NkLD2E Just for you SO WHAT CAN I SAY THAT YOUR LINKS HAVEN'T... MY PHONE IS BETTER THAN YOURS AT A BETTER PRICE WITH MORE FREEDOM FROM BLOAT AND CUSTOMIZATIONS. As you said I support the device not the company. I couldn't give a Fuck what oppo does now that I have my device. I think you, your stylus and your NO! 3 need to get their shit together and find a link, from a REPUTABLE source that ACTUALLY says something bad about my phone. Until then I'm gonna laugh at you until your next post. Put your phone to your ear, stick your s-pen up your ass, twirl around, and maybe you can hear me laughing ~_~ Posted via my OnePlus One

lol..you are hitting the point of irrational. You are talking in circles. Your phone is great for you. Good for you. My phone is great for me. Better is subjective. I am just gonna leave it there..

They're you go. Now you get it. To each it's own. Took you 6 hours but you finally understand my opinion is my opinion and yours is yours. Neither is wrong but each is worth respecting. Now I can feel a bond growing, can you? Lmao. I'm off work and relaxing now (read that as puffing the magic dragon) , hence the irrational-ness. Posted via my OnePlus One

On a serious note (no pun intended), I really get the feeling of its not samsung, you're gonna bash it. Seems like you're mad the NO! 3 isn't the big kid on the block anymore. It's okay, my one plus one isn't either. If you think that's what I've been trying to say you're missing the point. I'm saying my phone goes toe to your with yours AND MAY ACTUALLY WIN. Posted via my OnePlus One Posted via my OnePlus One

Nope not at all. If the S-Pen were not so important to me (and I know that is preference) I would buy a G3. It is without a doubt pretty stunning. I get to use all the phones (except Sony) that get wide release in the US. I actually have some experience not just preference. Putting the venom away, the 1+ (-) would have been a good phone if they would have met its obligations. It has failed every one of them and that is VERY concerning. I honestly believe that at worst my phone would tie yours, and it being older gives me the win....not a knock

It's not tying anything buddy. You keep purposely ignoring the $PRICE$ of the 1+. You don't mention the faster processor or better front camera and lack of bloatware. That + the price don't equal a tie to me. I am aware yours came out last year, can you name any spec besides the screen on the g3 that's truly 2014. Nothings changed from last year to this in android. And if the age of the note 3 warrants old specs why hasn't that price went down. The moto x was the AC phone of the year last year sans stylus so it's in no way a android standard. As you said all venom aside samsung makes the same phone in a different shell 12 times a year. They've lost their title to the HTC m8 and are a contender AT BEST. They've allowed LG, a company that couldn't make a decent boot animation if samsung didn't show them how, to make a better flagship than them. Samsung is slipping, and again all venom aside, there isn't a Samsung on the planet that can intimidate my 1+ specs and price or make me question my decision. It's called the best phone you can't get for a reason. Posted via my OnePlus One

If your phone has parts that do not work, then it really does not matter what the cost is.

Quick someone find 1096 fcc docs. That will tell if it's the Droid or the X successor Posted via Android Central App

Lol everyone is chewing on Spencer. Posted via Android Central App

Good. 360 releasing soon. Posted via Android Central App

well i see some people seem to hate sdcards now but for me, i need it on my phone unless there is a 64gb version. i filled half my 64gb microsd card already

I'm pretty sure there will be a 64GB version of the new X. There's one now (excluding Verizon).

I wonder if they are going to release the 2nd gen moto g on prepaid with 4g lte if the phone supports it, and at $99 just like the original moto g. Posted via Android Central App

I used to be one of the "embrace the cloud, no need for SD!". I just got back from a 10 day, wifi-less vacation and ran out of space for my photos and videos on day 3. It really sucked having to decide what was more important and deleting others. I'm now back on the SD card train, but only for video and photo storage. Yes OTG could have worked but who wants to carry around an additional device? Not me. Posted via Android Central App

+1 same headache on my vacation Posted via Android Central App

Why did you give up your unlimited data when all you had to do was purchase your phone for the retail price. So many of you made the mistake because you want your phone to be cheaper when in the long run you are paying way more for it and losing out on all the data. Posted via Android Central App

You are just all full of assumptions arent you? Maybe he was somewhere that didn't have cell service as well. The cloud, with unlimited data or not, is not ready for prime time for all users. SD card slots are worth the 5$ to MS and the 30$ for the card.

And not only that, making the assumption that the person has an unlimited data plan. I came over to Verizon in December 2011 buying a Galaxy Nexus . Unlimited Data was GONE by then. I did get 2GB (double data promo for 4Gb $30 a month). But when I switch a line in July 2013, I lost my plan as on Share Everything Plans were available. Many people like to keep certain files on the phone for quick, easy access. I hate some apps that want to connect online in order to use them. There is a popular Bible App and even though the files are downloaded on my device, it wants to "connect". My Dropbox is full and I have over 60GB. I tend to bring my laptop and download pictures and videos daily while on vacation.

Yeah I keep a lot of work stuff on my phone (use it like a portable hard drive) and that stuff I cannot put in the cloud for security reasons. SD cards are important to me for that and the other reasons I listed around this comment section. I very well could go the USB stick route for this stuff but why do it if I do not have to?

Not everyone started out with unlimited data either. Some people are not as priveleged as you are to have started out that way. You can't assume everyone had it at some point then lost it cause they upgraded there phone. You need to think before you comment. Assumptions make you sound stupid. Posted via Android Central App

While this may not apply to me, some people can't afford to drop $600 to $700 dollars on the phone they most want. Try to consider that.

Stop being so stupid. I understand you've been practicing and have mastered the art of stupidity, but seriously...let it go. No matter how many times you say people have given up unlimited data for cheaper phones will it ever be completely true. You do have enough sense to realize that new subscribers haven't had a chance to purchase unlimited mobile plans in the US on 3 of the major 4 carriers right? Again, just stop being so damn stupid. Thanks.

Droid Maxx HD
5.2 1080p
Snapdragon 801
32GB internal 128 Up SD
Latest Android
4000MAH beast of a battery Posted via VZW M8

WOO Posted via My Ever-Bloated S4

I do not think you are getting a SD card on a Verizon exclusive. I am being lazy and do not feel like looking the spec up, but did the last set have slots?

It took this far down the comments to actually see a meaningful discussion about the actual post.

What's in the box?!? </brad_pitt>

What if Moto/Verizon is just being a troll and the box is empty. Posted via Android Central App

I hope we hear about the successor and the 360 sooner rather than later. I've been saving for weeks! I really miss eating. Posted via Android Central App

I am guessing that we will see it around the time of that event in early September (I get them mixed up, IFA?)

So much for NDA's. Android and Blackberry fan

I am guessing the box is not covered by them but the contents of the box are....

As far as leaks go, this one is pretty weaksauce... Came for the leak, stayed for the regurgitated removable storage arguments, whoo yeah.

on both sides but hey at least we got some entertainment out of things.

As a Verizon user, I have to say that I love that Moto stuff makes it to Verizon. It's the closest thing I can get to pure Google without having to go through root/roms. My company won't let you install the email client if your device is rooted so the Moto X was a godsend. Maybe...MAYBE... big red will get the next Nexus?? (I can dream)

Mathematically speaking, X2=X×2=X+X so unless X=1, then X+1 does not equal X2. Posted via Android Central App

Shut. Up. Posted via Android Central App

No you! Posted via Android Central App

Dam you beat me to it :( Posted via Android Central App

I KNEW they'd call it the XT1096! Everybody pay up.

I don't know what's in the box, but I'm guessing that the box is bigger on the inside

Only when x = 1 Posted via Android Central App

It's actually the embarrassing picture of Sponge Bob at the Christmas party... Posted via My Ever-Bloated S4

WHAT'S IN THE BOX!? TELL ME WHAT'S IN THE BOX!

Moto MAXX Posted via Android Central App

Just for whatever, x+1 does not=2, x+1=x+1 Posted via Android Central App

Almost the whole comments is an argument that started about SD cards Posted via Android Central App

That box is huge, needs to be smaller. Posted via Android Central App

Who cares what people comment you all comment just so someone will think its cool or funny. The guy was being honest in saying SD slot or he will get a different phone big woop Posted via Android Central App

Well tktechnews tweeted that x+1 could be Verizon exclusive to start with. If that is true then Moto you are kidding me. Really? @tktechnews: As shown in our previous moto leaks. The x+1 will hit verizon first & will "eventually" make it to other carriers.
All demos we saw were vzw Posted via Android Central App

YEa thats what I am talking about. A nice new Moto to me!!!

"What's in the fucking box?" http://mrwgifs.com/wp-content/uploads/2013/12/Brad-Pitt-Needs-To-Know-Wh...

Motorola Moto X+1-Rumors,News,Pics and Specs.
http://www.latestmob.com/2014/08/motorola-moto-x1-specs.html

So I just got the new moto x xt1096 with Verizon. The phone is unbelievable! I was going to get the lg g3 bit decided to go with moto. I'm glad I did! What a great and powerful phone.
Android Central Newsletter
Get the best of Android Central in in your inbox, every day!
Thank you for signing up to Android Central. You will receive a verification email shortly.
There was a problem. Please refresh the page and try again.