Grab a pair of Sony SSCS5 3-Way 3-Driver bookshelf speakers on sale for $73. These speakers have been selling for around $120 or more for basically the entire year. The drop to $73 is the lowest we have ever seen, and we're sure this deal will expire soon.
Pump up the Volume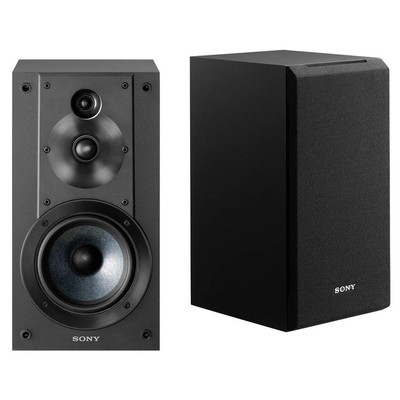 This is a pair of speakers that includes a bass-reflex system. They have 5.25 inch cellular reinforced woofers and one inch polyester main tweeters with 0.75 inch Sony Super Tweeters for immersive sound staging. They have 100W maximum input power.
$73.00 $120.00 $47 off
The SS-CS5 speakers are just one part of a larger modular system from Sony. Obviously as bookshelf speakers they are perfectly fine on their own. Set these up for some excellent stereo sound. If you ever decide you want to build a more complete surround sound system, you can go for the SS-CS3 floorstanding speakers, which are on sale for $98 from a street price of $198. You could also add some booming bass with the SA-CS9 10-inch active subwoofer. It's down to $98 right now as well. All you need is the $98 SS-CS8 center channel speaker to complete the setup and have powerful surround sound paired with your bookshelf speakers.
So the bookshelf speakers have a 5.25 inch foamed-mica cellular reinforced woofer, a one-inch polyester main tweeter, and Sony's 0.75-inch Super Tweeter so you have a 3-way 3-speaker setup. The super tweeter provides a level of precision in your music you won't hear through other speakers. They have wide directionality and reproduce high-frequency notes. You'll even be able to tell how the instruments are positioned in each song.
The sound produced is impressive, and you'll get an immersive sound stage. The sound reproduction works up to 50kHz so you can play high resolution audio with 6-ohm speaker impedance. The speakers have a 100W maximum input of power.
With a wooden finish, high-quality structure, and compact design, the bookshelf speakers will fit in with any decor and stay unassuming until they're producing that high-quality music. Users give these speakers 4.7 stars out of 5 based on 719 reviews.
We may earn a commission for purchases using our links. Learn more.