TiVo's Apple TV and Roku apps "currently on hold"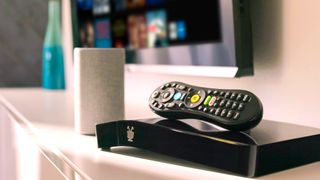 (Image credit: TiVo)
What you need to know
TiVo has confirmed that its Apple TV and Roku apps are currently "in limbo".
VP of consumer products and services Ted Malone first revealed the news during an interview at CES 2020.
A TiVo spokesperson later said this was "inaccurate", then provided a statement that said exactly the same thing.
TiVo's VP of consumer products and services Ted Malone has revealed that TiVo's Roku and Apple TV apps are "in limbo".
According to TechHive:
Malone reportedly stated:
TiVo demoed its streaming apps for Roku, Fire TV, Android TV and Apple TV at CES 2019. They were due to be released during 2019, allowing users to access their TiVo DVRs on other TVs without additional hardware. Apparently the delay is due to "limited resources, technical challenges, and strategy changes." There's also the technical issue of transcoding video before streaming it to other devices, causing quality and performance problems Malone says are yet to be resolved.
Malone further stated:
A TiVo spokesperson commenting on the news said Malone's information was "inaccurate" and issued the following statement:
Both the statement and Malone seem to confirm that TiVo reshifted its focus last year, that Android remains a priority, and that Apple TV and Roku clients are "currently on hold."
Android Central Newsletter
Get the best of Android Central in in your inbox, every day!
Thank you for signing up to Android Central. You will receive a verification email shortly.
There was a problem. Please refresh the page and try again.