Revisit the good old days with an NES or SNES Classic Edition console in stock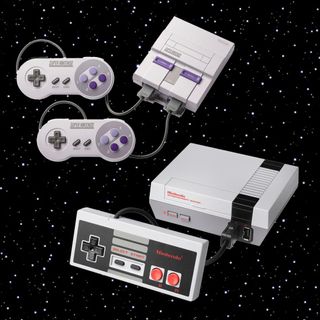 Update: Both consoles are available for purchase right now! The NES Classic is in stock and ready to ship, while the SNES Classic won't be back in stock until August 9th. You can get the console and controller at Best Buy as well, either separately or in a bundle. There's no telling how much longer these consoles will be available for, so best get your order in while you can!
Ah, Nintendo, breaker of hearts and crusher of dreams. How can one company be so good at releasing such limited quantities of the coolest items ever?!
The Nintendo NES Classic Edition has been hard to nab from the get-go. When it was first released, people waited in line for hours in the hopes of snatching one up -- myself included. This little gadget hit the reseller market fast after stock was depleted, selling for up to $1,000. Seriously. It was once thought to be gone forever, and it left thousands of fans upset, knowing that they may never have the chance to revisit their childhood favorites on an actual Nintendo machine. (Yes, you can emulate retro games. No, it isn't the same. Don't @ me.)
Thankfully, you don't have to wait for six hours in the freezing Wisconsin snow to get yours like I did. You don't even have to leave your house. Amazon has the Nintendo NES Classic Edition console in stock for the MSRP of $59.99. No markups, no hassle, and no blood, sweat, or tears. Except for maybe tears of joy.
If you haven't yet gotten your hands on the Super NES Classic console, you can snag one of those at Amazon right now too for its regular price of $79.99.
The NES Classic is awesome. It has the look and feel of the original console, although it is slightly smaller and sleeker. It includes an old-school controller and it's packed with 30 games, including Super Marios Bros., Donkey Kong, The Legend of Zelda, Mega Man, and more. It's worth noting that the controller cord is pretty short, but extenders are available for cheap or you could even pre-order a wireless controller. If you were inclined to do some web searching, you may also find that rumor has it you can hack the console to include hundreds of other games, although you run the risk of bricking your machine, among other things, and an editor such as myself couldn't possibly suggest that you do such a thing.
This is the first major restock of this console since it was released. If you're interested, trust me: there are thousands of other interested people, too. Hop to it and beat them to the punch before it sells out again.
Get the Android Central Newsletter
Instant access to breaking news, the hottest reviews, great deals and helpful tips.
Louryn saves money on everything she buys (which is a lot.) In between waiting for Amazon deliveries, she pines for the next Elder Scrolls installment and checks Reddit for gaming rumors. She also loves Hearthstone, makeup, and beer. Find her on Twitter: @lourynstrampe