Sonos unveils MOG integration, more music than you can shake a stick at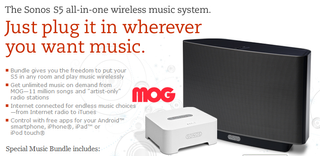 Good news for Sonos owners out there, as today Sonos has officially launched the MOG music service on Sonos. After a short software update, you'll be able to tap into MOG's custom radio stations or 11-million song catalog.
For those of you using the Android Sonos Controller, an update enabling MOG integration is in the Market. Better yet, current Sonos owners get a free, 14-day trial to MOG, so you can see if it whets your whistle.
Full PR is after the break.
SONOS AND MOG TEAM UP TO BRING HIGH-QUALITY LISTENING EXPERIENCE TO THE HOME
All US Sonos Customers offered 14-Day Free Trial
Limited time offer to save 20% on Sonos and MOG bundle
SANTA BARBARA, Calif and BERKELEY, Calif – May 24, 2011 – Sonos, the leading developer of wireless music systems for the home, today announced another step in providing access to all the music on earth with the addition of the MOG music service to the award-winning Sonos music experience. Beginning today, Sonos customers can enjoy a high-quality, on-demand listening experience from MOG all over their home. All Sonos customers in the United States will receive a free 14-day trial of MOG on Sonos.
In addition, Sonos and MOG have teamed up to offer a special bundle with a Sonos S5, Sonos ZoneBridge and one-year MOG subscription – saving music fans 20% on their purchase. For more information on this limited time promotion, visit www.sonos.com/MOGBundle.
"Our goal at Sonos is to provide music lovers with access to all the music on the planet," said John MacFarlane, CEO, Sonos, Inc. "By offering MOG to our customers, we're providing an incredible, high-quality listening experience in the living room or any room of the home."
"Sonos products are absolutely best-of-breed and their customers expect great sound when accessing their music from their own library or streaming music from a service like MOG," said David Hyman, CEO of MOG. "Our goal is to deliver the best music listening experience by making it fast and easy for music lovers to listen to any song, at the highest quality, from virtually anywhere—in the car, on the computer, on their phone, and now in any room with Sonos."
With MOG's award-winning music service on Sonos, music fans can enjoy the following features in any room of the home:
High-quality audio: MOG on Sonos features the highest quality audio streams at 320kbps.
MOG artist radio: Customize radio stations on the fly by choosing true "artist only" radio or a full mix of similar artists.
On-demand music: Unlimited, anytime, ad-free listening to any artist or full album from MOG's 11-million song library.
Simple searching and browsing, designed for the palm of the hand: MOG provides simple navigation of albums and artists, and easy browsing of New Releases, Chart Toppers, Editors' Picks and playlists created by recording artists for instant playing right from any Sonos Controller.
MOG offers all new and existing US Sonos customers a 14-day free trial after which users can upgrade to MOG's Primo subscription plan for $9.99 per month. Simply go to www.MOG.com/Sonos to register for the free trial. MOG Primo provides music fans with unlimited access to MOG on Sonos, with additional access online at MOG.com, and through the MOG app on iPhone and Android phones, all via a single MOG account.
For more information about Sonos or to locate an authorized Sonos dealer in your area, please visit www.sonos.com or call 877.80.SONOS.
About Sonos, Inc.
Sonos® is the leading developer of wireless multi-room music systems for the home. The Sonos Multi-Room Music System is the first, wireless multi-room music system that lets you play all the music you want all over your house – and control it all from the palm of your hand. Sonos liberates the music stored on a computer so it can be enjoyed all over the house. In addition, by partnering with audio services like iheartradio, Last.fm, MOG, Napster®, Pandora®, , Rdio®, Rhapsody®, SiriusXM Internet Radio, Spotify, TuneIn, Wolfgang's Vault, and more, Sonos gives music lovers instant, computer-free access to millions of songs, thousands of radio stations, audiobooks, and more. The award-winning Sonos Multi-Room Music System is available at more than 6200 retailers in over 65 countries worldwide; or direct from Sonos at www.sonos.com. Sonos is a privately-held company, headquartered in Santa Barbara, CA with offices in Cambridge, MA, Hilversum, Netherlands and Penang, Malaysia.
© 2004-2011 by Sonos Inc. All rights reserved. Sonos is a Registered trademark of Sonos, Inc. in the U.S. and other countries with pending trademark registrations worldwide. SonosNet, ZonePlayer, ZoneBridge and all Sonos logos are trademarks of Sonos Inc. in the United States and other countries. All other products and services may be trademarks or service marks of their respective owners.
About MOG
MOG Inc. is a next-generation music media company founded in June 2005 by David Hyman, former CEO for Gracenote. MOG's all-you-can-eat, on-demand listening service provides access to a vast library of over 11 million songs and over one million albums through its mobile apps on iPhone and Android phones, online, and on streaming entertainment devices. MOG Inc. is also the provider of The MOG Music Network (MMN), the premier destination for music content online and largest music focused advertising network consisting of over 1500 music sites, reaching nearly 40 million people each month.
Android Central Newsletter
Get the best of Android Central in in your inbox, every day!
Thank you for signing up to Android Central. You will receive a verification email shortly.
There was a problem. Please refresh the page and try again.