Snapseed photo editor coming to Android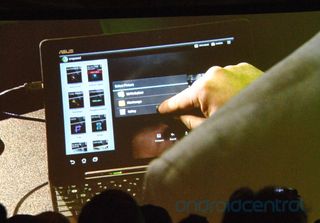 During the NVIDIA presentation this evening at CES, Manuel Wille, developer of the popular iOS application Snapseed showed it off running on the ASUS Transformer Prime. Powerful chips like the Tegra 3 means real-time photo editing works great on Android, and we're excited to see more of it showing up. The application will be available in the Android Market soon (early 2012) for devices running Ice Cream Sandwich and have a Tegra 2 or Tegra 3 chip only, and cost $4.99. A demo video, the full press release and some screenshots are after the break.
Youtube link for mobile viewing
Nik Software Announces Acclaimed Snapseed Mobile Appfor Tegra-powered Android Tablets

Revolutionary photo app changes the way people enhance and share photos
Las Vegas, NV (Photo Marketing Association, Consumer Electronics Show)—January 10, 2012— Leading photography software developer Nik Software (www.niksoftware.com) today announced Snapseed® for Android tablets. Snapseed elegantly combines Nik Software's professional photography tools with its award-winning interface and technology. The new version of the acclaimed photo enhancement and sharing app will be initially compatible with NVIDIA® Tegra®-powered tablets running Ice Cream Sandwich (Android 4.x). To learn more and watch videos, visit www.snapseed.com.
"We're very pleased to bring Snapseed to the Android tablet market," said Michael J. Slater,
President and CEO of Nik Software. "Offering Snapseed for Android tablets is a great opportunity for more users to experience the fun and creativity of photo editing and sharing. We worked with NVIDIA to make Snapseed fast and responsive for Android users everywhere."
Neil Trevett, Vice President of Mobile Content at NVIDIA added, "Snapseed delivers a photo
experience that's enormously capable, incredibly responsive, and initially available only on
Tegra-based tablets. Our teams have worked closely to ensure that the app fully harnesses
Tegra's power and efficiency to provide a magical experience."
Nik worked with NVIDIA to bring Snapseed to Android, opening the magic of photo enhancement and sharing to millions of Android users. Anyone can create amazing photos with Snapseed by using its innovative filters and tools like Grunge, Vintage and
Drama to make any photo look extraordinary. Nik's revolutionary U Point technology enables precise selective enhancements to change lighting, color and more by simply touching and swiping the screen. Side-to-side gestures enhance the brightness, contrast or saturation of only the object selected, blending the effect naturally throughout the image.
Snapseed offers powerful tools that inspires and enables anyone to create amazing photos. High quality results are now fast, fun, and easy. Using Snapseed, anyone can capture, enhance, edit, email and share their photos via social networks in just a few seconds.
Key Features
Tune Image—Quickly correct photos taken in difficult lighting situations, create depth
and vibrancy with Ambience, or adjust White Balance, Saturation, Contrast and more
Auto Correct—Automatically analyzes your photo and adjusts color and exposure, or you
can use gestures to add or reduce the enhancements
Selective Adjust—Make precise selections and enhancements in seconds with Nik
Software's revolutionary U Point technology
Tilt-Shift—Creates a narrow in-focus area designed to simulate depth of field, common
in a Miniature Scene look
Details—Enhances details with traditional sharpening as well as Nik Software's unique
Structure control found in the professional Nik Software product line
Crop & Straighten—Rotate or straighten with simple touch controls and select from a
variety of standard aspect ratios while cropping
Grunge—Explore styles and textures without limits and give photos a totally unique look
Drama—Add custom effects to a photo which range from subtle enhancements of
textures to wildly creative and artistic effects
Vintage—Nine unique nostalgic films, plus controls like saturation, textures and vignettes
make any photo look like a vintage color film photo from the 50's, 60's or 70's
Frames—Add unique borders to photos by choosing styles and textures
Black and White—Give photos a classic look with this darkroom-inspired filter. Select
styles, grain, vignettes, and more for a perfectly nostalgic look
Sharing—Email photos or share on Facebook and Flickr
Compatibility, Pricing and Availability
Snapseed for Android Tablets will be available on NVIDIA Tegra 2 or 3-based tablets running Ice Cream Sandwich (Android 4.X). Snapseed will be available in early 2012 in English at the Android App Store for $4.99 or the equivalent in other currencies.
Jerry is an amateur woodworker and struggling shade tree mechanic. There's nothing he can't take apart, but many things he can't reassemble. You'll find him writing and speaking his loud opinion on Android Central and occasionally on Twitter.
So I'm assuming this is better than the Photoshop app?

Yes, yes, a million times yes! I'm one of those die hard Android fans that also owns an ipad and let me just say that this is THE best photo app I've installed for iOS in the last 18 months. I am STOKED that this is coming to Android!

As a former Crapple user and an avid photographer, this is the BEST mobile image editor, BAR NONE. I've been begging Nik to port this to Android for months (I think the restraining order expires soon!)
I would pay $20 for this app, it really is that good.
The best part is I just purchased a Tegra tablet right after Christmas ;) Can't wait!

Damn , Why ICS only ????????????? I got the Tegra 2 part covered , but ICS !!! I don't know about that

Or why tegra 2/3 only? I hate SoC exclusive deals. ICS I can understand, for multiple reasons.
Android Central Newsletter
Get the best of Android Central in in your inbox, every day!
Thank you for signing up to Android Central. You will receive a verification email shortly.
There was a problem. Please refresh the page and try again.