NVIDIA Shield official accessories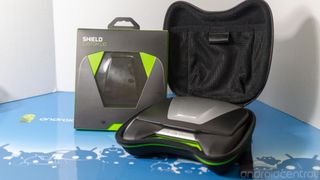 To go along with our review of Shield, we're also taking a look at a couple of accessories being released by NVIDIA. Today we're looking at the official custom carrying case as well as the custom lid. The hard case is exactly what you think it would be, along with a nice surprise around back. It's custom molded to fit Shield perfectly, with moldings on the inside for the triggers as well as a small mesh pouch for smaller accessory on the top half. The inside is lined with a soft felt, and we've yet to notice it leaving any marks on Shield. You'll see some nicely done Shield branding on the front, with "NVIDIA green" piping accenting the bottom half of the case. It also has a wrist strap, which is removable if it's not really your thing. I haven't dropped it, but it's built well enough to take a decent impact. I wouldn't go throwing it across the room, though.
The custom lid is something that allows you to personalize Shield more to your liking. Initially they will be available in glossy black and carbon fiber. I don't have the carbon fiber here, but the glossy black is very well done. I've used it almost exclusively, and it's held up well, with no nicks or scratches to be seen anywhere. Whatever NVIDIA used on this particular lid needs to be shared with other manufacturers — it's that durable. They are held on magnetically, and try as I might, I can't make it not line up the way it's supposed to. Initially NVIDIA used a type of clip to hold them on, but switched to magnets based on feedback from industry experts. It works really well, and kudos to them for listening to the feedback and making appropriate changes.
You can pick up the custom carrying case for $39.99 and the lids for $19.99 each from your local Shield retailer. We have a hands-on video and a few pictures after the break.
Have questions about Shield? We'll have all the answers you want in our Ask Me Anything thread.
NVIDIA Shield review | NVIDIA Shield forums
Android Central Newsletter
Get the best of Android Central in in your inbox, every day!
Thank you for signing up to Android Central. You will receive a verification email shortly.
There was a problem. Please refresh the page and try again.