SanDisk announces faster, higher-capacity USB-C Dual Drive flash drive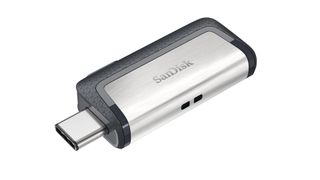 SanDisk is one of the big names you expect to see at a show like Computex 2016, and this year it has a brand new version of its Dual Drive flash drive to show off. As we've seen in previous versions of the product, the Dual Drive is a dual-sided flash drive that gives you a full-sized USB-A plug for use with a computer on one side, and a USB-C plug on the opposite side from use with a smartphone, tablet or one of the handful of computers with the port.
Not only does the dual-sided nature of the Dual Drive make it a great choice for folks who have multiple devices and only want to carry one flash drive, it also works as a great intermediary for quickly moving files to and from your USB-C phone and a laptop or desktop. This new version being announced at Computex bumps up both speed and capacity; with the USB 3.1 spec on board, SanDisk quotes up to 150MB/s reads on the new Dual Drive, and there's now a 128GB storage option for the big file users out there.
The new Dual Drive flash drives arrive at solid prices as well, starting at $19.99 for a 16GB model and heading up to $69.99 for 128GB of storage in the same small package. The Dual Drive is available from major retailers such as Amazon, as you'd expect.
See at Amazon (opens in new tab)
Press release:
SanDisk Mobile Storage Portfolio Expanded with Faster, Higher Capacity USB Type-C Flash Drive
New SanDisk Ultra® Dual Drive USB Type-C offers hassle-free transfer between smartphones and next-generation USB-C devices
COMPUTEX 2016 — TAIPEI, Taiwan – June 1, 2016 – Western Digital® Corporation (NASDAQ: WDC), a global storage technology and solutions leader, today expanded its line of SanDisk-branded mobile storage solutions with the new SanDisk Ultra Dual Drive USB Type-C flash drive. The newest generation drive features a new retractable design, faster speeds and higher capacity, giving consumers the ability to quickly and easily free up space and transfer content between their smartphones and today's USB-C devices1.
"With its reversible connector, impressive speeds, and multi-purpose potential, USB Type-C is a game-changer," said Dinesh Bahal, vice president of SanDisk product marketing, Western Digital. "More Type-C devices are entering the market and through our Type-C mobile drives, we can offer consumers a complete line of mobile storage solutions. The new SanDisk Ultra Dual Drive USB Type-C flash drive now provides more than twice the capacity and offers the flexibility to quickly and conveniently move photos, videos and files between devices, as well as the freedom to expand device capacity."
Now available in up to 128GB*, the sleek, new SanDisk Ultra Dual Drive USB Type-C includes one reversible USB Type-C connector and one standard USB (Type-A) connector, enabling users to easily free up space on a smartphone or tablet, or transfer files between smartphones, tablets and computers and next-generation devices. The drive also now delivers high-speed USB 3.1 performance of up to 150MB/s2 – offering users phenomenal speeds when moving their photos, videos and files to a computer.
"By 2020 we expect that 44 percent of all mobile phones sold worldwide will include a USB-C connector, that's about 800% growth over the next four years," said Ken Hyers, director, Wireless Device Strategies, Strategy Analytics. "At this rate of anticipated growth, we expect to see more and more solutions like the SanDisk Ultra Dual Drive USB Type-C flash drive that offer consumers a way to move and access their content between devices with varying connectors."
The SanDisk Ultra Dual Drive USB Type-C flash drive also works with the SanDisk® Memory Zone app for Android, giving users an easy way to manage and back up content on their device. The app, which is available for free through the Google Play Store, auto-launches upon insertion of the drive into a compatible device, allowing immediate access to the user's content.
The SanDisk Ultra Dual Drive USB Type-C flash drive complements the company's suite of SanDisk brand USB Type-C flash memory solutions which range from USB drives to portable SSDs.
Pricing and Availability
The SanDisk Ultra Dual USB Type-C Flash Drive features a five-year warranty, and is now available worldwide at Amazon and other leading retailers. The new offering comes in capacities of 16GB, 32GB, 64GB and 128GB with U.S. MSRPs of $19.99, $29.99, $39.99 and $69.99, respectively.
About Western Digital
Western Digital Corporation (NASDAQ: WDC) is an industry-leading provider of storage technologies and solutions that enable people to create, leverage, experience and preserve data. The company addresses ever-changing market needs by providing a full portfolio of compelling, high-quality storage solutions with customer-focused innovation, high efficiency, flexibility and speed. Our products are marketed under the HGST, SanDisk and WD brands to OEMs, distributors, resellers, cloud infrastructure providers and consumers. For more information, please visit www.hgst.com, www.wd.com, and www.sandisk.com.
About SanDisk
SanDisk, a Western Digital Corporation (NASDAQ: WDC) brand, provides trusted and innovative flash storage products that have transformed the electronics industry. SanDisk's quality, state-of-the-art solutions are at the heart of many of the world's largest data centers, and embedded in advanced smartphones, tablets and PCs. SanDisk's consumer products are available at hundreds of thousands of retail stores worldwide.
Andrew was an Executive Editor, U.S. at Android Central between 2012 and 2020.
Yep, but you have to have a device that takes USB-C or get an adaptor.

No kidding. Also, to use a Micro-SD card, your phone needs a Micro-SD slot

Lol Posted via the Android Central App

There is a Micro USB version for some time. This is just an upgrade to the lineup. Prices will go down. It's ~3 times as expenise for 64 GB and up right now.

In just a few months every phone will have usb-c.

Nope Posted via the Android Central App

lil longer than a few months but eventually, yes

Nice Posted via the Android Central App

$20 for 16GB seems kind of pricey.

I have one of these (well, not this exact model, but another USB-C / USB-A flash drive. One thing I've found on mine and every other one I found on the internet/Amazon, is that none of a good platform for attaching to a key chain.
Android Central Newsletter
Get the best of Android Central in in your inbox, every day!
Thank you for signing up to Android Central. You will receive a verification email shortly.
There was a problem. Please refresh the page and try again.